Marking the end of a billionaire tug of war, the SpaceX commercial rocket venture signed a 20-year agreement on Monday to take over NASA's historic Launch Pad 39A, the point of origin for Apollo moon missions as well as the first and last space shuttle flights.
Gwynne Shotwell, SpaceX's president and chief operating officer, said her company could start launching its Falcon Heavy rocket from 39A at NASA's Kennedy Space Center as early as next year. NASA astronauts could be launched from there as well in the 2017-2018 time frame, if SpaceX is selected as a contractor.
NASA completed the handover with the signing of the property agreement, which requires SpaceX to operate and maintain the pad at its own expense.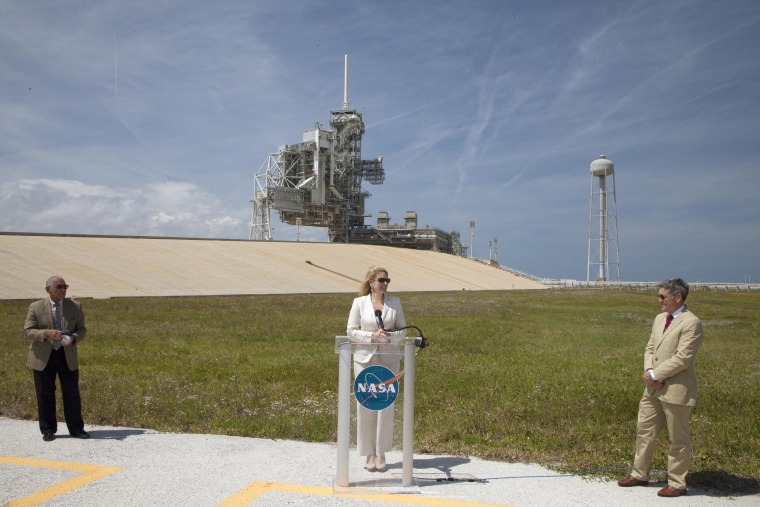 The signing at Kennedy Space Center came after a months-long battle of the billionaires — pitting dot-com tycoon Elon Musk's SpaceX against Blue Origin, a rocket venture founded by Amazon.com mogul Jeff Bezos.
Blue Origin wanted to operate Launch Pad 39A as a multi-user facility, with promises of support from United Launch Alliance and other commercial ventures. NASA went with SpaceX instead, largely because Musk's company was ready to start using the pad quickly.
Why the pad was up for grabs
After the retirement of the shuttle fleet in 2011, NASA determined that it didn't need 39A for its future needs — and opened it up for commercial use to save the estimated $100,000-a-month expense of upkeep.
The space agency will retain control of Launch Pad 39B for the development and launch of its next-generation Space Launch System, with the first liftoff planned in 2017. If Blue Origin or other rocket ventures need to launch from Kennedy Space Center, NASA Administrator Charles Bolden says they could use 39B. Musk, meanwhile, says SpaceX could make 39A available as well.
"The parallel pads at Kennedy perfectly exemplify NASA's parallel path for human spaceflight exploration — U.S. commercial companies providing access to low Earth orbit and NASA deep space exploration missions at the same time," Bolden said in a statement issued Tuesday.