SpaceX's Falcon 9 rocket broke up in a fiery blast on Sunday just minutes after its launch with a robotic Dragon cargo capsule headed for the International Space Station. It was the third failure of a space station resupply mission in eight months.
The Falcon took off right on time after a seemingly flawless countdown, rising into the sunny skies over Cape Canaveral Air Force Station in Florida at 10:21 a.m. ET. But a little more than two minutes after liftoff, video showed the Falcon 9 disintegrating.
"We appear to have had a launch vehicle failure," NASA spokesman George Diller observed. Air Force officials said the rocket "experienced an anomaly" 148 seconds into the flight. Debris from the breakup fell into the Atlantic Ocean without causing damage or injury on the ground.
SpaceX billionaire founder Elon Musk, who turned 44 years old on Sunday, reported in a tweet that "there was an overpressure event in the upper-stage liquid oxygen tank."
SpaceX's president and chief operating officer, Gwynne Shotwell, echoed that preliminary assessment during a news briefing later Sunday — but she said it was too early to say anything else about the cause of the mishap. SpaceX is in charge of the investigation, under the oversight of the Federal Aviation Administration. Shotwell said SpaceX crews were trying to recover debris from the sea.
Falcon launches suspended
Shotwell indicated that Falcon 9 rocket launches would be suspended until the FAA signs off on SpaceX's findings, a process that she said would probably take "a number of months" but not as long as a year. At least three payloads are on the manifest for Falcon 9 launches in the near term, including the Jason 3 ocean-observing satellite and the SES 9 and Orbcomm OG2 telecom satellites.
The primary objective of Sunday's mission was to deliver the Dragon to the space station with more than two and a half tons of supplies, equipment and experiments — ranging from a new docking adapter for accommodating future U.S.-built spaceships to a virtual-reality headset for the station's crew.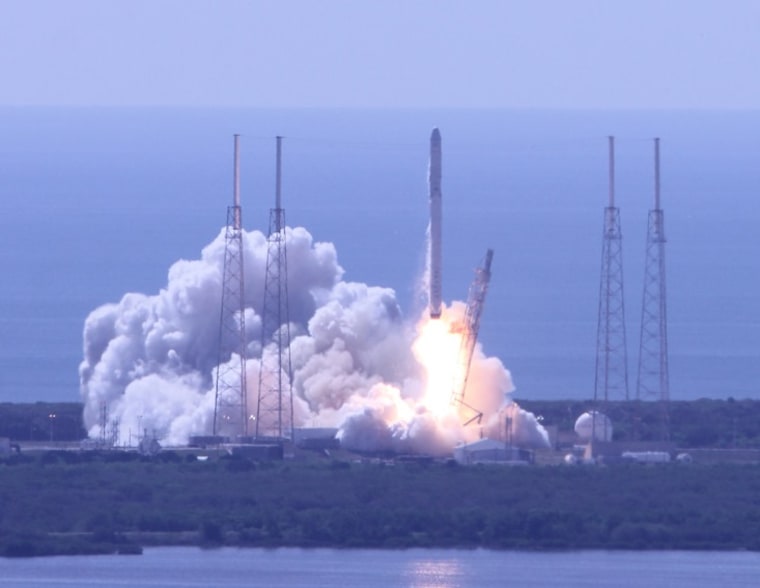 After stage separation, the Falcon 9's first stage was supposed to attempt a landing on a oceangoing platform — but the flight never got that far.
The Associated Press reported that the fireworks initially confused some of the spectators who were watching the launch from beaches near Cape Canaveral: "It looked fine until it was almost out of sight. And then, a poof of smoke," said Whitney Jackson of Palm Beach, Florida. "Everyone was cheering and clapping. No one knew it meant failure."
'A tough day'
This was to have been the first cargo delivery since the total loss of a robotic Russian Progress capsule in late April. The Dragon's payload included food, oxygen and other basics — and its loss will put even more pressure on the crew and mission planners.
"This is a blow to us," Bill Gerstenmaier, NASA's associate administrator for human exploration and operations, acknowledged to reporters.
NASA astronaut Scott Kelly, who is spending almost a year on the station, observed via Twitter that "space is hard."
The Dragon previously made six successful cargo runs under the terms of a $1.6 billion contract with NASA, plus an initial demonstration mission in 2012. The last of those successful launches occurred in April.
Sunday's loss marks SpaceX's first failed mission to the space station, and extends a string of setbacks for space station resupply. In addition to April's Progress failure, Orbital Sciences Corp.'s Antares rocket malfunctioned after launch in October, resulting in the loss of a space station shipment. One of the student experiments aboard the Dragon was a rebuilt version of an experiment that flew on the failed Orbital resupply mission.
Related: Double Space Failure Teaches Students a Lesson
"Having three [failures] this close together is not what we hoped for," said Mike Suffredini, NASA's space station program manager.
Another Progress ship is scheduled to be sent to the station from Russia's Baikonur Cosmodrome in Kazakhstan on July 3, and a robotic Japanese HTV transport ship is due to follow in August. Suffredini said the station's residents currently have enough food and other supplies to see them through October. If the stockpile dwindles to a 45-day supply, he said NASA and its partners would have to consider bringing the crew back to Earth, he said.
Gerstenmaier noted that a United Launch Alliance Atlas 5 rocket was scheduled to launch Orbital's Cygnus cargo capsule to the station in December. He said that flight might now be rescheduled for as early as October.
In a statement, NASA Administrator Charles Bolden voiced disappointment over Sunday's loss. "However, the astronauts are safe aboard the station and have sufficient supplies for the next several months," Bolden said. "We will work closely with SpaceX to understand what happened, fix the problem and return to flight."
SpaceX is working to upgrade the Falcon 9 and the Dragon to carry astronauts to the space station as early as 2017. It's not yet clear how much of an impact Sunday's failure will have on that NASA-supported spaceship development program, or on NASA's wider efforts to commercialize crew transport.
Just last month, SpaceX successfully tested a launch abort system that's designed to fly a crew to safety in the event of an emergency on the launch pad or during the ascent to orbit. Shotwell said such a system "would certainly have taken the astronauts to a safe place after an anomaly like this."
"Some will attempt to make this the tombstone of commercial space." Charles Lurio, an independent consultant on the space industry, told NBC News in an email. "But there is no alternative but to do more of it and more often. The only alternative Congress ever has is pork, and done so slowly that we never learn enough to make spaceflight practical."