NASA says it has been shut out of every scheduled opportunity to launch a rocket-powered vehicle that looks like a flying saucer.
"The project's reserved time at the range will expire Saturday without NASA being able to fly the test because of continuing unfavorable weather conditions," the space agency said Wednesday in a news release.
Sign up for top news delivered direct to your inbox
Team leaders for the Low-Density Supersonic Decelerator project, or LDSD, will discuss the implications of the delay and what's ahead during a media teleconference at 1 p.m. ET Thursday. One option could be to schedule additional launch dates at the U.S. Navy's Pacific Missile Range Facility in Hawaii.
The LDSD test is aimed at duplicating the conditions that Mars-bound spacecraft would face during atmospheric entry and descent. The test vehicle looks like a flying saucer simply because that's the shape used for the actual spacecraft. If the system works as NASA hopes, future missions would be able to send much heavier payloads to Mars.
Ground-based tests show that the system should work, but NASA wanted to conduct a high-altitude test this month to simulate Mars' atmospheric conditions. The test flight involves sending up the LDSD at the end of a helium balloon, and that means upper-level winds have to be blowing out from the launch site toward the Pacific Ocean. Instead, they've been blowing inland — which is why all six launch dates had to be scratched.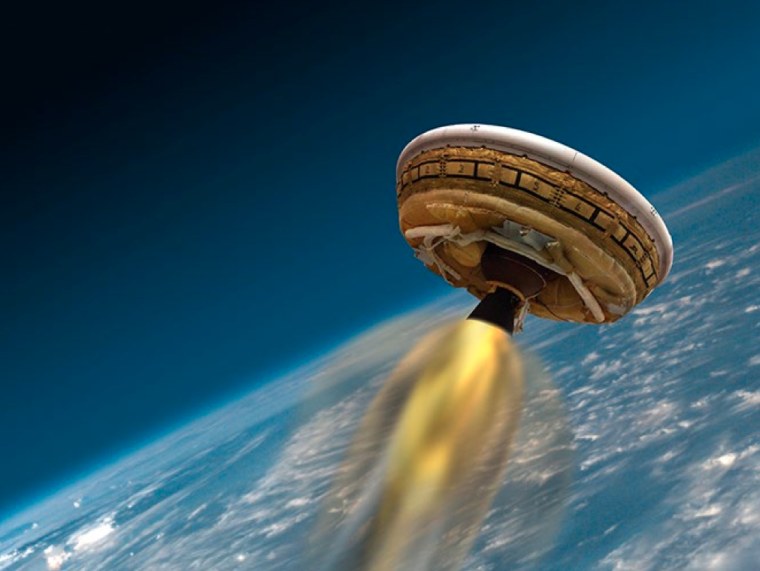 If and when the test takes place, the balloon would carry the saucer-shaped craft to an altitude of 120,000 feet. Then the LDSD would light up its solid-fueled rocket engine, blast itself up to a height of 180,000 feet and begin its descent at a speed of Mach 3.8 or so.
A coated Kevlar "inner tube" would inflate, increasing the LDSD's diameter to 20 feet (6 meters). The resulting atmospheric drag should slow the craft's descent to a speed of Mach 2.5, which would allow for the deployment of a 100-foot-wide (30.5-meter-wide) parachute. The LDSD should then drift safely into the Pacific Ocean for recovery.
For further background on the LDSD test, check out last week's preview. For updates, check in with the project's website.