When India's Mars Orbiter Mission went into orbit around the Red Planet, the achievement made good on a boast as big as Bollywood.
"Our program stands out as the most cost-effective," Indian Prime Minister Narendra Modi said during a June visit to mission control in Bangalore. "There is this story of our Mars mission costing less than the Hollywood movie 'Gravity.' ... Our scientists have shown the world a new paradigm of engineering and the power of imagination."
The $74 million Mars Orbiter Mission, also known by the acronym MOM or the Hindi word Mangalyaan ("Mars-Craft"), didn't just cost less than the $100 million Hollywood blockbuster starring Sandra Bullock. The price tag is a mere one-ninth of the cost of NASA's $671 million Maven mission, which also put its spacecraft into Mars orbit this week.
The differential definitely hints at a new paradigm for space exploration — one that's taking hold not only in Bangalore, but around the world. At the same time, it hints at the dramatically different objectives for MOM and Maven, and the dramatically different environments in which those missions took shape.
Science vs. technology
MOM is primarily a technology demonstration mission, and secondarily a scientific endeavor. Just as the first Space Age served to demonstrate U.S. vs. Soviet technology on a world stage, MOM serves as an advertisement for India's satellite launch industry. The Mars mission builds upon India's first moon mission, Chandrayaan 1, which went into lunar orbit in 2008.
The MOM orbiter's 33-pound (15-kilogram) scientific payload comprises five instruments that will monitor Mars' atmosphere and weather, take color pictures of the surface and map the planet's mineralogy over the course of six months. In contrast, Maven's 143-pound (65-kilogram) payload includes nine instruments to study Mars' upper atmosphere as part of a yearlong mission and a decades-long scientific campaign. It can also serve as a relay for communications with NASA probes on the Martian surface.
"MOM is essentially a first-time test of technology and capability, whereas Maven is primarily a scientific mission utilizing the development of now well-proven U.S. technology," engineer and technology manager Krishna Pillai wrote in his KTwoP blog last November when both probes were launched. "Technology development on the one hand, and a scientific investigation on the other."
Because MOM's scientific payload is so small, it could use a low-cost, made-in-India PSLV launcher — and even at that, the probe had to go through an orbit-stretching series of maneuvers to travel from Earth to Mars. Maven blasted off for Mars atop a much more powerful Atlas 5 rocket — but the launch services alone cost $187 million, which is more than twice MOM's total mission cost.
"As missions go, Maven represents a Mercedes 'S' class to the Volkswagen that is MOM," Pillai wrote.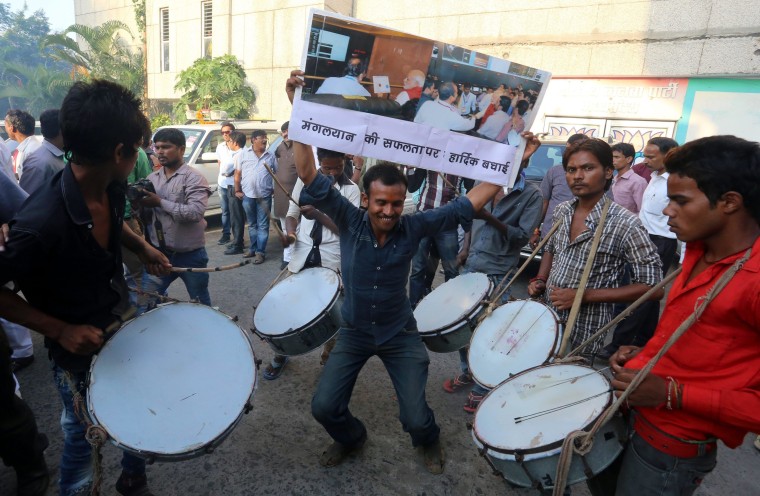 How risks and costs are weighed
MOM's simpler spacecraft, simpler payload and lower launch costs explain some of the disparity in the price tags, but other factors play just as big a part, said Bruce Betts, director of science and technology for the Planetary Society, a California-based nonprofit space advocacy group.
"Where NASA gets into a lot of money is in trying to ensure success," Betts said. "NASA takes a lot less risk than other space efforts."
Two of NASA's big failures at Mars missions served as cautionary tales: In September 1999, the $193 million Mars Climate Orbiter crashed into the Red Planet's surface upon arrival, due in large part to a measurement conversion error. Three months later, the $120 million Mars Polar Lander crashed as well, probably because of a sensor software glitch.
Those embarrassments led NASA to overhaul its Mars exploration effort and marked the end of the space agency's "faster, cheaper, better" approach.
Today, NASA reviews each step of mission development closely, almost "to a fault," Betts said. That kind of attention to detail doesn't come cheap. Nor do American engineers. According to PayScale.com's global survey, aerospace engineers are paid a median annual salary of $9,773 in India, and almost eight times more — $75,940 — in the United States.
Betts isn't familiar with how the Indian space agency operates, but he said experience has taught him that other space efforts tend to take "a little bit more of a seat-of-the-pants approach," compared with NASA.
"Long-term, it'll be interesting to see what the percentage of success turns out to be," Betts said. "But clearly, it's a tremendous accomplishment for India to do this on the first try."
Small could be beautiful
The long-term trend is definitely pointing toward lower-cost launches and satellite operations. California-based SpaceX is already shaking up the industry with a price structure that ranges as low as $61 million for a Falcon 9 rocket launch.
Satellite manufacturing is experiencing an even bigger revolution, thanks to the rise of super-miniaturized CubeSat modules. A couple of years ago, commercial ventures started arranging for the deployment of CubeSat spacecraft from the International Space Station, at prices that are within the reach of universities and Kickstarter-savvy entrepreneurs.
Betts and his colleagues are in on the CubeSat revolution as well: The Planetary Society is in charge of a $4.5 million solar-sail experiment that's due to be deployed into orbit by a SpaceX Falcon Heavy rocket as a piggyback payload in 2016. The project, known as LightSail 1, will be packed into a three-box configuration measuring just 30 centimeters (12 inches) in its widest dimension.
If the LightSail experiment and other interplanetary CubeSat schemes take hold, Betts can foresee a day when big rockets send a multitude of small-scale, low-cost robotic explorers to Mars and other space frontiers, at a cost that could make MOM look like a spendthrift.
"It looks very promising to use piggybacking spacecraft," Betts said. "Hopefully with solar sails."