A NASA satellite in orbit around Mars has detected a pair of "unexpected phenomena" above the planet's surface. The Mars Atmosphere and Volatile Evolution craft discovered an enormous dust cloud floating between 93 miles and 190 miles above the surface — thin, but still significant. This is the first MAVEN has seen anything like it, and there's no indication of the source or duration of the dust cloud.
"If the dust originates from the atmosphere, this suggests we are missing some fundamental process in the Martian atmosphere," said the University of Colorado's Laila Andersson in a NASA news release.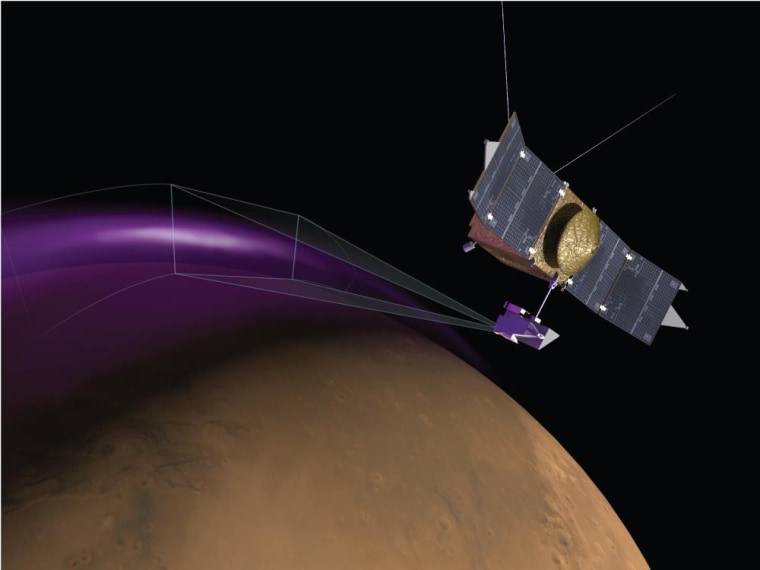 Less visible to the naked eye is what the team has dubbed the "Christmas lights" of Mars: powerful ultraviolet aurora that MAVEN detected around the holiday, spanning the entire northern hemisphere and penetrating deep into the atmosphere. Auroras are caused by charged particles striking excitable gases in the atmosphere and giving off light — and Mars lacks the protective magnetic sheath that turns away such particles here, making our Earthly displays comparatively low-key (though still occasionally spectacular).
MAVEN is just four months into its mission, so there will be ample opportunity for researchers to get to the bottom — and top — of these high-altitude phenomena.
IN-DEPTH
SOCIAL
—Devin Coldewey