NASA's "flying saucer" is good to go for a test launch from Hawaii, but wave conditions in the Pacific Ocean aren't so good for a splashdown and recovery. As a result, the scientists behind the saucer have twice had to postpone their tryout of technologies that could someday be used for landings on Mars — where there are no oceans to worry about.
The flying saucer is formally known as the Low-Density Supersonic Decelerator, or LDSD. The rocket-powered platform incorporates an inflatable, doughnut-shaped device called the Supersonic Inflatable Aerodynamic Decelerator, plus a parachute that's meant to withstand supersonic wind speeds.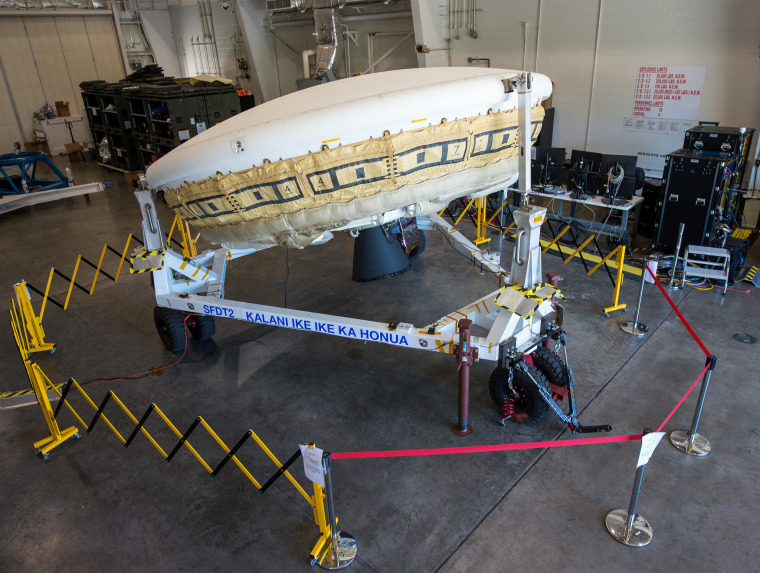 The LDSD had its first field test last June at the U.S. Navy's Pacific Missile Range in Kauai, Hawaii. A helium balloon lofted the payload up to 120,000 feet, and then the rocket pushed the LDSD up another 60,000 feet — to a region of the stratosphere where the air is as thin as it is on Mars. The 20-foot-wide inflatable decelerator worked as expected, but as soon as the 110-foot-wide parachute opened, it was shredded apart.
Although the platform splashed down in the Pacific Ocean harder than planned, the team at NASA's Jet Propulsion Laboratory retrieved a wealth of flight data and declared the test to be a success. The readings resulted in a redesign of the parachute. "It's a much stronger, much more robust parachute," principal investigator Ian Clark told reporters Monday.
Related: Flying Saucer Videos Show What Worked (and What Didn't)
This year's flight test could have taken place as early as Tuesday, but the waves in the recovery zone have been too high to give the go-ahead. "The ocean wave height continues to be an issue for the crew that would recover the vehicle and its data after splashdown," NASA spokeswoman Kim Newton wrote Tuesday in a status report.
Two day-by-day postponements have been announced so far. The next opportunity will come no earlier than 1:30 p.m. ET (7:30 a.m. Hawaii time) Thursday, NASA said.
This month's launch window is open for about two weeks, and there's another launch window in July, said Mark Adler, LDSD project manager.
When liftoff occurs, NASA will stream video coverage via the NASA TV and Ustream.
Adler said $230 million has been budgeted over three years for developing the LDSD system. NASA says such drag devices should be capable of delivering 2- to 3-ton payloads safely to the Martian surface. Current technologies limit NASA's Mars payloads to about a ton — which may be fine for landing a rover, but isn't sufficient for landing the equipment that would be required for future human missions to the Red Planet.