The first Russian woman to live aboard the International Space Station returned to Earth on Thursday, alongside a NASA astronaut and a Russian crewmate.
Cosmonaut Elena Serova was the last to emerge from the Soyuz capsule after its touchdown amid the foggy, snowy steppes of Kazakhstan, not long after sunrise on Thursday (10:07 p.m. ET Wednesday). She was preceded out of the hatch by the Soyuz craft's Russian commander, Alexander Samokutyaev; and the space station's outgoing commander, NASA astronaut Barry "Butch" Wilmore.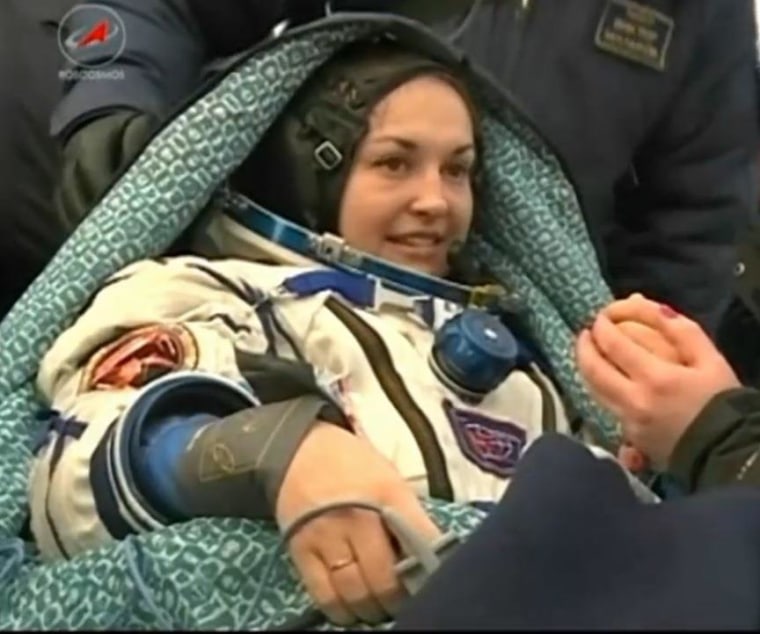 "The guys are great and worked very well," Reuters quoted Serova as saying as she went through her post-landing medical checks.
The homecoming came three and a half hours after the trio pulled away from the station, ending a nearly six-month orbital tour of duty. "Soft landing, guys. We're going to miss you," the station's new commander, NASA astronaut Terry Virts, told his departing crewmates via radio. Virts, Russia's Anton Shkaplerov and Italy's Samantha Cristoforetti will stay on the station until May.
A fresh trio will fly up at the end of this month, and two of those spacefliers — NASA's Scott Kelly and Russia's Mikhail Kornienko — are due to spend an entire year in orbit as a test for even longer-duration spaceflights to Mars.
Serova is only the fourth Russian woman to go into outer space, and the first since Elena Kondakova flew to Russia's Mir space station aboard the space shuttle Atlantis in 1997. In contrast, NASA has flown more than 40 women astronauts.
IN-DEPTH
SOCIAL
— Alan Boyle