For the first time, NASA-funded experiments have been sent up to the near-space frontier on a small-scale version of the balloon that could someday give tourists an astronaut's-eye view of the planet below.
Arizona-based World View sent up the 331,000-cubic-foot helium balloon on Sunday from Pinal Airpark, northwest of Tucson, said Taber MacCallum, the company's co-founder and chief technology officer. Two university experiments were mounted on a platform beneath.
One was a device designed by a Gannon University team to observe characteristics of cosmic rays. The other was the Planetary Atmospheres Minor Species Sensor, designed by students from the Florida Space Institute at the University of Central Florida to measure the distribution of gases in the atmospheres of Earth and potentially other planets.
During the four-hour flight, the balloon and its payloads floated at a height of 105,000 feet (32 kilometers) for an hour and 46 minutes, MacCallum told NBC News. That altitude is the heart of a stratospheric region known as "near-space," above where most airplanes fly but below the 100-kilometer boundary of outer space.
World View, a commercial venture focusing on high-altitude ballooning, has been testing balloon launch systems in preparation for offering "Voyager" tourist flights to near-space. Those flights are currently slated to start in late 2016, although the actual schedule will be dictated by the outcome of flight tests, MacCallum said. World View is capitalizing on the technology that was used last year to send Google executive Alan Eustace into the stratosphere for his record-breaking, 136,000-foot parachute dive.
Sunday's payloads came back down to earth safely on a parafoil system, and the balloon envelope was recovered as well, MacCallum said. A larger-scale version of the parafoil descent system would be used for the Voyager flights.
MacCallum declined to say exactly how much World View was paid for Sunday's flight, which was funded by a contract with NASA's Flight Opportunities Program, but he said the price was "well south of half a million" dollars. Alan Stern, World View's chief scientist, said the flight was "about 10 times cheaper than a sounding rocket," which is currently the primary method for flying suborbital space experiments.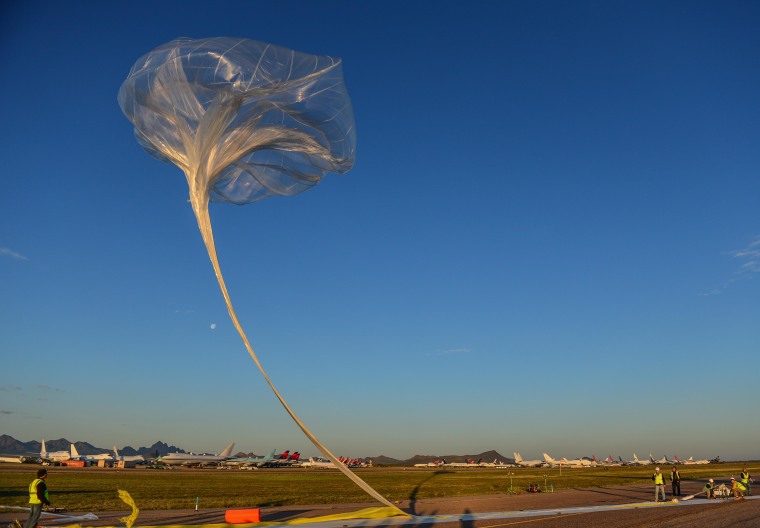 Stern said high-altitude balloon flights could open up a new frontier for space research: "Many types of space applications and research need more access to near-space than has been possible previously," he said in a news release.
He told NBC News that such applications could open up a new frontier for space entrepreneurs as well. "This company is probably the most successful new-space company out there in terms of suborbital," said Stern, who has played key roles in a variety of commercial space ventures and currently serves as the principal investigator for NASA's New Horizons mission to Pluto.
Stern said dozens of people already have signed up for World View's Voyager flights, which would carry balloon riders in a pressurized capsule to an altitude of 100,000 feet for $75,000. Although it's not technically outer space, and there's no weightlessness involved, the view of a curving Earth would be similar to what astronauts see.