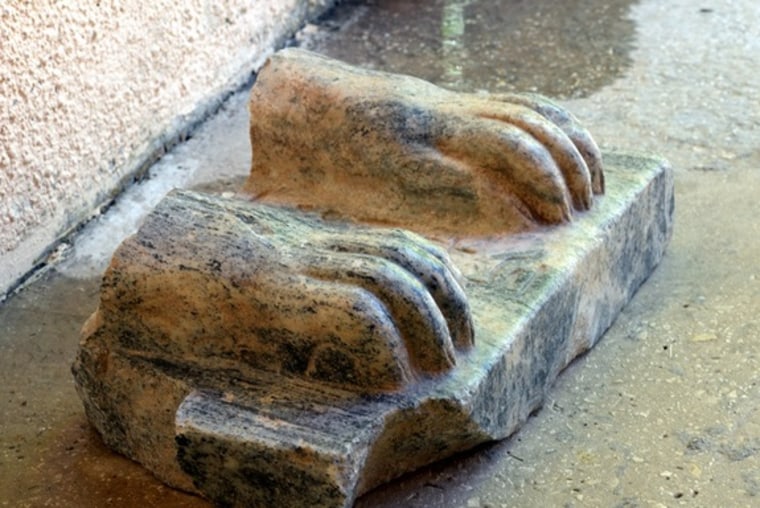 Archaeologists digging in Israel say they have made an unexpected find: the feet of an Egyptian sphinx linked to a pyramid-building pharaoh.

The fragment of the statue's front legs was found in Hazor, a UNESCO World Heritage Site just north of the Sea of Galilee. Between the paws is a hieroglyphic inscription with the name of King Menkaure, sometimes called Mycerinus, who ruled Egypt during the Old Kingdom more than 4,000 years ago and built one of the great Giza pyramids.
Researchers don't believe Egypt had a relationship with Israel during Menkaure's reign. They think it's more likely that the sphinx was brought to Israel later on, during the second millennium B.C. [Images: Glitzy Discovery at Giza Pyramids]
The inscription also includes the phrase, "Beloved by the divine manifestation … that gave him eternal life." Amnon Ben-Tor, one of the Hebrew University archaeologists leading the excavations at Hazor, thinks that descriptor could be a clue the sphinx originated in the ancient seat of sun worship, Heliopolis, which is today mostly destroyed and covered up by Cairo's sprawl.
The part-lion, part-human sphinx was a mythical creature represented in art throughout the ancient Near East as well as India and Greece. Ben-Tor and colleagues say the artifact found at Hazor is the first-ever discovered sphinx fragment associated with king Menkaure. It's also the only royal Egyptian sphinx ever to be unearthed in Israel, according to a statement from Hebrew University.
The statue fragment was exposed at the entrance to the city palace in an archaeological layer that dates to the mysterious destruction of Hazor when it was occupied by the Canaanites in the 13th century B.C.
The researchers think the sphinx could have been brought to Israel during the 17th to 16th centuries B.C., when part of Egypt was controlled by the Hyksos, a people believed to be originally from northern Canaan. Alternatively, the royal sculpture may have arrived in Hazor as a gift from an Egyptian king during the 15th to 13th centuries B.C., when Egypt controlled much of Canaan through a system of vassal states. At that time, Hazor was the most important city in the southern Levant, covering some 200 acres (80 hectares), with an estimated population of about 20,000.
Hazor was strategically located at a crossroads between Egypt and Babylon. Initially a Canaanite city, it had been fortified since the early second millennium B.C., conquered by the Israelites, rebuilt under King Solomon and ultimately destroyed by the Assyrians in 732 B.C.
Follow Megan Gannon on Twitter and Google+.Follow us @livescience, Facebook and Google+. Original article on LiveScience.com.