A World War II-era aircraft carrier was found on the ocean floor near California's Farallon Islands and it's looking great. Despite being underwater since 1951, the USS Independence CVL-22 is "amazingly intact," said officials with the National Oceanic and Atmospheric Administration.
Sonar images even show what could be an airplane sitting in the carrier's hangar bay.
"After 64 years on the seafloor, Independence sits on the bottom as if ready to launch its planes," James Delgado, maritime heritage director for NOAA's Office of National Marine Sanctuaries, said in a statement. "This ship fought a long, hard war in the Pacific and after the war was subjected to two atomic blasts that ripped through the ship."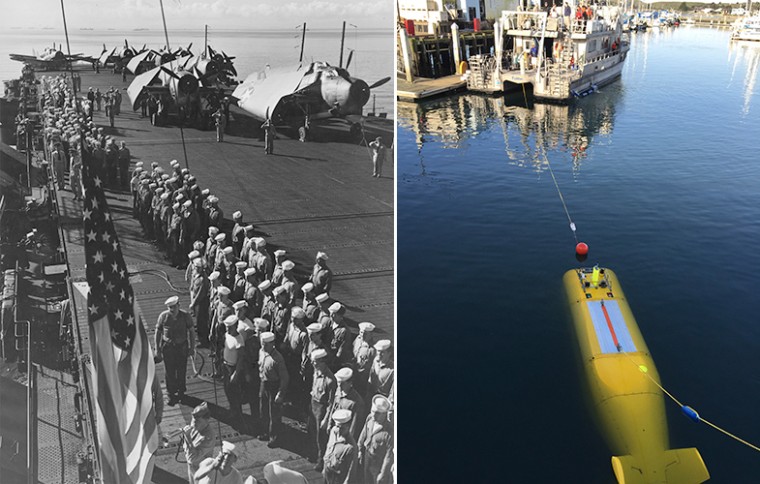 The USS Independence CVL-22 saw service in the Pacific from 1943-1945, but its fate was sealed when it became one of the 90 ships to take part in the Bikini Atoll atomic bomb tests. Blasted by heat and radiation, the ship was taken to San Francisco by the U.S. Navy for decontamination studies. In 1951, it was finally towed out to sea for scuttling.
Last month, a team from NOAA and Boeing investigated a site 30 miles off the Northern California coast where an earlier survey indicated the ship could be located. The Independence was there, 2,600 feet below the surface of ocean in the Gulf of the Farallones National Marine Sanctuary near San Francisco.
Using an 18.5-foot-long autonomous underwater vehicle named Echo Ranger, the team created a 3-D sonar map of the ship, which was sitting upright on the ocean floor. While there are a few "gaping holes" in its hangar bays, much of the USS Independence CVL-22 is intact. Researchers estimate there are around 300 wrecks in the surrounding area.
IN-DEPTH
SOCIAL