LONDON — They came from every parish of London, and from all walks of life, and ended up in a burial ground called Bedlam. Now scientists hope their centuries-old skeletons can reveal new information about how long-ago Londoners lived — and about the bubonic plague that often killed them.
Archaeologists announced Monday that they have begun excavating the bones of 3,000 people interred in the 16th and 17th centuries, who now lie in the path of the Crossrail transit line. They will be pored over by scientists before being reburied on Canvey Island in the Thames Estuary.
One recent workday, just meters (yards) from the Liverpool Street railway station, researchers in orange overalls scraped, sifted and gently removed skeletons embedded in the dark earth. In one corner of the site, the skeleton of an adult lay beside the fragile remains of a baby, the wooden outline of its coffin still visible. Most were less intact, a jumble of bones and skulls.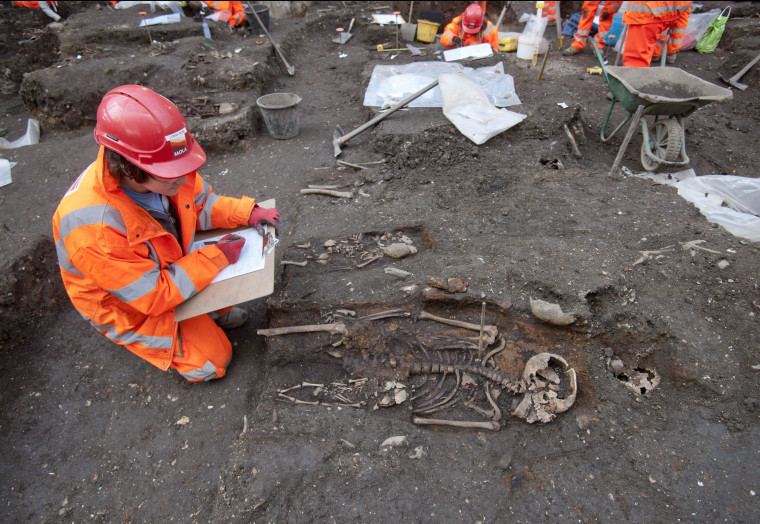 "Part of the skill of it is actually working out which bones go with which," said Alison Telfer, a project officer with Museum of London Archaeology, which is overseeing the dig.
Due to open in 2018, the 118-kilometer (73-mile) trans-London Crossrail line is Britain's biggest construction project, and its largest archaeological dig for decades. The central 21-kilometer (13-mile) section runs underground, which has meant tunneling beneath some of the oldest and most densely populated parts of the city.
For Londoners, that has brought years of noise and disruption, but for archaeologists it's like Christmas. Almost every shovelful of earth has uncovered a piece of history, or prehistory: bison and mammoth bones; Roman horseshoes; medieval ice skates; the remains of a moated Tudor manor house. Chief archaeologist Jay Carver says the Bedlam dig could be the most revealing yet.
IN-DEPTH
SOCIAL
— The Associated Press