What do you get when you put Bill Nye the Science Guy and astrophysicist Neil deGrasse Tyson in the same room at the White House with President Barack Obama? This is no joke, although Nye makes it sound like one:
The three got together for Friday's White House Student Film Festival, which featured student videos highlighting how technology can transform education. Or, as Nye might say, "change the world!" Attendees also got a sneak peek at the new "Cosmos" TV series, hosted by Tyson and due to premiere on March 9.
It all added up to an event almost as glitzy as the Oscars. "The Academy Awards are not until Sunday, but as you can see, we brought the Oscars to the White House a little bit early," Obama told the student filmmakers. "We've got the red carpet, we've got the big screens, the opening monologue. The only difference is, nobody asks what you're wearing."
Even Kal Penn, the TV and movie actor who served for a while as the associate director of the White House Office of Public Engagement, got in on the selfie action. Bill and Neil and Kal and Barack ... best friends forever.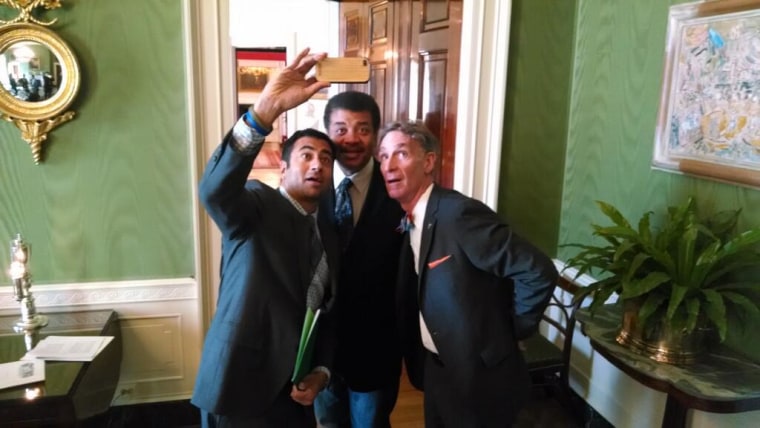 — Alan Boyle, NBC News