A DNA test has confirmed that a lone gray wolf is roaming Arizona, just north of the Grand Canyon, a long way from its home in the northern Rockies.
The animal, which is protected under the Endangered Species Act, is the first known gray wolf to visit Arizona in about 70 years. The species disappeared from the state in the 1940s, which makes this development exciting news for conservationists who want to see wolves spread back into their former habitats.
After repeated sightings of the wolf over the last month, the U.S. Fish and Wildlife Service (FWS) collected a sample of the animal's feces in Kaibab National Forest, near the north rim of the Grand Canyon. [In Photos: The Fight Over Gray Wolves' Endangered Status]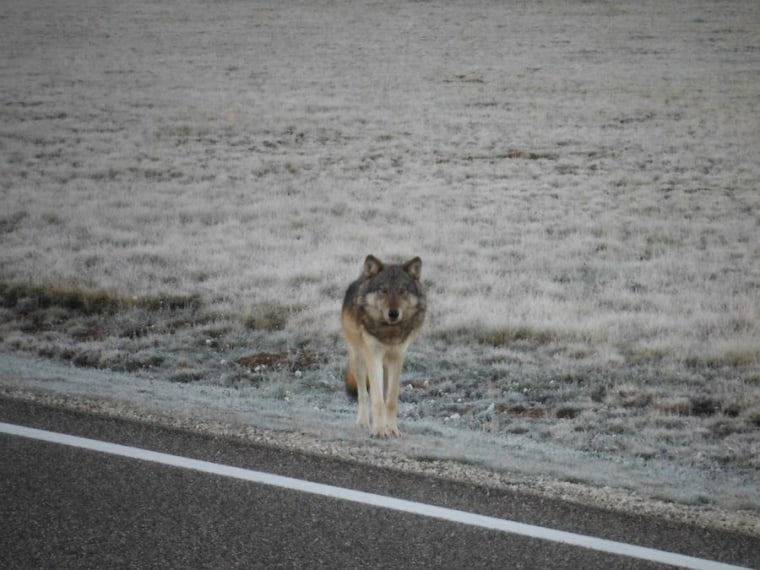 The sample was sent to the University of Idaho's Laboratory for Ecological, Evolutionary and Conservation Genetics, where a DNA test revealed that the animal is a female gray wolf from the northern Rocky Mountains population. This means the wolf traveled at least 450 miles (725 kilometers) to get to northern Arizona. But such treks are not uncommon for gray wolves, FWS officials said.
"Wolves, particularly young wolves, can be quite nomadic, dispersing great distances across the landscape," Benjamin Tuggle, FWS director for the southwest region, said in a statement Friday (Nov. 21). "Such behavior is not unusual for juveniles as they travel to find food or another mate."
FWS officials were unsuccessful in their attempts to capture the lone wolf so that they could collect a blood sample and remove the inactive radio collar around the animal's neck. Further analysis of the wolf's DNA over the next few weeks could help determine the identity of the wolf, if it had been captured and sampled before on its home turf. The wolf is not related to the small population of Mexican wolves that lives in southern Arizona and New Mexico.
This is a condensed version of a report from Live Science. Read the full report. Follow Megan Gannon on Twitter. Follow us @livescience, Facebook & Google+. Original article on Live Science.