TORONTO — She's literally one in a million.
The remains of a child, laid to rest more than 1,500 years ago when the Roman Empire controlled Egypt, was found in an ancient cemetery that contains more than 1 million mummies, according to a team of archaeologists from Brigham Young University in Provo, Utah.
The cemetery is now called Fag el-Gamous, which means "Way of the Water Buffalo," a title that comes from the name of a nearby road. Archaeologists from Brigham Young University have been excavating Fag el-Gamous, along with a nearby pyramid, for about 30 years. Many of the mummies date to the time when the Roman or Byzantine Empire ruled Egypt, from the 1st century to the 7th century A.D. [See photos of the million-mummy cemetery]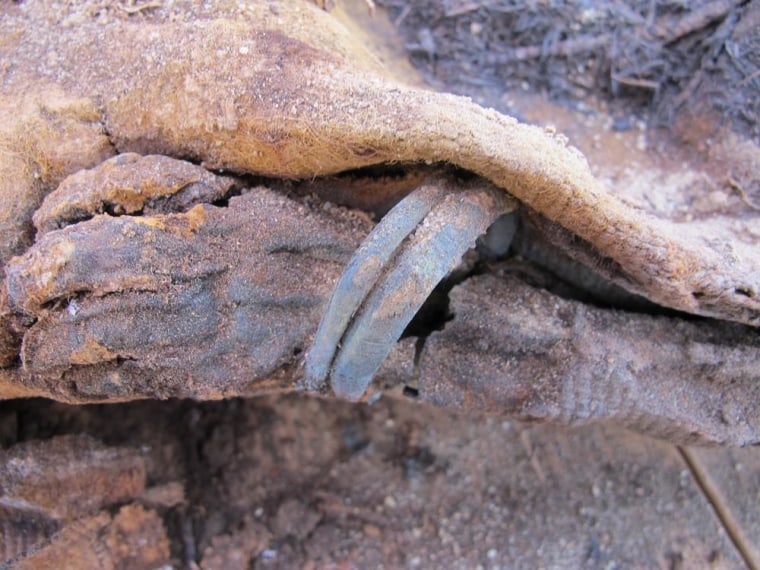 "We are fairly certain we have over a million burials within this cemetery. It's large, and it's dense," Project Director Kerry Muhlestein, an associate professor in the Department of Ancient Scripture at Brigham Young University, said in a paper he presented at the Society for the Study of Egyptian Antiquities Scholars Colloquium, which was held last month in Toronto.
This cemetery was not a burial ground for kings or royalty. The people buried here were often laid to rest without grave goods, and without coffins for that matter, the researchers said. The deceased's internal organs were rarely removed; instead, it was the arid natural environment that mummified them. "I don't think you would term what happens to these burials as true mummification," Muhlestein said. "If we want to use the term loosely, then they were mummified."
The mummified child was buried with several other mummies. It was wrapped in a tunic and wore a necklace with two bracelets on each arm.
"There was some evidence that they tried much of the full mummification process. The toes and toenails and brain and tongue were amazingly preserved," the researchers wrote on the project's Facebook page. "The jewelry makes us think it was a girl, but we cannot tell."
Researchers estimate the infant was 18 months old when she died.
Where exactly these million mummies came from is an ongoing mystery, and one that the team has yet to solve.
— Owen Jarus, Live Science