NASA has confirmed reports that space officials discussed putting Big Bird on the space shuttle Challenger, before it was lost along with its entire crew in an explosion in 1986. But the space agency said the plan never got to the point of giving Caroll Spinney, the human who portrays the 8-foot-2 bird on the "Sesame Street" TV show, a spot on the passenger list.
The decade-old tale came up again in reference to a newly released documentary, "I Am Big Bird," which traces Spinney's career and personal life. Spinney refers to the spaceflight angle in the film, and in many of the interviews that he's given about the film.
"I once got a letter from NASA, asking if I would be willing to join a mission to orbit the Earth as Big Bird, to encourage kids to get interested in space," Spinney recalled last month in an essay published by The Guardian. "There wasn't enough room for the puppet in the end, and I was replaced by a teacher."
That's a reference to New Hampshire high-school teacher Christa McAuliffe, who went through months of training to fly on Challenger as part of the Teacher in Space Project.
"In 1986, we took a break from filming to watch takeoff, and we all saw the ship blow apart," Spinney wrote. "The six astronauts and teacher all died, and we just stood there crying."
In response to inquiries, NASA released a statement on Monday referring to its talks with the "Sesame Street" team:
"In 1984, NASA created the Space Flight Participant Program to select teachers, journalists, artists, and other people who could bring their unique perspective to the human spaceflight experience as a passenger on the space shuttle. A review of past documentation shows there were initial conversations with Sesame Street regarding their potential participation on a Challenger flight, but that plan was never approved."
NASA said the talks involved the Big Bird character as well as his teddy bear, Radar.
As noted in the statement, NASA had intended to send a wide range of creative types into space. For example, NBC News' Cape Canaveral correspondent, Jay Barbree, was among 40 candidates in NASA's Journalist in Space Program. The first journalist was due to fly on the shuttle Challenger in September 1986.
Those plans, along with other elements of the Space Flight Participant Program, were canceled in the wake of the Challenger explosion on Jan. 28, 1986. Spinney, who is now 81 years old, lost any chance he ever had of going into orbit.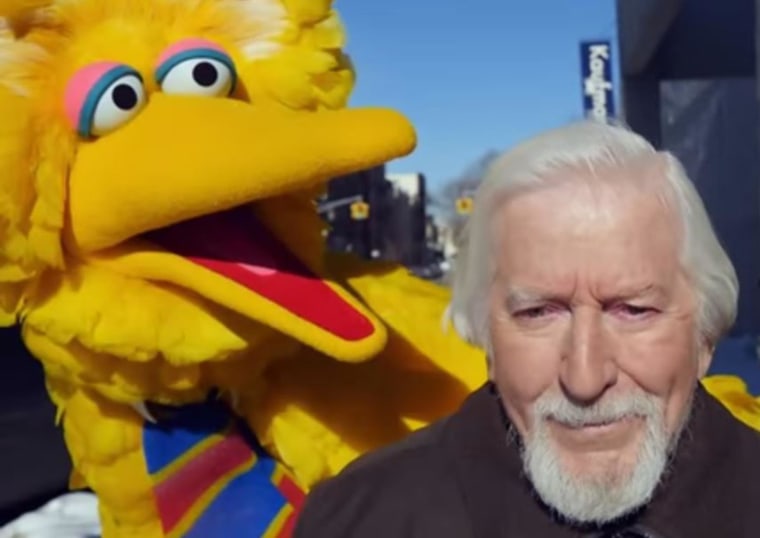 Although NASA never reached an agreement to fly actors from "Sesame Street" into space, the two organizations have continued to collaborate on projects aimed at engaging students in educational activities related to science, technology and mathematics. Several astronauts, including Buzz Aldrin and Sally Ride, have appeared on "Sesame Street" episodes, and several Sesame Street toys have flown into space.
Most recently, NASA packed Slimey the Worm, Ernie's rubber ducky, a cookie from the Cookie Monster and Grover's cape aboard its Orion test capsule for last December's orbital flight test. And although Big Bird wasn't aboard, the cargo manifest did include BIRD — as in "Battery-operated Independent Radiation Detector."
NBC News' Jay Blackman contributed to this report.