Long before they shared the landscape with modern humans, Neanderthals in Europe developed a sharp sense of style, wearing eagle claws as jewelry, new evidence suggests.
Researchers identified eight talons from white-tailed eagles — including four that had distinct notches and cut marks — from a 130,000-year-old Neanderthal cave in Croatia. They suspect the claws were once strung together as part of a necklace or bracelet.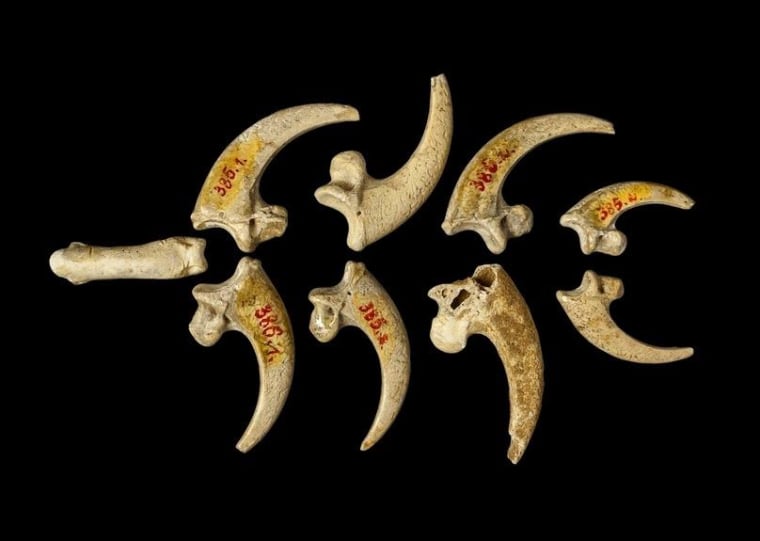 "It really is absolutely stunning," study author David Frayer, an anthropology professor at the University of Kansas, told LiveScience. "It fits in with this general picture that's emerging that Neanderthals were much more modern in their behavior." [Top 10 Mysteries of the First Humans]
The talons were first excavated more than 100 years ago at a famous sandstone rock-shelter site called Krapina in Croatia. There, archaeologists found more than 900 Neanderthal bones dating back to a relatively warm, interglacial period about 120,000 to 130,000 years ago. They also found Mousterian stone tools (a telltale sign of Neanderthal occupation), a hearth, and the bones of rhinos and cave bears — but no signs of modern human occupation. Homo sapiens didn't spread into Europe until about 40,000 years ago.
The eagle talons were all found in the same archaeological layer, Frayer said, and they had been studied a few times before. But no one noticed the cut marks until last year, when Davorka Radovcic, curator of the Croatian Natural History Museum, was reassessing some of the Krapina objects in the collection.
The researchers don't know exactly how the talons would have been assembled into jewelry. But Frayer said some facets on the claws look quite polished — perhaps made smooth from being wrapped in some kind of fiber, or from rubbing against the surface of the other talons. There were also nicks in three of the talons that wouldn't have been created during an eagle's life, Frayer said.
The findings were published March 11 in the journal PLOS ONE.
— Megan Gannon, LiveScience
This is a condensed version of a report from LiveScience. Read the full report. Follow Megan Gannon on Twitter. Follow LiveScience on Twitter, Facebook and Google+.