A fingernail-size frog that can morph its skin texture from spiny to smooth in just minutes is the first shape-shifting amphibian ever found, according to a new report. The tiny "mutable rain frog" (Pristimantis mutabilis) was discovered on the western slopes of Ecuador's Andes Mountains, in a protected cloud forest reserve.
Katherine Krynak, a biologist and Case Western Reserve University graduate student, and Tim Krynak, a naturalist and Metroparks project manager, first spotted the frog in 2006 and only snapped a photo, but later realized it could be a newfound species when they enlarged the image. They started calling the frog a "punk rocker" for its spiny-textured skin.
In 2009, the Krynaks finally saw another punk rocker frog and grabbed it for a detailed photo session, putting it in a small plastic cup overnight. But when Katherine Krynak opened the cup the next morning, the frog's spines were gone. Thinking they had taken the wrong frog, the Krynaks said they couldn't believe their eyes the next time they checked it. Its spiny skin texture had returned.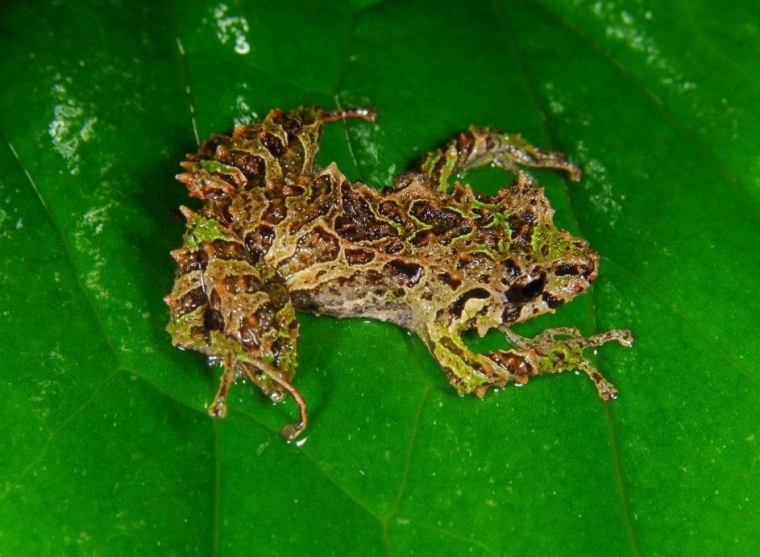 "It was remarkable," Katherine Krynak said. "We were both kind of in shock at this point."
The Krynaks think the shape-shifting spines may provide camouflage in the mossy forests, but the idea still needs to be tested. Researchers also don't yet know how the frog morphs its skin from smooth to spiny, and then back again. During the study, a previously known species of rain frog, Primates sobetes, was also found to be able to morph. The shape-changing abilities of both frogs are reported today (March 24) in the Zoological Journal of the Linnean Society.
—Becky Oskin, Live Science
This is a condensed version of a report from Live Science. Read the full report. Follow Becky Oskin @beckyoskin. Follow Live Science @livescience, Facebook & Google+.