It looks like a Photoshopped hoax straight from The Onion, but this really happened: Greenpeace laid down an ad next to a 1,500-year-old tracing of a hummingbird in the Peruvian desert, one of the delicate monuments known as the Nazca Lines.
Now the environmental group is apologizing profusely for the stunt, but its activists could face criminal charges nevertheless.
A Greenpeace team placed the message in yellow cloth letters near the monument on Monday, so it could be seen from above during global climate talks that are under way in Peru. The message read, "Time for Change! The Future Is Renewable ... Greenpeace."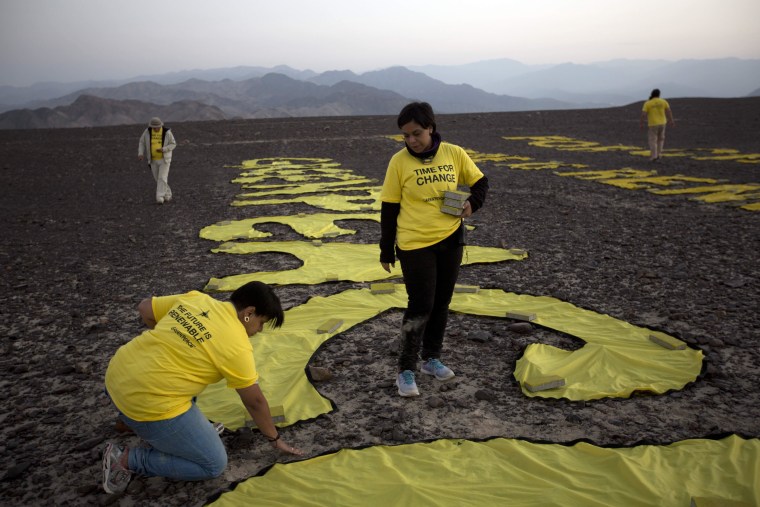 The stunt sparked outrage from Peruvian officials as well as fans of the Nazca Lines, which were scratched in the desert surface centuries ago and depict plants, creatures and mythical beings. Archaeologists have suggested the mysterious lines might have been used as ritual astronomical calendars or religious symbols.
Deputy Culture Minister Jaime Castillo told The Associated Press that the move was a "slap in the face at everything Peruvians consider sacred."
Castillo said that no one is allowed into the area where the activists went without prior authorization, and that those who do get permission are required to wear special shoes so as not to disturb the patterns in the dirt. He told AP that those who were responsible would be sought out and could face charges of attacking archaeological monuments — a crime punishable by up to six years in prison.
"You walk there and the footprint is going to last hundreds or thousands of years," The Guardian quoted Castillo as saying. "And the line that they have destroyed is the most visible and most recognized of all."
In a statement released Wednesday, Greenpeace said it was deeply sorry "for the offense caused by our recent activity laying a message of hope at the site of the historic Nazca lines."
"We fully understand that this looks bad," Greenpeace said. "Rather than relay an urgent message of hope and possibility to the leaders gathering at the Lima UN climate talks, we came across as careless and crass."
Greenpeace said Kumi Niadoo, its international executive director, would travel to Lima this week to apologize personally and represent the group in discussions with Peruvian authorities.