Ardent believers in the existence of a mythical creature known as the Yeti may be excited to learn that rare photographic "evidence" of this mysterious beast is now up for auction.
In 1951, British mountaineer Eric Earle Shipton was leading an expedition on Mount Everest when he took a series of photographs of what he believed might be the footprints of a bipedal, apelike creature known as the Yeti. The photos sparked debate in Europe about the existence of the mythical Himalayan creature, according to Christie's, the auction house handling the online sale.
Four of Shipton's 12-inch by 13-inch (30 by 33 centimeters) photographs will be sold to the highest bidder in a two-week-long online auction that began on Aug. 27. Two of the photos feature the alleged Yeti footprints alongside human footprints for the sake of comparison. The other two photos give the viewer a better sense of the scale of these enigmatic prints — showing the Yeti footprint next to an ice ax and a booted foot, respectively. [ See more photos of the supposed Yeti footprints ]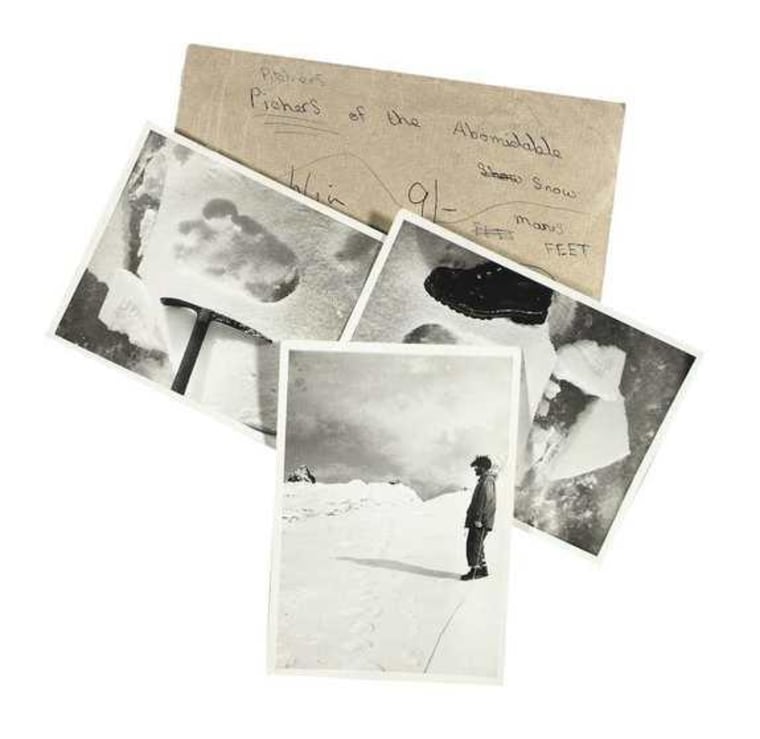 The 63-year-old photos could fetch up to $8,300, according to Christie's.
Other highlights from the " Out of the Ordinary: The Online Edit " auction include an iguanodon vertebrae fossil from the early Cretaceous period. The bidding for this ancient prize starts at $829. An egg from an extinct species of elephant bird (Aepyornis maximus) from Madagascar will likely cost more, with a starting bid set at $10,000.
For science-fiction fans, the online auction also features an original poster from the 1958 film "I Married a Monster from Outer Space" (which could fetch $3,975). However, a bolder choice may be the full-size replica of the extraterrestrial creature from the 1979 film "Alien." Expected to sell for at least $4,000, the replica was one of 100 models that were used to create alien costumes for the iconic film.
And, of course, there's something for space fans, too. Christie's is also auctioning off a fragment of the Bible that accompanied American astronaut Edgar D. Mitchell to the moon during the Apollo 14 mission in February 1971. The specimen could sell for $16,500, according to the auction house.
— Elizabeth Palermo, LiveScience
Follow Elizabeth Palermo @techEpalermo. Follow Live Science @livescience, Facebook & Google+. Original article on Live Science.
More from LiveScience: