Music has a soothing effect on us humans when we go under the surgical knife ... but what about cats? A veterinary team from Portugal addressed that burning question, and determined that if you're going to put a feline patient under, classical music works the best. But stay away from the heavy-metal tunes.
The findings, published online Monday in the Journal of Feline Medicine and Surgery, follow up on studies that have documented classical music's soothing effect on humans as well as dogs. Lead author Miguel Carreira of the University of Lisbon said the experiment was inspired by his own experience as a veterinary clinician. "During consultations I have noticed, for example, that most cats like classical music, particularly George Handel compositions," he said in a news release about the research.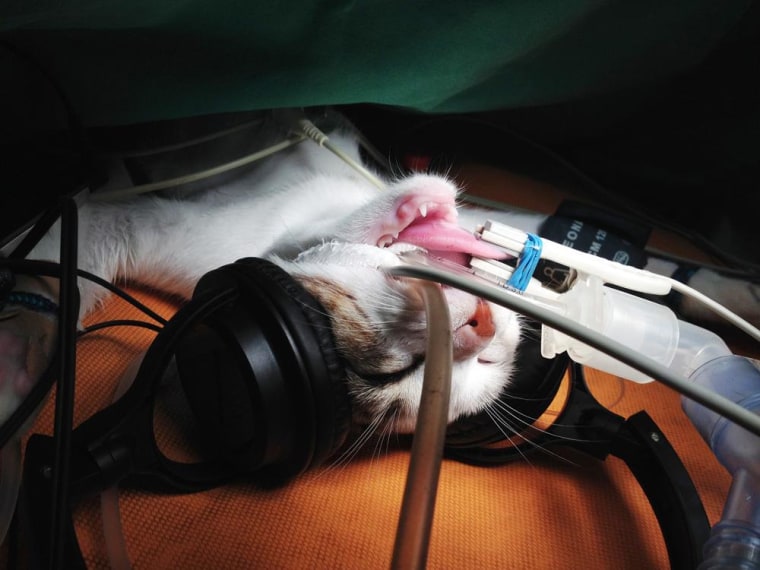 The researchers monitored the respiratory rate and pupil diameter of 12 female pet cats while they were anesthetized for neutering. During each surgery, the cats were hooked up with headphones. After two minutes of silence, the cats heard a randomly shuffled sequence of two-minute selections from Samuel Barber's Adagio for Strings (Opus 11), Natalie Imbruglia's pop song "Torn" and AC/DC's heavy-metal "Thunderstruck."
As you'd expect, classical music had the most soothing effect, the pop song had an intermediate positive effect, and AC/DC produced a "more stressful situation" — by some measures, more stressful than silence. The point of all this is not just to inspire pictures of blissed-out LOLcats wearing headphones: The results suggest that playing the right music during surgery could allow for lower doses of anesthetic agents — which would in turn reduce the risk of negative side effects.
IN-DEPTH
SOCIAL
— Alan Boyle
In addition to Carreira, the authors of "Influence of Music and Its Genres on Respiratory Rate and Pupil Diameter Variations in Cats Under General Anaesthesia: Contribution to Promoting Patient Safety" include Filipa Mira, Alexandra Costa, Eva Mendes and Pedro Azevedo.