SEATTLE — Football fans moved the seismic needle here when Seahawks defensive safety Kam Chancellor ran an interception back for a touchdown during Saturday's NFL playoff game against the Carolina Panthers, but 2011's "Beast Quake" still leads the list of Seahawk shocks.
That's the verdict from the Monday-morning seismologists at the Pacific Northwest Seismic Network.
University of Washington researchers installed seismic sensors at Seattle's CenturyLink Field for last weekend's game as a follow-up to the "Beast Quake" phenomenon four years ago. That's when Seahawks fans jumped and stomped so much during a Marshawn "Beast Mode" Lynch touchdown run that they generated seismic energy equivalent to an earthquake with a magnitude somewhere between 1 and 3.
The rumble produced during Chancellor's interception and 90-yard run was about 20 percent weaker and lasted about half as long as Beast Quake, said UW professor John Vidale, director of the seismic network.
The network's QuickShake real-time monitoring tool proved so popular online that at times the traffic overloaded the Web servers, Vidale told NBC News. Once the network was given a resource boost, it handled up to 2,000 simultaneous connections for a total of about 200,000 page visits over the course of the game.
The Seahawks beat the Panthers, 31-17, which means Seattle's football players, fans and seismologists move on to the next round in the NFL playoffs. Vidale said the PNSN team and its supporters at Microsoft are beefing up the computer network for Sunday's NFC championship game against the Green Bay Packers.
Because TV coverage of the game was on a 10-second delay, QuickShake's fans could tell how crucial plays turned out before they saw them unfold on television, Vidale said. "Every time there was a big third down, this gave it away," he said.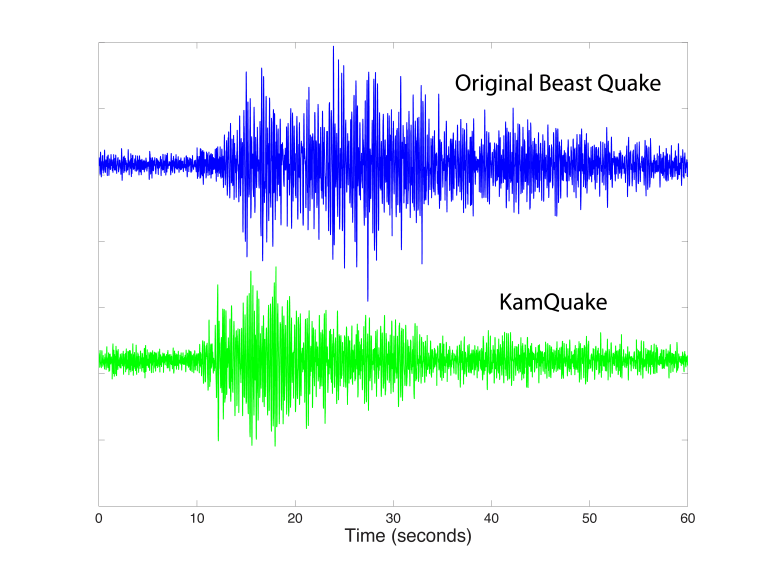 Vidale said it's difficult to compare KamQuake — or Beast Quake, for that matter — to a natural earthquake. "This lasted a long time, and a magnitude-2 or -3 quake is very short," he explained. Nevertheless, the rumbles created by football fans can help seismologists prepare for the Big One — and we're not talking about the Super Bowl.
QuickShake, for example, could provide the public with a real-time indicator for the ups and downs of seismic shocks.
"This is the kind of tool we need," Vidale said. "If and when we have an early warning system for earthquakes, we're thinking that QuickShake could be an accessory to that."
After Sunday's game, the researchers will pack up their seismic monitors until the next experiment at CenturyLink Field — which could come during a Seahawks game, or perhaps during a Seattle Sounders soccer match. "There's some motivation to monitor the soccer game," Vidale said. "Those fans are claiming that they're louder than the football fans."
Vidale said that he and his colleagues initially wondered whether encouraging fans to stamp and shout could be a risky proposition, but those worries have been eased. "We've been assured that it's a well-built stadium," he said.
It better be: Seismologists say the Seattle region's Cascadia subduction zone is capable of unleashing a megaquake measuring beyond magnitude 9.