There was a whole lotta shakin' going on during the Packers-Seahawks NFC championship game on Sunday, and Seattle seismologists once again have the data to prove it. In fact, the ground-shaking cheers of Seattle football fans at CenturyLink Field after a go-ahead touchdown and two-point conversion in the fourth quarter generated "the biggest seismic signal yet seen associated with a Seahawks game," scientists with the Pacific Northwest Seismic Network reported Monday.
The Seahawks went on to beat the Green Bay Packers in overtime, 28-22.
PNSN seismologists have used seismic sensors at CenturyLink to monitor seismic activity during Seahawks games for the past two years. They first got interested in football quakes when a seismometer a block away from the stadium recorded noticeable vibrations during Marshawn Lynch's epic 2011 touchdown run, which earned the moniker "Beast Quake." The celebratory jumping and stomping of Seahawks fans was so forceful it generated seismic energy equivalent to an earthquake with a magnitude somewhere between 1 and 3, scientists said at the time.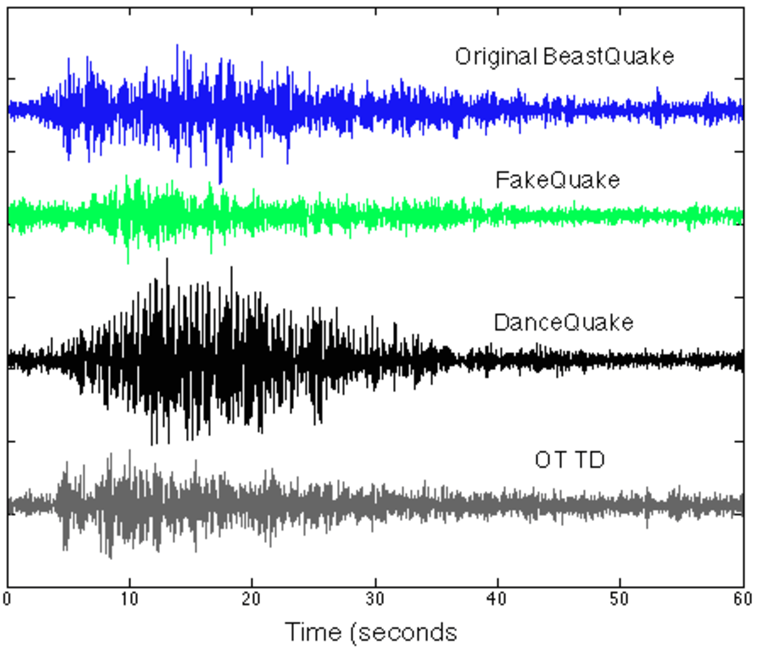 in Monday's blog post for PNSN, University of Washington professor emeritus Steve Malone said the "Dance Quake" recorded on Sunday after an improbable Russell Wilson-to-Luke Willson two-point conversion pass with under a minute and a half to go in regulation appeared to be even stronger that the seismic signal recorded during "Beast Quake."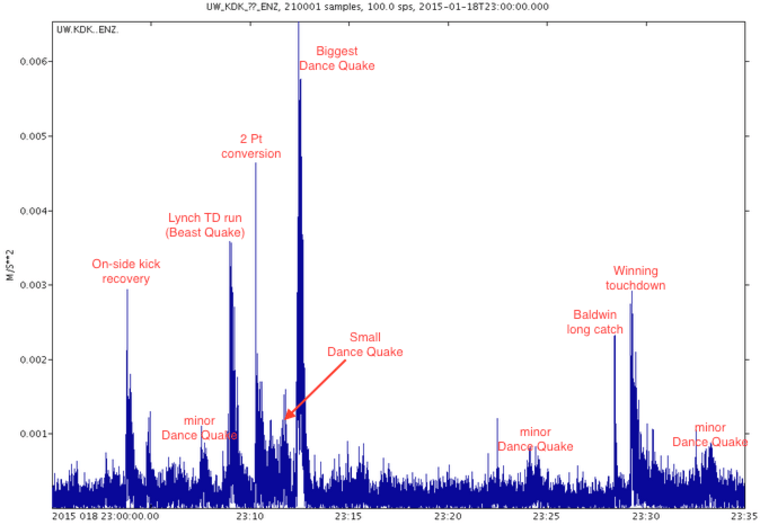 "It was very obvious that large number of fans were jumping up and down in unison at a rate of about 2 jumps per second. Our staff in the press box said that the whole place was shaking so much they thought it might be a real earthquake," Malone wrote. The miraculous overtime win thrust the Seahawks into Super Bowl XLIX, which will be played at the University of Phoenix Stadium in Glendale, Arizona. "What a way to finish the season in Seattle," Malone wrote. "Too bad we will not be seismically monitoring the Super Bowl."
IN-DEPTH
SOCIAL
— James Eng