The U.S. Navy says there's no truth to a widely circulating report that its mine-hunting dolphins are heading for the Black Sea, where the Russian Navy has recently taken control of Ukraine's military-trained dolphins.
The report popped up on the Russian newspaper Izvestia's website on Monday, in connection with claims that NATO countries might participate in military exercises with Ukraine or other nations in the Black Sea region this summer.
The report includes extensive quotes from a a source that Izvestia identified as Navy spokesman Tom LaPuzza — and it spawned follow-up items at online outlets ranging from the Daily Mail to The Wire to International Business Times UK.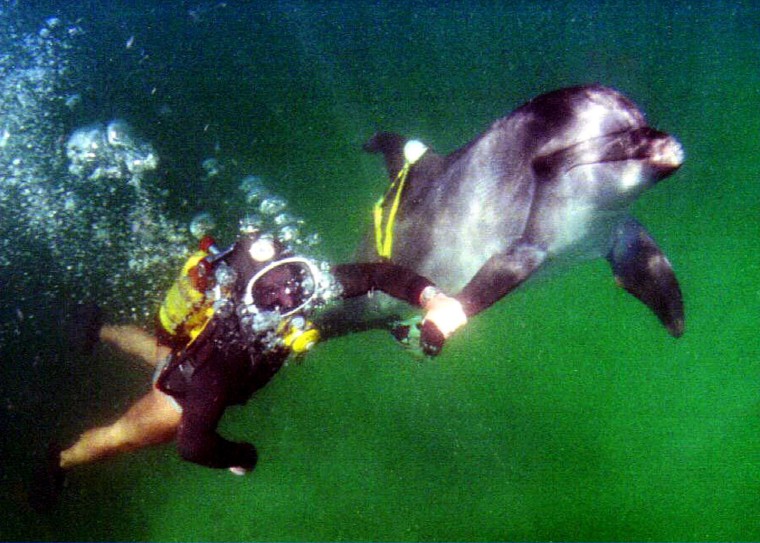 Such items caught the attention of Ed Budzyna, who really is a spokesman for the U.S. Navy Marine Mammal Program in San Diego. For decades, the Navy has been training dolphins and seals to identify explosives, mines and other foreign objects underwater — as have the Russians and Ukrainians.
The U.S. Navy has even been known to send its dolphins for duties in far-flung regions such as the Persian Gulf. But not this time.
"There's no basis to the story," Budzyna told NBC News. He said that as far as he knew, the dolphins were staying put this summer.
Budzyna noted that LaPuzza had been a spokesman for the Marine Mammal Program years back, but no longer. Efforts to contact LaPuzza, and efforts to figure out how Izvestia got its information, have so far been unsuccessful.