What turns animals into cannibals? If the animal happens to be a freshwater shrimp from Northern Ireland, a tiny parasite known as Pleistophora mulleri seems to play a role. The finding, reported in Royal Society Open Science, lends weight to the view that parasites promote cannibalistic behavior as part of a complex evolutionary game.
The shrimp, which belong to the species Gammarus duebeni, occasionally eat each other even when they're not infected with parasites. But researchers found that the infected shrimp were more likely to turn on their own kind — and made them more voracious, too.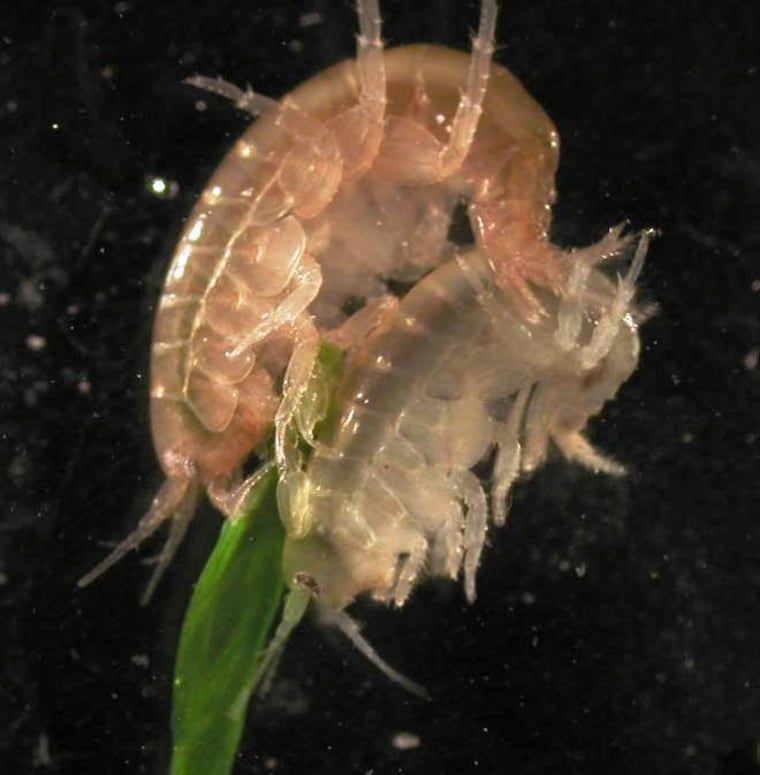 The parasite takes root in the shrimps' muscles, making them less able to catch prey from other species, the University of Leeds' Alison Dunn said in a news release. "Perhaps cannibalism of smaller shrimp is the only way these sick animals can survive," Dunn said.
There are certain types of parasites, such as Toxoplasma gondii, that can make their way into human brains — but Dunn advises against jumping to "Walking Dead" conclusions. "Cannibalism for the shrimp, unlike in humans, is a significant source of food even in uninfected animals," she said. "It seems unlikely that a parasite would be under evolutionary pressure to influence cannibalism in humans."
IN-DEPTH
SOCIAL
— Alan Boyle
In addition to Dunn, the authors of "Eaten Alive: Cannibalism Is Enhanced by Parasites" include Mandy Bunke, Mhairi E. Alexander, Jaimie T.A. Dick, Melanie J. Hatcher and Rachel Paterson.