A four-minute video from the International Space Station, released today by NASA, captures a beautiful and horrible sight: Ribbons of smoke drifting across Colorado and other Western states, due to a rash of wildfires.
You can also see sunlight glinting off lakes, as well as the snow-covered Rocky Mountains. But the haze covering the plains makes the biggest impression as you watch the landscape pass by, 230 miles (370 kilometers) beneath the station and a docked Russian spacecraft.
More than 30,000 residents in the Colorado Springs area had to evacuate their homes Tuesday night, due to what officials said was the most destructive fire in the state's history. Today, Colorado Springs Mayor Steve Bach passed along a preliminary report that the Waldo Canyon Fire destroyed 346 houses. President Barack Obama is due to visit the city on Friday to meet with firefighters and tour the fire-ravaged zones. (Our slideshow documents the devastation.)
Other wildfires burned in Colorado as well as Utah and Montana, The Associated Press reported.
The space station can capture high-resolution video and stills of the scene from its Cupola observation deck, but that's not the only vantage point at NASA's disposal. Earth-watching satellites such as Terra and Aqua are also monitoring the wildfires, as are weather satellites such as GOES-15. Here's a picture of the western U.S. taken by GOES-15 at 8:45 a.m. ET today and processed by the NASA GOES Project at Goddard Space Flight Center: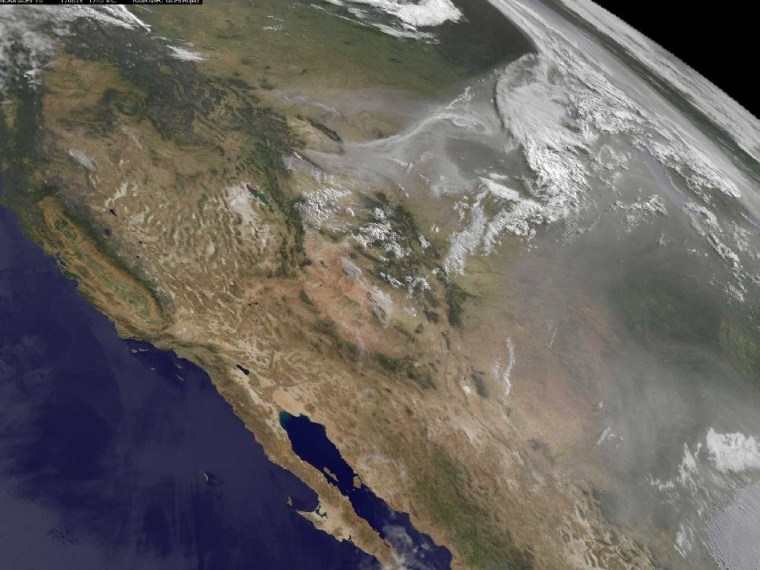 "The dawn's early light revealed smoke and haze throughout the Midwest, arising from forest fires throughout the Rockies," NASA said in its image advisory. "While the most publicized fires occur along the populous eastern range in Colorado, the great smoke plumes in this image came from Wyoming."
To get a fix on the Western wildfires, check out these resources:
Alan Boyle is msnbc.com's science editor. Connect with the Cosmic Log community by "liking" the log's Facebook page, following @b0yle on Twitter and adding the Cosmic Log page to your Google+ presence. You can also check out "The Case for Pluto," my book about the controversial dwarf planet and the search for new worlds.