The traditional wisdom is that today's wildfires set the stage for tomorrow's healthy forests. But researchers are coming to the conclusion that in a warmer world, with more droughts and more wildfires, the traditional wisdom won't always hold true.
You wouldn't know that by looking at Yellowstone National Park, which lost a third of its forest land in a seemingly catastrophic series of wildfires of 1988. Twenty-five years later, the forests are making a stunning comeback.
"The forests regenerated so quickly and so abundantly that even we were surprised," said Monica Turner, an ecologist at the University of Wisconsin at Madison who has been monitoring Yellowstone since 1988. The regeneration of Yellowstone looks like a textbook case in nature's resilience to wildfires. Will that always be the case?
"We thought Yellowstone would be resilient no matter what," Turner told NBC News. "But the recent climate projections have caused us to question that assumption."
Those projections suggest that the incidence of wildfires will increase significantly by the middle of the 21st century, due to warmer, drier weather in the West. That's expected to sap the ability of forests to recover between one fire and the next. Particularly in the Southwest, wide areas of today's forest land could give way to scrublands, or grasslands. In other areas, the mix of trees will shift, favoring drought-tolerant, fire-resistant species.
Not even Yellowstone will be immune. "It might be quite different from what it was like in the 20th century," Turner said.

Circle of life
Fires have been an integral part of the forest's circle of life — not just for centuries, but for eons. Some species, such as the lodgepole pine, depend on wildfires to release their seeds from pine cones for the next generation. Other types of trees, such aspens, quickly regenerate from their roots after a fire. And still others, such as ponderosa pines, benefit from the thinning out that's done by low-intensity, surface-clearing fires.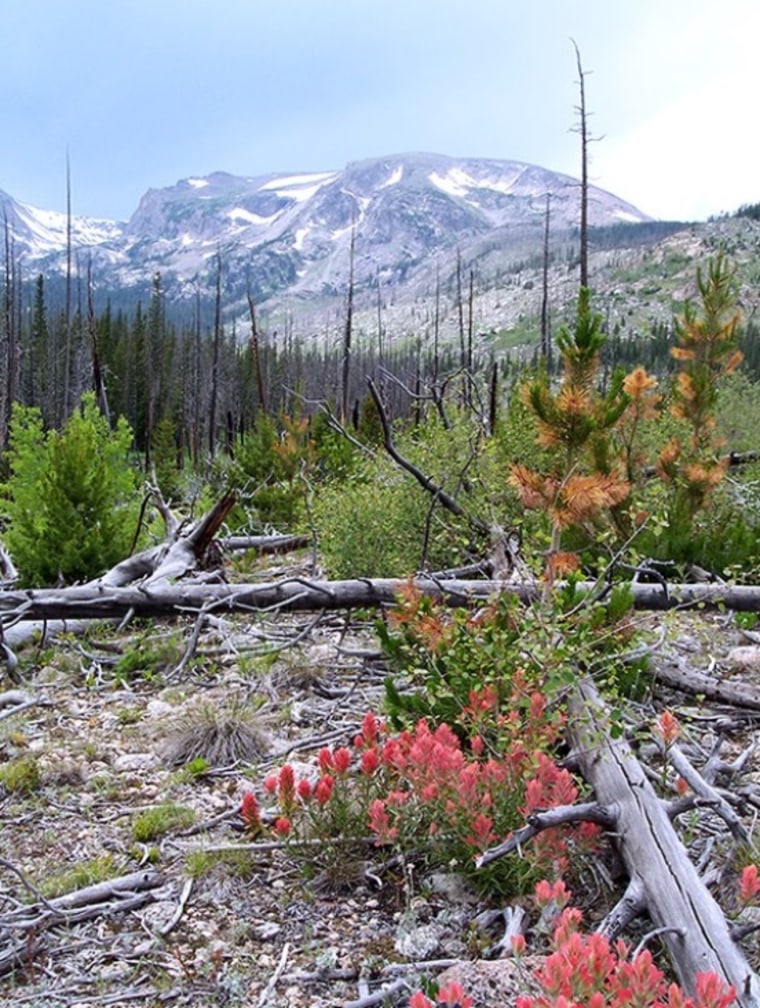 "The news media tend to emphasize the destructive nature of these fires, but they have some benefits as well," said fire ecologist Bill Romme, a professor emeritus at Colorado State University.
The concern arises when wildfires become too frequent, or too intense. What happens if one fire resets the circle of life for a stand of lodgepole pine, and then a second fire sweeps through before the next generation can form seeds and cones? What happens when the burned patches of a fir or spruce forest become so wide they can't be reseeded from their surroundings?
"Those are some of the things we're starting to work on now," Turner said.
Drought plays a huge role — not only during the fire, but afterward as well: The drought and fires that hit Yellowstone in 1988 were followed by a year that was hospitable to the new seedlings, and that contributed to the rapid comeback. In contrast, a rash of wildfires in 2000 was followed by another year of drought in 2001. The regeneration process for the forests affected by those later fires was "much slower," Turner said.
The projections produced by Turner and her colleagues suggest that, by 2050, the frequency and extent of Yellowstone's wildfires will accelerate to a pace three to 10 times as fast as it has been historically. "What we would expect is that the area occupied by forest would probably decline," Turner said. "That would probably happen soonest at lower treeline."
What to do?
Should forest managers return to the vigorous fire suppression policy that was in effect decades before the Yellowstone conflagrations of 1988? The researchers say no. In fact, the prevailing wisdom is that the previous policy of suppressing natural fires only set the stage for overgrowth — and eventually, extreme wildfires.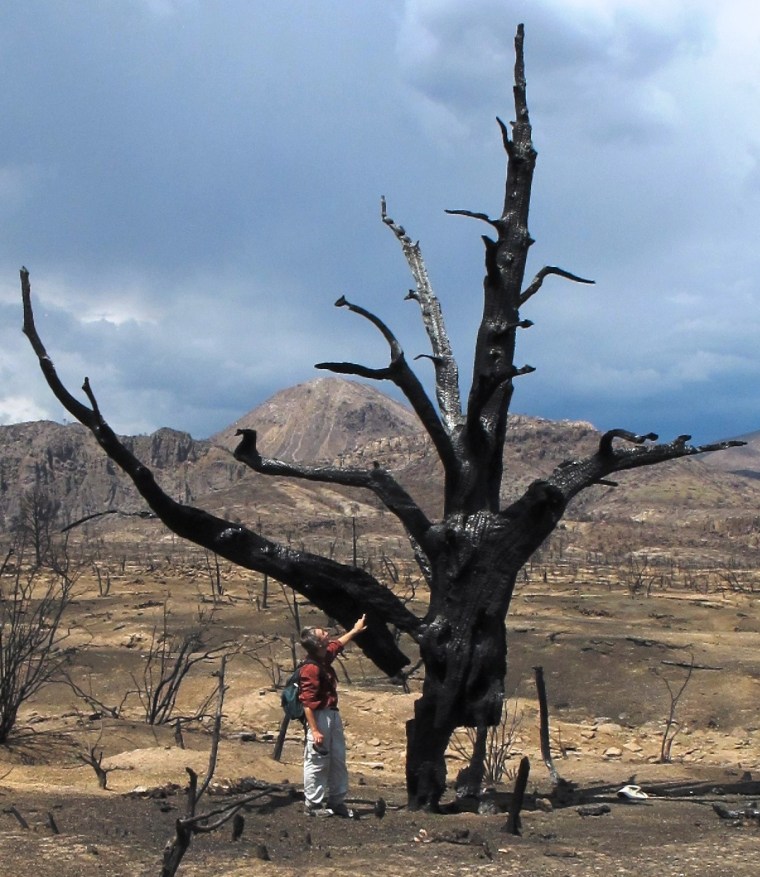 "This approach won't work — indeed, it has not been working as society has been trying to suppress, and simply is not able to when extreme weather meets extreme hazard fuel conditions," Craig Allen, a research ecologist at the U.S. Geological Survey in Fort Collins, Colo., told NBC News in an email.

That doesn't mean the firefighters struggling against the blazes that are ravaging the West this summer should pack up and go home. When human lives and property are at risk, putting out the fire is the highest priority. But studies have shown that low-intensity fires can reduce the incidence of high-intensity fires later. That's why current policies call for letting some wildfires burn under watchful eyes, or intentionally setting fires under the right conditions, or thinning out and cleaning up forests before fire strikes.
"They're doing the right things," Romme said, "but they're just not able to do it on as large an area as it needs, or as quickly as it needs to be done."

In the years ahead, forest management policies may have to be fine-tuned for a warmer world. "We have to be careful about learning to live with fire and increased risk," Turner said. "We might not want to encourage people to build new structures in places that are likely to burn severely. What we have to do is face what is probably inevitable."
That could pose a challenge if climate change accelerates as quickly as many scientists think it will.
"A lot of our practices based on past history just aren't going to apply," said Jesse Logan, a retired U.S. Forest Service researcher. "I think there could be some real mistakes in management if we rely completely on historical and prehistorical analysis. They may not be very helpful for formulating policy in the future. It's kind of like looking in the rear-view mirror when you're driving down the highway at 70 miles per hour. You need to concentrate on where you're going, and not primarily on where you've been."
More about wildfires:
Alan Boyle is NBCNews.com's science editor. Connect with the Cosmic Log community by "liking" the NBC News Science Facebook page, following @b0yle on Twitter and adding +Alan Boyle to your Google+ presence. To keep up with Cosmic Log as well as NBCNews.com's other stories about science and space, sign up for the Tech & Science newsletter, delivered to your email in-box every weekday. You can also check out "The Case for Pluto," my book about the controversial dwarf planet and the search for new worlds.