Flocks of pink-plumed African lesser flamingos descend on the banks of Tanzania's Lake Natron every year, maintaining a delicate balance of life and death that experts say may be endangered by human plans to develop the salt lake's natural resources.
The lesser flamingos, so named for being the smallest of six species, feast on algae from neighboring lakes in Kenya and Tanzania, then fly many miles to Natron to mate. The birds are choosy breeders; Natron is the sole mating site for the estimated 1.5 million lesser flamingos in East Africa.
As Natron's soda ash islands incubate new flamingo life, its banks are littered with the corpses of small birds and animals that accidentally fall into its alkaline-rich waters and eventually wash up, dead and crusted over with salt.
The brilliantly feathered flamingos themselves are given to occasional mass die offs, sometimes felled by disease that sweeps swiftly through its crowded flocks, or killed by seasonal toxins in the algae mixes that they eat.
To make the lives of these birds just a little bit more precarious, they must also contend with the plans human beings have for Lake Natron. On the horizon are plans for a soda ash plant, and investigations are under way for a geothermal facility.
If either of these projects reaches fruition, the birds' one breeding ground will be endangered: "In 50 years the flamingos will go extinct in east Africa," said the University of Leicester's David Harper, who studies the birds.
Life and death on the banks of Lake Natron
Flamingo flocks arrive at Natron annually, even though each bird will mate only once every four or five years. A courting pair, plump from gulping down red algae and blushing from the pigment that the microbes leach into their skin, will produce a single oblong egg, laid in a miniature salt island made of the soda ash that precipitates out of the lake water as the water evaporates.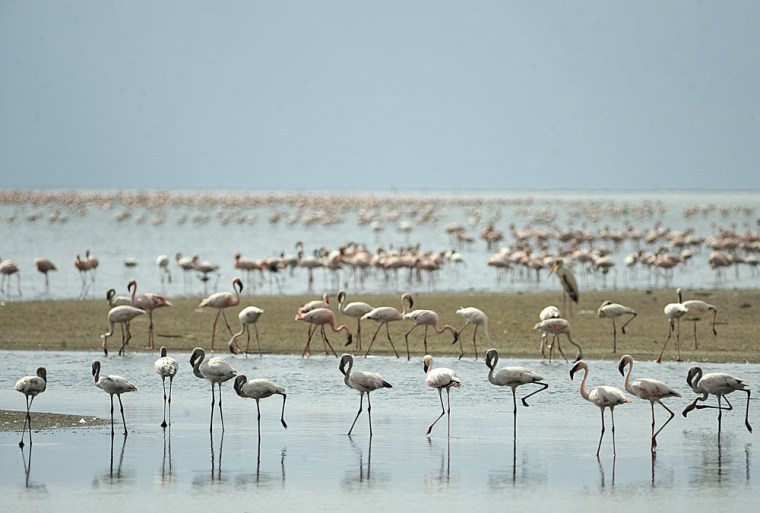 But large numbers of flamingos also have a tendency to die all at once, for reasons that remain unclear to researchers.

In fact, when Harper first visited Lake Bogoria in Kenya in 1989, he walked into one of the bigger die-offs in the East African population's history. He counted up to 1,000 fallen birds in a single day, and estimated that about 200,000 birds were lost that season.
"There's no certainty about why flamingos die in large numbers," Harper said, but theories have suggested an infectious bout of pneumonia, he said.
The flamingos' numbers are replenished every year, in spite of the birds' fussy mating habits.
"In the next three years, we counted more than 200,000 young birds, so we know the mortality was replaced," Harper said. An annual flamingo census indicates that the size of the population has stayed constant for the past two decades.

Human development may harm Natron's mating beds
That delicate balance could be endangered if humans get involved. The volcanic and soda ash coating the banks of Lake Natron have long interested humans as a valuable natural resource. In the mid-2000s, an Indian company, Tata Chemical, floated a $450 million plan to install a hissing and clanging soda ash factory on the banks of the lake. Conservationists, led by the Lake Natron Consultative Group and Bird Life International, fended it off. By May 2008, the company publicly withdrew their plans.
But the specter of industrial transformation lingers at Natron, and conservationists are worried.
"It has not died, it's very much alive," said Ken Mwathe, who works at the Nairobi office of BirdLife International, a global conservation group.
"The government of Tanzania has said over and over again that they are interested in mining soda ash at Lake Natron and looking for investors," he said. "In 2012 none other than the president of the Republic of Tanzania said he wanted the project fast tracked."

In 2012, the Natron Consultative group (of which Mwathe was a part) commissioned an economic analysis of the two scenarios, with and without a soda ash plant. The study indicated that the soda ash plant would bring in up to $516 million. Leaving the lake intact? That was valued at $1.57 billion.
"It's a very strong case not just for the flamingos but also for the Tanzanian economy," said Sarah Sanders, a spokesperson for the British-based Royal Society for the Protection of Birds.

But there's another proposal on the horizon: in the fall of 2013, reports in the Tanzania Daily News and Tanzania Invest stated that the government was collaborating with the Japan International Cooperation Agency to study the area, rich with volcanic activity, as a geothermal energy source. BirdLife is now investigating the progress of those plans: "We are talking to JICA," Mwathe said.
There's still much that's unknown about how and when the birds move, which make conservation a little bit more difficult should the need arise. Information about the African population of lesser flamingos is scarce because the birds favor several of a group of volcanic lakes, moving from one to the other for food. That makes them hard to track.
"There are alternatives to all these other things," Mwathe said. "But there are no alternatives to these flamingos." 
Nidhi Subbaraman writes about science and technology. You can follow her on Facebook, Twitter and Google+.