Sierra Nevada Corp. says its Dream Chaser prototype space plane will fly again after Saturday's first-ever glide test — a largely successful outing that was marred by a landing-gear failure.
The failure caused the 23-foot-wide (7-meter-wide) unmanned mini-shuttle to tip over, veer off its landing strip at Edwards Air Force Base in California and sustain some damage. "It wound up on its landing gear," Mark Sirangelo, corporate vice president for SNC Space Systems, told NBC News.
The company released a video on Tuesday that showed the unmanned Dream Chaser's release from its carrier helicopter, its autonomously controlled descent to the strip, and the failure of the left landing gear to deploy. The video stopped short of showing the landing itself, however. Sirangelo said that part of the video was being held back for a post-accident investigation.
During a teleconference on Tuesday, Sirangelo said the vehicle was "repairable and [would be] flyable again." There was no damage to the test vehicle's internal shell or electronics, and the damage to the external carbon-composite shell can be fixed, he said. The only question is whether the Dream Chaser would be repaired for another autonomous flight, or retooled for its first piloted flight. Either way, the vehicle would fly again later this year or next year, Sirangelo said.
"Our timeline isn't going to be affected by this," Sirangelo said. The flight yielded so much good data about Dream Chaser's aerodynamics that "in a strange way [it] might actually accelerate the program," he said.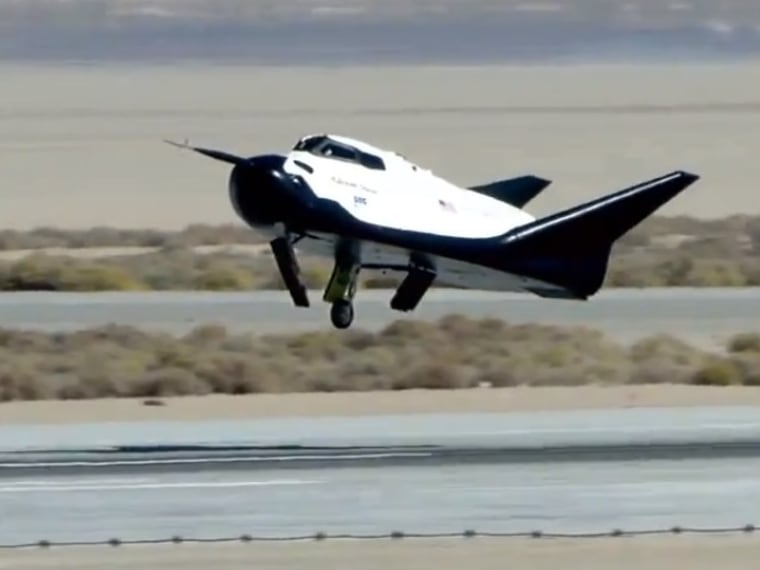 Sirangelo stressed that the landing gear used during Saturday's test was adapted from the equipment for an F-5 fighter jet, and would not be used on future configurations of the test vehicle.
NASA is due to pay Sierra Nevada $227.5 million during the current phase of development for the Dream Chaser, as part of a development program aimed at having U.S.-built spaceships ready to carry U.S. astronauts to the International Space Station by as early as 2017. NASA is supporting parallel development programs at the Boeing Co. and SpaceX, to the tune of more than $1 billion in total.
The Dream Chaser is the only one of the three proposed spacecraft that would be a winged vehicle. It's designed for launch atop an Atlas 5 rocket with up to seven passengers aboard, and landing at NASA's Kennedy Space Center in Florida. Sirangelo said Sierra Nevada is aiming to conduct an autonomous orbital flight test in 2016, with a piloted test expected during the latter half of 2017.
NASA's agreement calls for Sierra Nevada to receive an $8 million payment for collecting data relating to the Dream Chaser's flightworthiness. "NASA gets 30 days after we submit the data for a milestone to make the determination as to whether or not we've met that. ... We believe we've met all the criteria, but at this time I can't make a definitive statement. That's for NASA to do," Sirangelo told NBC News.

NASA has not yet commented on that point. On Saturday, the space agency said representatives from Sierra Nevada, NASA's Dryden Flight Research Center and the Air Force were "looking into the anomaly" that occurred during landing, and that Sierra Nevada would release information as it became available.
More about the Dream Chaser:

Alan Boyle is NBCNews.com's science editor. Connect with the Cosmic Log community by "liking" the NBC News Science Facebook page, following @b0yle on Twitter and adding +Alan Boyle to your Google+ circles. To keep up with NBCNews.com's stories about science and space, sign up for the Tech & Science newsletter, delivered to your email in-box every weekday. You can also check out "The Case for Pluto," my book about the controversial dwarf planet and the search for new worlds.