Remember the Mars rat? That's the Red Planet rock that looked like a rodent and ended up going viral. Now there's a new addition to the mineral menagerie: the Martian iguana.
Like the rat, the iguana presents an prankish example of pareidolia — that is, our ability to construct patterns out of ambiguous visual stimuli. Mars seems to be a particularly fertile field for pareidolia, offering curiosities ranging from the Face on Mars to the Martian mermaid.
NASA's Curiosity rover has spotted several such sights since landing on the Red Planet in August 2012 — including the rat and the iguana.
Like the rat, the iguana is getting a publicity push from Scott Waring of UFO Sightings Daily. "To say it's just a rock would be very closed-minded to the evidence at hand," he deadpanned in his Nov. 6 posting about the picture.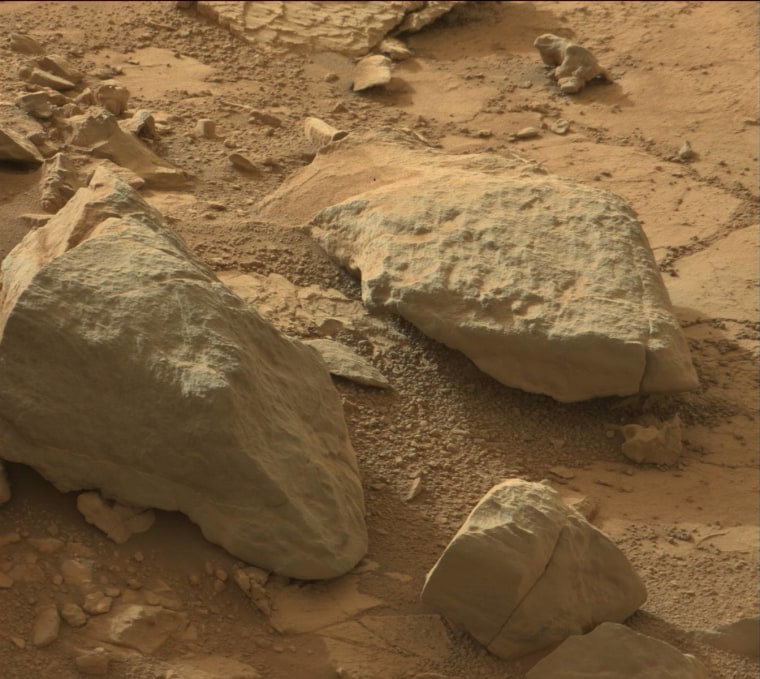 Judge for yourself by checking out the original pictures on NASA's website for the Curiosity mission. While you're browsing around, you just might find more curiosities for the Mars menagerie. But don't stop there: Visit the 360cities website as well for a fresh 360-degree interactive panorama of Curiosity's surroundings.
The six-wheeled rover is in the midst of a months-long trek to Mount Sharp, a 3-mile-high (5-kilometer-high) peak within Gale Crater. Last week, Curiosity experienced an unexpected software reboot that sparked some concern, but the mission team is returning the rover to normal operations.
On the 360cities site, panorama artist Andrew Bodrov shows what the rover saw near a Martian outcrop known as Cooperstown on Oct. 28, which was the 437th Martian day of Curiosity's $2.5 billion mission. Mount Sharp, also known as Aeolis Mons, looms large on the horizon.
Bodrov said the zoomable, clickable panorama incorporates views captured by Curiosity's 34-millimeter MastCam. "The mosaic, which stretches about 30,000 pixels width, includes 101 images taken on Sol 437," he wrote. You'll also find links to his previous  interactive  360-degree panoramas. And if that's not enough, revisit the Jet Propulsion Laboratory's billion-pixel view from Curiosity.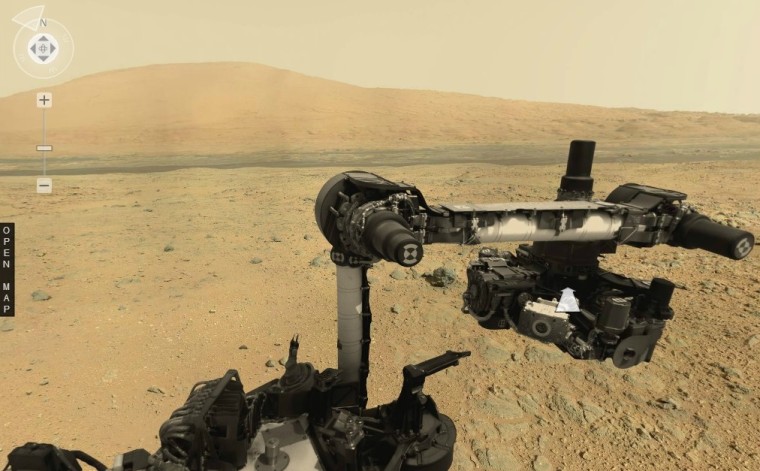 More about Mars:
Tip o' the log to The Huffington Post.
Alan Boyle is NBCNews.com's science editor. Connect with the Cosmic Log community by "liking" the NBC News Science Facebook page, following @b0yle on Twitter and adding +Alan Boyle to your Google+ circles. To keep up with NBCNews.com's stories about science and space, sign up for the Tech & Science newsletter, delivered to your email in-box every weekday. You can also check out "The Case for Pluto," my book about the controversial dwarf planet and the search for new worlds.