A team of 9th grade girls is developing a system of interconnected desks that turns the nervous foot-tapping energy of school kids into electricity to power study lights, laptops and fans. The young students aim to bring the desks to school children in Africa.
"In order to get a good education, one of the basic foundations is electricity," Rose DelleFave, the team leader at Providence Day School in Charlotte, N.C., told NBC News. "So we decided it would be good to start there and give them that basic tool."
She and her teammates earlier this month were awarded up to $10,000 in grant funding from the Lemelson-MIT InvenTeams Program to help develop the desks. Providence Day School has identified schools in South Africa and Tanzania as recipients of its team's invention.
In total, 15 groups of high school students were award the InvenTeams grants. Other projects include an emergency door-locking mechanism for schools, an Alzheimer's patients' safety bracelet, and an automatic page turner.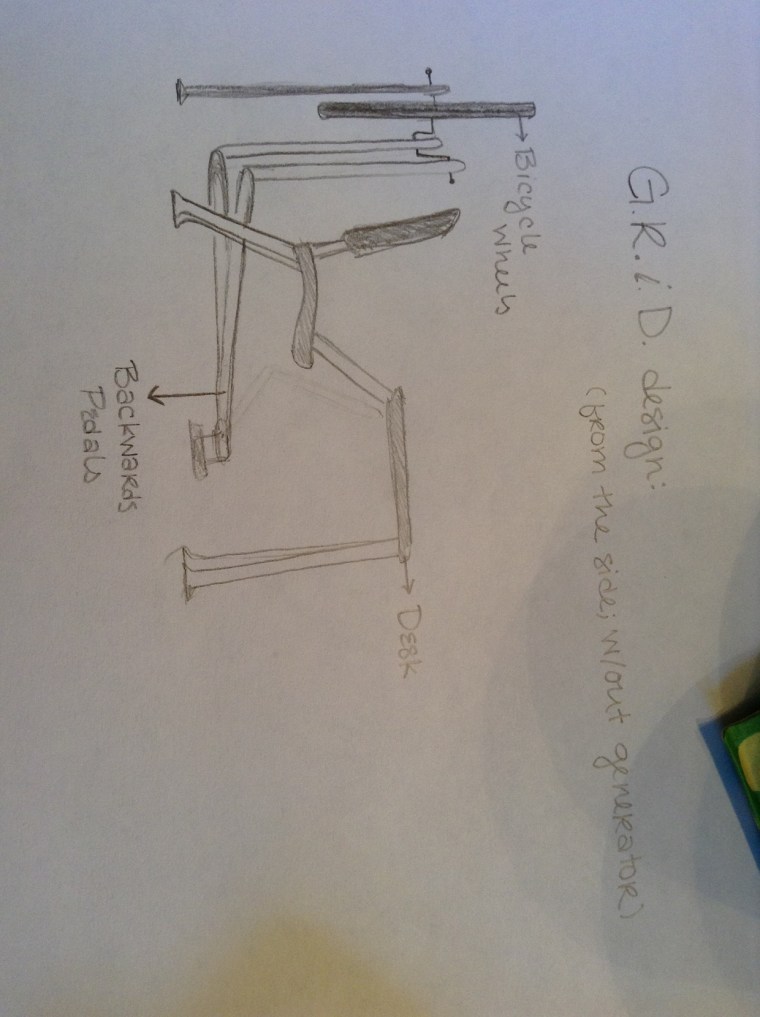 Desk grid
The Green Renewable Current Desk System is envisioned as a set of six desks arranged in a grid, DelleFave explained. Under each desk is a pedal akin to those used to power sewing machines. As children tap the pedal, it turns a flywheel that generates electricity.

"All of the generators will be charging an absorbed glass mat (lead acid) battery and the energy stored in that battery can then be used to power lights or a fan or whatever the classroom needs," she said.
While desks that double as exercise stations to keep office workers fit and healthy have been around for a while, none of these are wired together to generate electricity to power lights and appliances, which is the focus of the students' project, DelleFave noted. 
Designing out distractions
The team members have taken noise and other distractions into consideration for their design. Plans call for a sound-proof box if the flywheel generator proves too loud, for example. 

And while a bunch of school kids busy tapping pedals to generate electricity may seem like a surefire way to divert attention from their studies, the Providence Day School team begs to differ.
"The motion that they are performing with their feet is very natural and a lot of students end up tapping their feet during class anyway," team member Abbie Cochell told NBC News. "The tapping of feet will be natural and it will create energy, too."
To prove its point, the team notes that several scientific studies show that motion actually enhances learning.
Knowledge sharing
The students aim to deliver their invention to school children in Africa who currently study in buildings without electricity. The first recipient will be a school in Red Hill, South Africa, that a group of Providence Day School students visit each year as part of a global learning initiative.

"Our hope is that if we put these desks in Red Hill that each year when the students go for that trip, they could check up on them and perform maintenance should the desks need it," DelleFave said.
First, though, the students need to build their prototype and show it works. To that end, they are working with mentors, including an engineer from the local office Doosan Infracore, and North Carolina State University, said team member Haley Ritchie.
Ultimately, the InvenTeams Program aims to foster student skills in the areas of science, technology, engineering and math, the field known as STEM, "so they are better prepared to make both a social and economic impact through their career choices," Joshua Schuler, the program's executive director, said in a news release. 
John Roach is a contributing writer for NBC News. To learn more about him, visit his website.