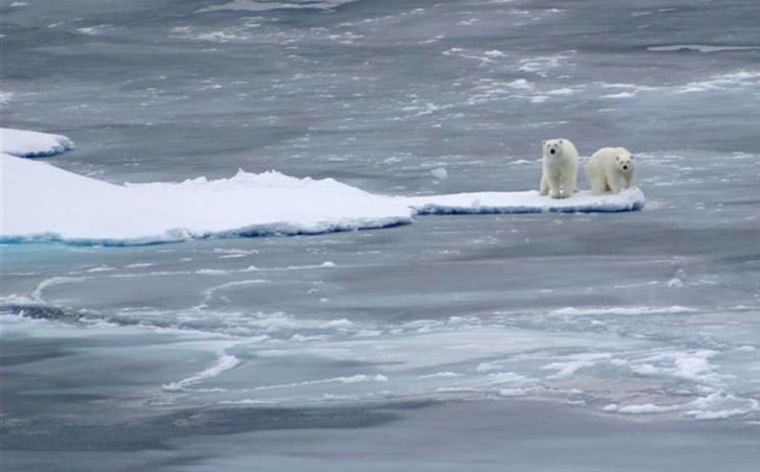 Cruise ships and oil tankers may be sailing through ice-free waters of the Arctic as early as 2054, according to a new study that narrows to a handful of years the uncertainty of when this climate-change milestone will occur. Previous studies have pegged it to everywhere between 2015 and 2100.
The implications of an ice-free Arctic range from loss of habitat for polar bears and seals to a surge in extreme weather around the world and an acceleration of global climate change, according to Arctic experts.
It also matters for ships, noted study leader Jiping Liu, an assistant professor in the department of atmospheric and environmental sciences at the State University of New York at Albany. "If the Arctic is totally ice free, you don't need to go through a specific route, you can go anywhere," he told NBC News.
Narrowing uncertainty
The new research uses two approaches to narrow the spread in climate model projections of when the Arctic will be technically ice free, a milestone defined as 1 million square kilometers (390,000 square miles) or less. At that point, experts say, only ice remnants will linger in nooks and crannies.

In one approach, Liu and colleagues selected results of nine models from a group of 30 that best represent the Arctic sea ice loss observed since 1979. Another used a statistical method to constrain the models to fit with the known relationship between present and future sea ice conditions.
That is, models with a lot of sea ice retain it for a long time whereas models with little ice lose it quickly. Knowing this relationship, the team estimated the ice-free timing with the known starting conditions from 2007 to 2012.
"These two techniques give us similar ice-free timing," Liu said. "That is, under a high-emissions scenario, they reach the ice-free state in 2054 to 2058."
Before the approaches were applied, the models had a spread of 2011 to 2098, the team notes in their paper published Monday in Proceedings of the National Academy of Sciences.
While the narrowed window "is the best estimation we can get based on current state climate model projections … the current-day climate models are not perfect," Liu said. "The ice-free summer could be earlier."
Agreed, but reality disagrees
The precision of the timing found in the new study is "almost comical," but the range is "pretty typical of these models," said Mark Serreze, an expert on Arctic sea ice at the National Snow and Ice Data Center in Boulder, Colo., who was not involved in the new study.

"But I still think you are conservative here," he told NBC News, sticking to his earlier projection of ice-free conditions by the year 2030. "Because what we're seeing here is that the sea ice cover continues to surprise us."
For example, he explained, there are poorly understood changes in the flow of ocean heat from the Atlantic to the Arctic, as well as evidence that the heat absorbed by the Arctic Ocean in the summer lingers around through the winter, affecting ice melt the following year.
Liu agreed that the models are imperfect. What's more, changes resulting from diminishing Arctic sea ice are already underway, including an uptick in extreme winter weather and shipping traffic.
John Roach is a contributing writer for NBC News. To learn more about him, visit his website.