NBC says it's reached a deal with Virgin Galactic and reality TV producer Mark Burnett to create a television series called "Space Race," which will follow contestants as they compete to win a flight into space aboard Virgin Galactic's SpaceShipTwo rocket plane.
SpaceShipTwo is currently in the midst of flight tests at California's Mojave Air and Space Port, and could take passengers on suborbital space rides as early as next year. But it's too early to say when "Space Race" will air, or when the show's winner would fly, said Clare Anne Darragh, a spokeswoman for Burnett's production company, One Three Media.
More than 600 customers have made their reservations for SpaceShipTwo flights from Spaceport America in New Mexico, at a current price of $250,000 per seat.
Long-held ambitions
The TV project combines the long-held ambitions of Burnett, the mastermind behind such shows as "Survivor" and "The Voice"; and Richard Branson, the British billionaire who founded Virgin Galactic.

"The scope of this endeavor is so staggering that it took these two titans to even imagine it," Paul Telegdy, president of alternative and late night programming for NBC Entertainment, said Thursday in a news release announcing the deal. "The term 'trip of a lifetime' has for once been delivered on! This will be a remarkable experience for anyone who has looked at the night's sky and dared to dream of spaceflight."

Branson said the show fits in with Virgin Galactic's vision of democratizing space and "eventually making commercial space travel affordable and accessible to all."
"'Space Race' allows us to extend this opportunity of a lifetime to as many people as possible right at the start of our commercial service — through direct experience and television viewing," Branson said. "All of us at Virgin Galactic and our partner Aabar Investments are delighted to be collaborating with NBC and Mark, who is a true pioneer and creative force in television programming."
The deal's deja vu
If "Space Race" becomes a reality, it would be the first TV contest built around honest-to-goodness space travel. But there's a hint of deja vu to the deal: Thirteen years ago, NBC said Burnett would produce a space-themed reality TV series titled "Destination Mir," with the winner flying to Russia's Mir space station. "It's going to be very, very dramatic in the beginning, and all the way through to the end," Burnett told NBC News at the time.

That deal literally went up in flames in 2001 due to Mir's demise. Other efforts to create space-themed reality TV projects, including a plan to put boy-band singer Lance Bass in orbit, have been stymied by the inherent risk of spaceflight. Potential insurers and advertisers were put off by the idea that someone could get blown up on the show they were backing.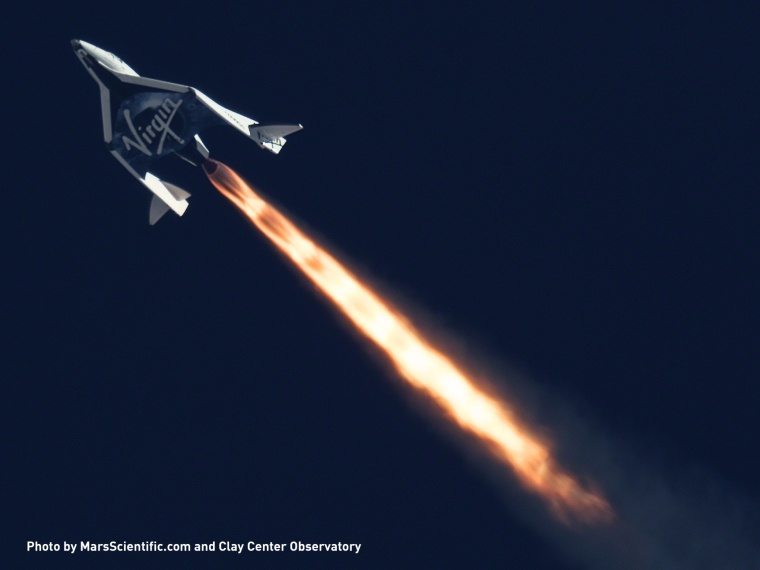 Burnett obliquely referred to "Destination Mir" in Thursday's press statement about "Space Race."
"For the past 10 years I have relentlessly pursued my dream of using a TV show to give an everyday person the chance to experience the black sky of space and look down upon Mother Earth," he said. "Last year I spent time in New Mexico at the state-of-the-art facility, and last week spent time in the Mojave Desert with Sir Richard and his impressive team. We got to see the spaceship up close and hear of Sir Richard's incredible vision of how Virgin Galactic is the future of private space travel. I am thrilled to be part of a series that will give the everyday person a chance to see space, and that NBC has come on board, too, so that viewers at home will have a first-class seat." 
Thursday's news release said One Three Media would be distributing "Space Race" at the upcoming MIPCOM TV market in Cannes.
Correction for 5:30 p.m. ET: I mistakenly referred to SpaceShipOne rather than SpaceShipTwo at one point in the original posting. That's what I get for going too far down commercial spaceflight's memory lane.
More about space and TV:

Alan Boyle is NBCNews.com's science editor. Connect with the Cosmic Log community by "liking" the NBC News Science Facebook page, following @b0yle on Twitter and adding +Alan Boyle to your Google+ circles. To keep up with NBCNews.com's stories about science and space, sign up for the Tech & Science newsletter, delivered to your email in-box every weekday. You can also check out "The Case for Pluto," my book about the controversial dwarf planet and the search for new worlds.