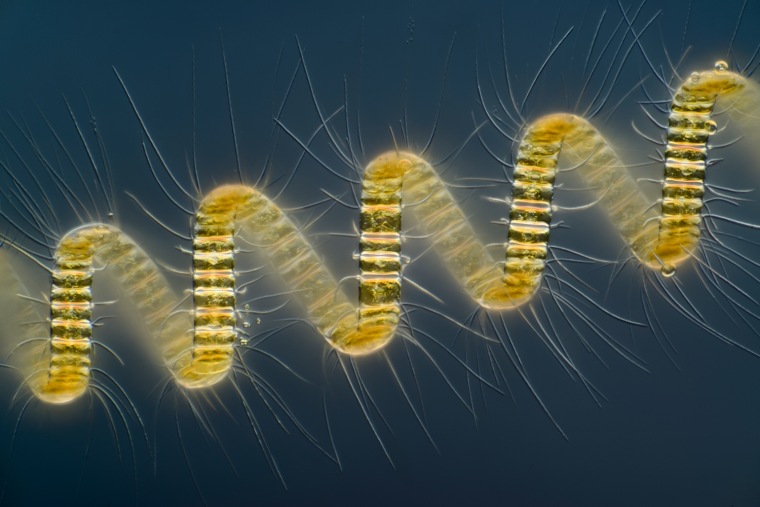 If you're looking for something weird under the microscope, you can't get much weirder than the squiggly, spiky-haired phytoplankton called Chaetoceros debilis — and in this year's Nikon Small World Photomicrography Competition, weird wins.
But Dutch artist-photographer Wim van Egmond's picture of C. debilis isn't merely weird. Under Van Egmond's microscope, the critter's silica-covered cells shine like gold. Its spines stand out starkly against a marine blue background. The humble diatom becomes a thing of beauty. And that's exactly what Van Egmond, curator of the Micropolitan Museum, was going for.
"I like to show the variety and beauty and weirdness of micro life," Van Egmond told NBC News.
Van Egmond's image won first place in the 2013 Nikon Small World contest, which was founded in 1974 to recognize excellence in photography through the microscope. This year's competition drew more than 2,000 entries from more than 80 countries around the world. The top 20 photographers won credit toward the purchase of Nikon equipment. In Van Egmond's case, the value amounts to $3,000.
"I will probably buy a good objective, a good lens," he mused.
Van Egmond collected his golden diatom, along with thousands of other potential subjects, in a plankton net that he dipped into the waters of the Oosterschelde, an estuary enclosed by dams and dikes along the Dutch coast. 
"I collect a little bit of water, then I keep it cool. It will last for two or three days if you keep it in the fridge," Van Egmond explained.
Once he puts his sample under the microscope, the clock starts ticking. "If you wait too long, the living tissue will contract, then the organism isn't alive any more," he said. "You have an hour, but not much more. It's a race against the clock."
The trick is to leave just the right amount of space between the microscope slide and the cover slip that rests on top of it. Too much space, and it's hard to get a sharp picture of the diatom. Too little, and the springy little thing gets crushed.
"If it was easy, then it wouldn't be fun, right?" Van Egmond said.
Other top-rated images reveal the intricacies of nerve cells, the innards of chameleon and mouse embryos, the delicate structure of a dinosaur bone, and much, much more. Check out our top-20 slideshow for this year, and then revisit these slideshows from previous competitions:
Alan Boyle is NBCNews.com's science editor. Connect with the Cosmic Log community by "liking" the NBC News Science Facebook page, following @b0yle on Twitter and adding +Alan Boyle to your Google+ circles. To keep up with NBCNews.com's stories about science and space, sign up for the Tech & Science newsletter, delivered to your email in-box every weekday. You can also check out "The Case for Pluto," my book about the controversial dwarf planet and the search for new worlds.