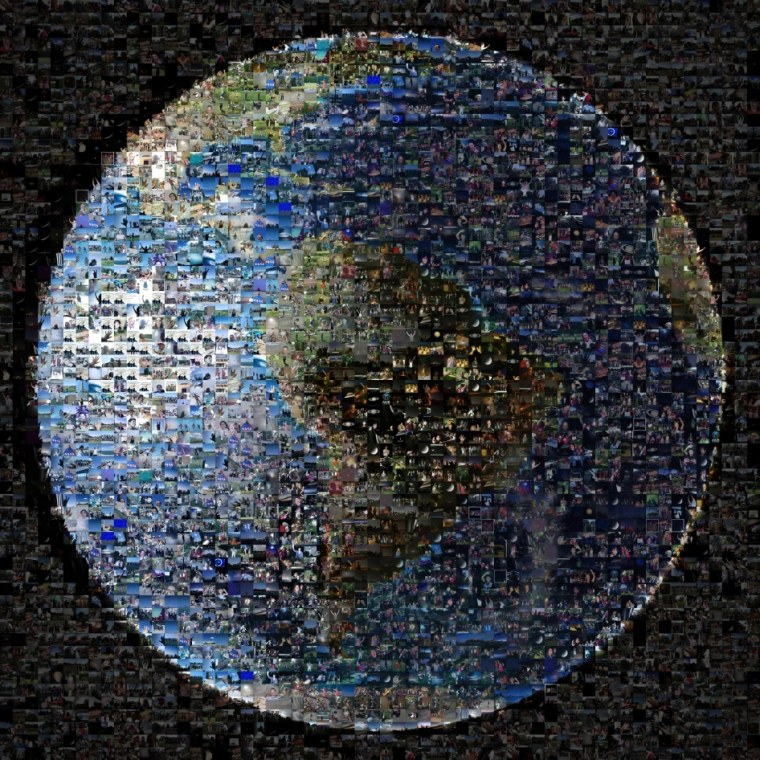 When the Cassini orbiter snapped a picture of Saturn and Earth last month, thousands of Earthlings were waving back — and now NASA has put together an Earth-shaped mosaic from a sampling of those waves.
The "Earth Waves at Cassini" mosaic combines more than 1,400 images that were sent in via Twitter, Facebook, Flickr, Instagram and Google+.
"Thanks to all of you, near and far, old and young, who joined the Cassini mission in marking the first time inhabitants of Earth had advance notice that our picture was being taken from interplanetary distances," Linda Spilker, Cassini project scientist at NASA's Jet Propulsion Laboratory, said in a news release Wednesday. "While Earth is too small in the images Cassini obtained to distinguish any individual human beings, the mission has put together this collage so that we can celebrate all your waving hands, uplifted paws, smiling faces and artwork."
The mosaic is just one of the user-friendly projects resulting from Cassini's rare interplanetary photo op on July 19.
The imaging team for NASA's flagship mission to Saturn is still working on the big picture: a grand, full-color mosaic that will show the entire giant planet and its rings, with Earth as a pale blue dot in the background. "Our image processors are working on that every day," said Steve Mullins, spokesman for the Cassini Imaging Central Laboratory for Operations, or CICLOPS, which is based at the Space Science Institute in Boulder, Colo.
Mullins told NBC News that the Cassini mosaic should be released sometime between late August and late September.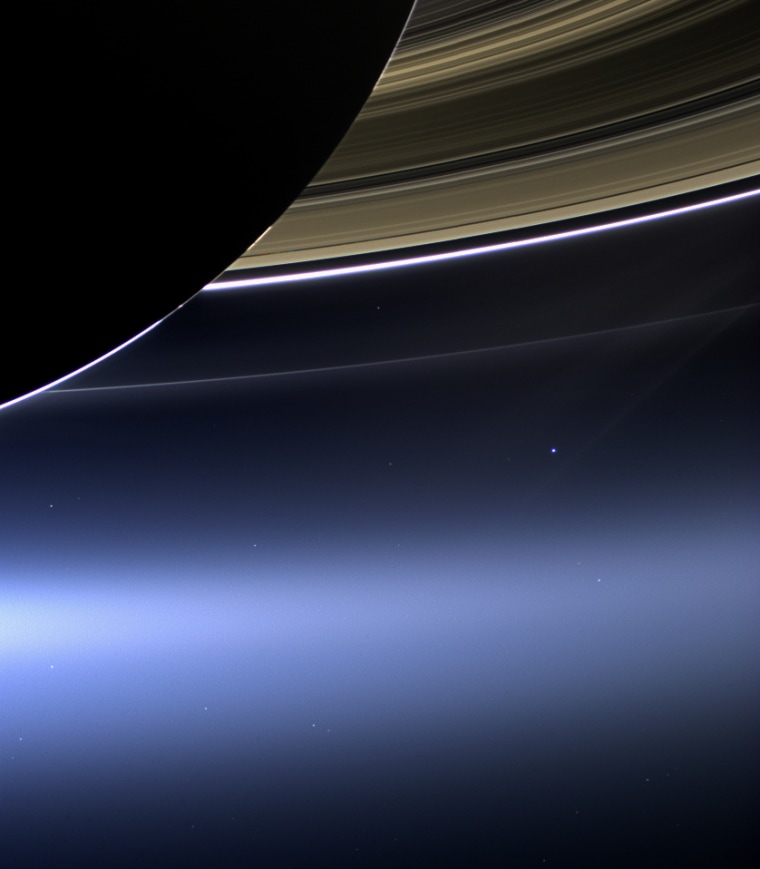 By that time, another mosaic should be ready to show off as well: a collage showing the ringed planet that's built up from hundreds of Saturn-themed photos sent to Astronomers Without Borders. Even though the initial deadline has passed, there's still time to submit your photo for the mosaic using AWB's online form, says Mike Simmons, the organization's founder and president.
"Selfies with Saturn or anything related to it are great," he told NBC News. "We'll take 'em all. The idea is to reach out and do something with Saturn that's fun."
Meanwhile, Carolyn Porco, the head of the CICLOPS imaging team, is moving right along with "The Day the Earth Smiled," her effort to turn Cassini's photo op into a global consciousness-raising project.
Porco's "Earth Beheld" photo contest is now open for submissions: You have until Sept. 30 to enter photos with cosmic meaning that were taken on July 19, by using the online entry form. There's another contest in the works for musical compositions. The winning entries from both contests will be included in a digitally encoded "Message to the Milky Way" that will be broadcast to the rest of the galaxy from the Arecibo Observatory in Puerto Rico.

More about planetary views:
Alan Boyle is NBCNews.com's science editor. Connect with the Cosmic Log community by "liking" the NBC News Science Facebook page, following @b0yle on Twitter and adding +Alan Boyle to your Google+ presence. To keep up with NBCNews.com's stories about science and space, sign up for the Tech & Science newsletter, delivered to your email in-box every weekday. You can also check out "The Case for Pluto," my book about the controversial dwarf planet and the search for new worlds.