It wasn't exactly paradise, but scientists say their trip to a mountainous region of the South American nation of Suriname convinced them that it's a "Tropical Eden" worth protecting for the sake of its biodiversity — and its water.
"Suriname is one of the last places where an opportunity still exists to conserve massive tracts of untouched forest and pristine rivers where biodiversity is thriving," Trond Larsen, director of Conservation International's Rapid Assessment Program, said in a news release about the trip.
The three-week survey in Suriname's upper Palumeu River watershed, conducted last year and led by Conservation International, cataloged 1,378 species — including 60 species that are potentially new to science. Among those new species are:
A "cocoa frog" that uses the round discs on its toes to climb into the treetops.

A "head-and-tail-light tetra" fish that has a coloration different from the traditional denizen of household aquariums.

A "Lilliputian beetle" that, at just a tenth of an inch in length, ranks among the smallest dung beetles in South America.

You can get a look at all three of those species, plus many more, in our slideshow.
Trouble in Eden
Last year's expedition builds on Conservation International's previous work in Suriname, which led to the creation of the 4 million-acre (1.6 million-hectare) Central Suriname Nature Reserve. Southeastern Suriname's wilderness links that reserve with protected areas and indigenous lands in neighboring countries — which conservationists say is crucial for the long-term sustainability of native plants and animals.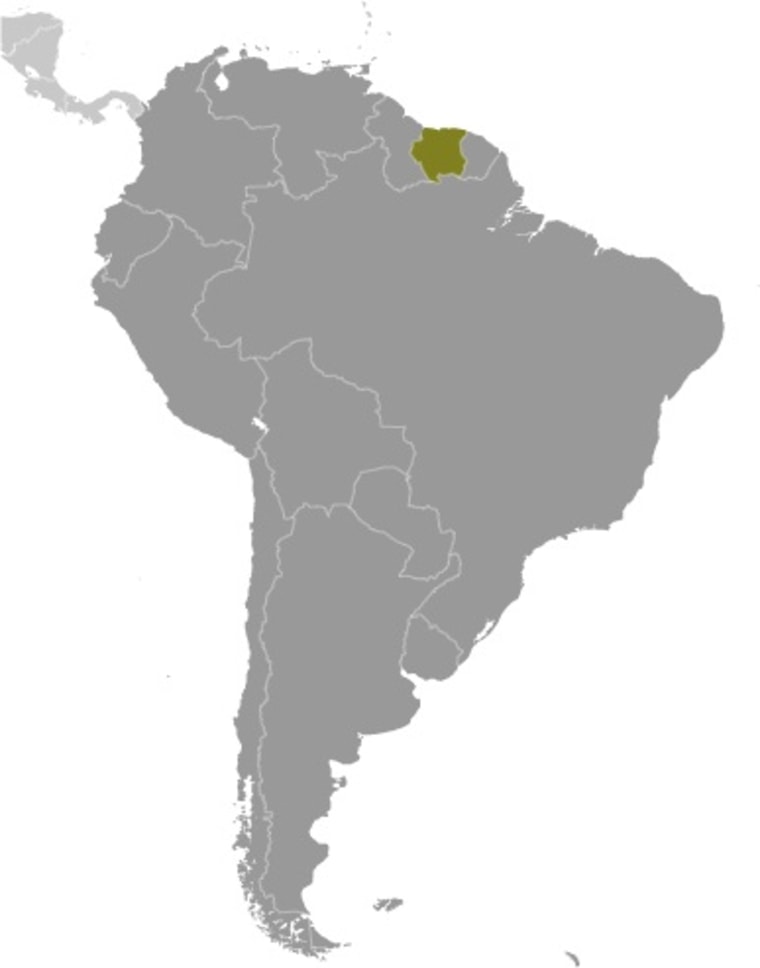 In addition to cataloging species, the expedition's 16 scientists checked the water quality of seemingly pristine streams. For the most part, the purity was high — but Larsen said some samples contained mercury above safe levels for human consumption, even though there were no mining operations upstream.
"The mercury is probably blowing in from mining and industrial activities in neighboring countries," he said. "This demonstrates that even remote areas are interconnected and susceptible to activity in other countries."

Water quality is crucial, because southeastern Suriname is home to the headwaters of some of the country's largest rivers. Those river ecosystems provide drinking water as well as food and transportation routes for about 50,000 people in the surrounding areas. The scientists say the region is likely to become even more important in the decades to come, because it's thought to be more resilient to the effects of climate change than other regions of Suriname.
Logistical challenges
The trip wasn't without its logistical challenges: Two tons of equipment and supplies had to be ferried by boat through dangerous rapids to the scientists' camp sites. More than two dozen men from the remote region delivered the goods and served as guides. The scientists themselves were flown in to the first camp site by helicopter.

The scientists had to cope with a helicopter's mechanical difficulties as well as flooding that forced them to abandon one of their camps. Despite the setbacks, Conservation International Suriname's executive director, John Goedschalk, said the region was a green jewel to be treasured.

"Suriname's dense forests, low deforestation and spectacular rivers place us in a truly unique position to become a global model of sustainable development," he said in Conservation International's news release.
"We can be water exporters in a world increasingly suffering from droughts and water scarcity, but if we deplete and pollute these biological treasures, our country and the rest of the world will have one less major water resource. In a planet on track to surpass 9 billion people by midcentury, we are going to need every drop of fresh water we can get."

More species to marvel at:
With financial support from the Suriname Conservation Foundation, the Rapid Assessment Program's scientific team included members from the Anton de Kom University of Suriname, CELOS, Conservation International, Global Wildlife Conservation, the Museum of Comparative Zoology at Harvard University, the North Carolina Museum of Natural Sciences, the Biodiversity Institute at the University of Kansas, the Royal Ontario Museum, and the National Herbarium of the Netherlands.
Alan Boyle is NBCNews.com's science editor. Connect with the Cosmic Log community by "liking" the NBC News Science Facebook page, following @b0yle on Twitter and adding +Alan Boyle to your Google+ circles. To keep up with NBCNews.com's stories about science and space, sign up for the Tech & Science newsletter, delivered to your email in-box every weekday. You can also check out "The Case for Pluto," my book about the controversial dwarf planet and the search for new worlds.