Americans could be flying into orbit on U.S.-built spaceships again as early as 2015 — but the first fliers won't be NASA astronauts or millionaire space tourists. Instead, they'll be commercial test pilots, employed by the Boeing Co., Sierra Nevada Corp., SpaceX or maybe even a dark-horse company like Blue Origin, the venture funded by Amazon.com billionaire Jeff Bezos.
Those four companies provided updates on their efforts to build new spaceships capable of carrying astronauts to and from the International Space Station during a Wednesday news briefing at NASA's Kennedy Space Center. One of the companies, Blue Origin, is wrapping up its work for NASA and is no longer receiving money through the Commercial Crew Program, or CCP. But SpaceX, Boeing and Sierra Nevada are splitting more than $1 billion that's to be paid out through 2014.
NASA's manager for the Commercial Crew Program, Ed Mango, said the agency and its commercial partners are already talking about "Phase 2" for the program. The certification requirements and timetable for Phase 2 are expected to be set this year, with contracts awarded by May 2014, Mango said. "We believe that there'll be more than one, probably two, three, maybe others, that will be ready to compete for Phase 2," he said.
That phase would move the program forward to 2017, by which time NASA expects to be flying its astronauts on U.S. launch vehicles for the first time since the shuttle fleet was retired in 2011. In the meantime, NASA will be paying the Russians more than $60 million per seat for round trips to the space station.
"Our target was to repatriate that industry back to the United States, and that's what we're doing," said Mark Sirangelo, chairman of SNC Space Systems at Sierra Nevada.
Here's how the companies' plans are shaping up:
SpaceX: Former NASA astronaut Garrett Reisman, SpaceX's commercial crew project manager, said his company is working toward a launch pad abort test by the end of the year at Kennedy Space Center. An in-flight test that would demonstrate the ability to abort a launch safely during ascent, "at the worst possible moment," is planned for April 2014, he said. If SpaceX sticks to its schedule, it would use its Falcon 9 rocket and Dragon capsule for a manned test flight in mid-2015, and would send test pilots to the space station by the end of 2015. "We're not selling tickets. Don't call our toll-free number," Reisman joked.
Sierra Nevada Corp.: Sirangelo said his company was planning to drop its Dream Chaser mini-shuttle from a carrier airplane for its first autonomous, free-flying glide test in the first quarter of this year. That would be followed by a series of autonomous and crewed aerodynamic test flights, similar to the tests conducted by NASA using the prototype shuttle Enterprise in the late 1970s. Then Sierra Nevada's team would launch the Dream Chaser into space — first on suborbital test flights, and eventually into orbit. Last year, the company said manned orbital flights could begin in 2016.
The Boeing Co.: John Mulholland, vice president and program manager for Boeing's commercial crew program, said his company proposed conducting a three-day orbital spaceflight with a Boeing crew in 2016. The head of Boeing's flight test program is former NASA astronaut Chris Ferguson, who commanded Atlantis' crew during the final flight of the shuttle program. "He is defining crew requirements," Mulholland said. Before the test pilots fly, Boeing will conduct an unmanned orbital trial of its CST-100 space capsule, plus an altitude abort test.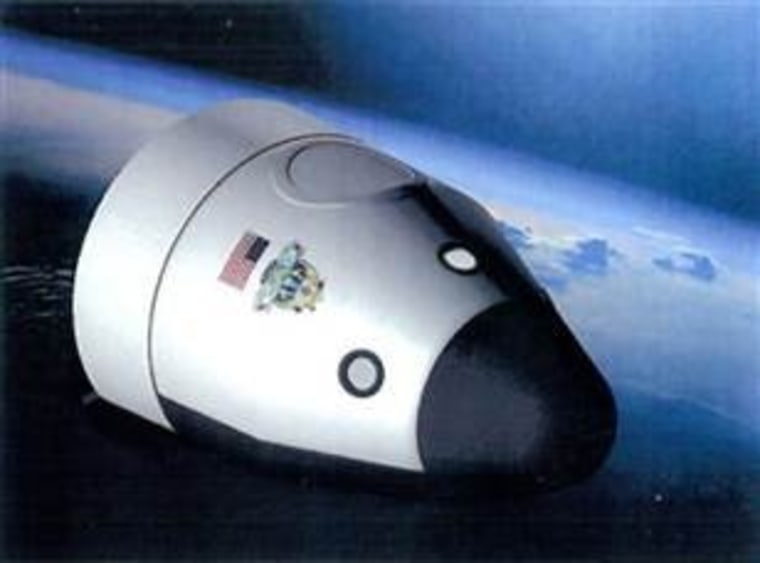 Blue Origin: The company that Bezos founded in 2000 is not receiving NASA funding during the current phase of the agency's spaceship development program — but Blue Origin's president and program manager, Rob Meyerson, said he's still doing business with the space agency. "We're working with NASA to extend our Space Act Agreement in an unfunded manner," Meyerson said. The company is continuing to test its BE-3 rocket engine and work on its next prototype propulsion vehicle. Eventually, Blue Origin aims to launch crews on suborbital as well as orbital spaceflights.
The plans for future flights are dependent on continued NASA support — and Phil McAlister, NASA's commercial spaceflight development director, acknowledged that "the budget is going to be an extremely challenging topic."
If NASA's funding is reduced, Reisman said his company would continue to move toward manned flights, but at a slower pace. "Human spaceflight is our reason for being. We are in this for the long haul," Reisman said. "There will be impacts to cost and schedule, should funding dry up. But we're going to get there eventually."
More about the commercial space race:
Alan Boyle is NBCNews.com's science editor. Connect with the Cosmic Log community by "liking" the log's Facebook page, following @b0yle on Twitter and adding the Cosmic Log page to your Google+ presence. To keep up with Cosmic Log as well as NBCNews.com's other stories about science and space, sign up for the Tech & Science newsletter, delivered to your email in-box every weekday. You can also check out "The Case for Pluto," my book about the controversial dwarf planet and the search for new worlds.