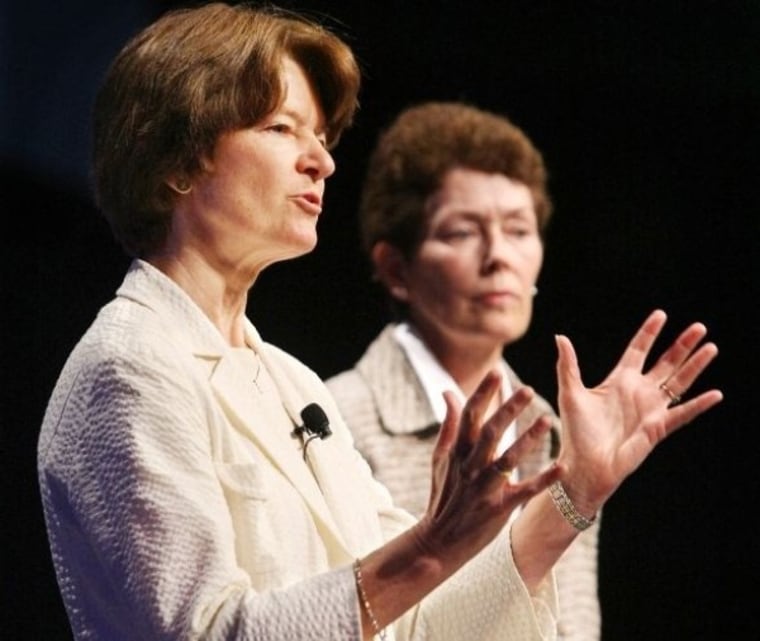 In life, Sally Ride became famous as America's first woman in space — and in death, she's now added to her fame as the first acknowledged gay astronaut.
The revelation came in a low-key way: Monday's obituary from Sally Ride Science, the educational venture she founded a decade ago, referred to Tam O'Shaughnessy as "her partner of 27 years." A spokeswoman for Sally Ride Science, Terry McEntee, said Ride and O'Shaughnessy, who is the company's chief operating officer and executive vice president, worked out the phrasing of the announcement before Ride's death.
In an email today, Sally Ride's sister, Bear Ride, explained why the former astronaut kept quiet about her sexual orientation.
"In her inherent Norwegian reticence — in this and so many aspects of her personal life (wrestling with pancreatic cancer, for example) — she just didn't talk much (see Norwegian comment, and add to that the typical tight-lipped scientist thing)," Bear wrote. "If you read interviews from years and years back, you'll see that there was always a major frustration that she didn't comment much on 'how it feels to be the first American woman in space' — she just didn't think that way. She wanted to get the job done. Her personal feelings were just that: personal. Not right or wrong — simply Sally. Everyone who knows her well really got that about her."
Bear, a gay Presbyterian minister, takes a different approach.
"I'm a rather out-there advocate for LGBT [lesbian-gay-bisexual-transgender] rights — my partner and I have even been arrested a couple of times in public protest!" she told me. "But that's me, and not Sally."
Here's the essay that Bear Ride has been sending around as a tribute to her sister:
"Sally Ride was the first American woman to go into space and she was my big sister. Sally died peacefully on July 23rd after a courageous 17-month battle with pancreatic cancer.  I was at her side. We grew up in Encino, CA. Our parents, Joyce and Dale Ride, encouraged us to study hard, to do our best and to be anything we wanted to be.  In 1983 Newsweek quoted our father as saying, 'We might have encouraged, but mostly we just let them explore.' Our parents encouraged us to be curious, to keep our minds and hearts open and to respect all persons as children of God. Our parents taught us to explore, and we did. Sally studied science and I went to seminary. She became an astronaut and I was ordained as a Presbyterian minister.
"Sally lived her life to the fullest with boundless energy, curiosity, intelligence, passion, joy, and love. Her integrity was absolute; her spirit was immeasurable; her approach to life was fearless. Sally died the same way she lived: without fear.  Sally's signature statement was 'Reach for the Stars.' Surely she did this, and she blazed a trail for all the rest of us.
"My sister was a very private person. Sally had a very fundamental sense of privacy, it was just her nature, because we're Norwegians, through and through. People did not know she had pancreatic cancer, this is bound to be a huge shock. For 17 months, nobody knew, and everyone does now. Her memorial fund is going to be in support of pancreatic cancer.
"Most people did not know that Sally had a wonderfully loving relationship with Tam O'Shaughnessy for 27 years.  Sally never hid her relationship with Tam. They were partners, business partners in Sally Ride Science, they wrote books together, and Sally's very close friends, of course, knew of their love for each other.  We consider Tam a member of our family.
"I hope the pancreatic cancer community is going to be absolutely thrilled that there's now this advocate that they didn't know about.  And, I hope the GLBT community feels the same. I hope it makes it easier for kids growing up gay that they know that another one of their heroes was like them."
Sex has always been a tricky topic for astronauts: In the old days, they worried that if they didn't conform with the "Right Stuff" stereotype, they wouldn't be picked for spaceflights. Issues such as alcohol abuse or marital problems often were swept under the carpet. Is it any surprise, then, that no active or former astronauts have publicly announced that they're gay? Michael Cassutt, the author of "Who's Who in Space," is quoted on Space.com as saying that such an announcement would be a "career-wrecker."
Men and women have been working together on U.S. spacecraft since Ride's history-making flight in 1983. Why not straights and gays? Maybe Sally Ride's low-key way of coming out will represent one small step toward greater acceptance and acknowledgment of the LGBT contribution to the space effort. (I'm using the term "gay" here as admittedly inadequate shorthand for the LGBT community. The fact that Ride was married to fellow astronaut Steven Hawley from 1982 to 1987 complicates any effort to categorize Ride's perspective, based on the public record. And Buzzfeed's Chris Geidner quotes Bear Ride as saying "Sally didn't use labels.")
Ride's legacy lives on
Ride would no doubt be uncomfortable with a public discussion of her sexuality. She was uncomfortable enough with the celebrity that surrounded her as the first American woman in space. Based on the comments from her family and co-workers, Ride's main concern in the last days of her life was making sure that Sally Ride Science survived her passing.
"I was very fortunate to spend time with her right before she passed away," said Karen Flammer, a research physicist at the University of California at San Diego and one of the founders of Sally Ride Science. "We were able to talk about what she envisioned for our company, and our legacy and her legacy."
Ride's status as a former astronaut wasn't uppermost in her mind, Flammer told me. "Her true passion really was science education, and inspiring more young people, particularly girls, to follow a career path in science and technology," she said.
Since Ride's death, Sally Ride Science's donors have confirmed that they "want to continue funding and supporting our programs," Flammer said. "The transition will be hard, but we want to keep going as a tribute to her."
Those programs include science camps as well as global outreach efforts such as EarthKAM, which lets middle-school students request pictures of Earth to be taken by a digital camera aboard the International Space Station. "We've engaged hundreds of thousands of middle-school students, not only in this country, but around the world," Flammer said.
A similar program, called MoonKAM, lets kids select targets for pictures taken by NASA's GRAIL lunar probes.
Flammer said there will be a new chief executive officer for the company: a woman who has had experience running other educational companies and "who is going to share all of our passions." However, Flammer said it's still too early to announce the CEO's name.
And speaking of names, Flammer and her colleagues are looking into somehow putting Sally Ride's name in space. "Right now, we're in the process of working with NASA on what types of things we can do in her honor. ... Her tribute statement always was 'Reach for the Stars.' That's how she ended the talks she gave to students, or to adults. So we're keeping that in mind with whatever we come up with."
But the most valuable tribute to her memory will be Sally Ride Science.
"She never wanted the celebrity status," Flammer told me. "What she really wanted was for her legacy to continue. This is what she wants to survive her and live on: her name, and her science education company."
In memoriam
Sally Ride Science's Terry McEntee said the memorial service would be private, but if you want to pay tribute to America's first woman astronaut, here's what the company's website suggests:
"In lieu of flowers, you may wish to make a gift in memory of Sally to the Sally Ride Pancreatic Cancer Initiative (Fund 4191). Checks should be made out to: UCSD Foundation. Also, in either the memo line or in an enclosed note, please state that the gift is made in memory of Sally Ride or to the Sally Ride Pancreatic Cancer Initiative (Fund 4191).
"Gift mailing address: Pam Werner, Executive Director of Development, UCSD Health Sciences Dev., 9500 Gilman Dr. #0853, La Jolla, CA 92093-0853."
"If you prefer using a credit card, please call Pam Werner at 858-246-1556. Please note that 94 percent of donations will go toward pancreatic cancer research at UCSD Moore's Cancer Center."
More about Sally Ride:
Alan Boyle is NBCNews.com's science editor. Connect with the Cosmic Log community by "liking" the log's Facebook page, following @b0yle on Twitter and adding the Cosmic Log page to your Google+ presence. To keep up with Cosmic Log as well as NBCNews.com's other stories about science and space, sign up for the Tech & Science newsletter, delivered to your email in-box every weekday. You can also check out "The Case for Pluto," my book about the dwarf planet and the search for new worlds.