This article is part of our Best Product Reviews series, a collaboration with Consumer Reports. Select and Consumer Reports are editorially independent. If you purchase something through our links, we both earn a commission. Pricing and availability are accurate as of publish time. Learn more about Select and Consumer Reports.
If you're serious about grilling, a kamado grill is the gold standard. Its thick walls, airtight design, and highly adjustable dampers combine to create a cooker that can produce a rip-roaring fire for searing steaks or slow-burning coals to gently smoke pork butts or brisket—with no need to add extra charcoal or even fidget with the dampers.
For more than 30 years, the Big Green Egg was the only widely available kamado-style charcoal grill. It developed a cultlike following, and it's easy to see why. The Big Green Egg, like most kamado grills, is positioned as a combination charcoal grill, smoker, and outdoor oven.
SEE ALL Consumer Reports product reviews
When Consumer Reports first tested it, we noted that the Big Green Egg delivered unparalleled control over flames and cooking temperature flexibility when compared with a traditional charcoal grill.
But it seems that fans of the Egg—self-proclaimed Eggheads—haven't been the only ones to take notice of the grill's many virtues.
In recent years, there has been a proliferation of Egg-inspired kamado cookers showing up at wholesale clubs, home centers, and hardware stores.
"We've seen close to a dozen new kamado grills come on the market," says Mark Allwood, a market analyst who oversees gas and charcoal grills for Consumer Reports. "Most of these models are shaped like the Egg, but each has unique features that manufacturers claim make it superior to the competition."
Prices for kamado grills range from $300 to almost $2,000, and we've seen models with metal exteriors, side shelves, extra dampers, and a whole host of options. The large Egg, Big Green Egg's top seller, retails for about $1,200 when equipped with basics such as locking wheels.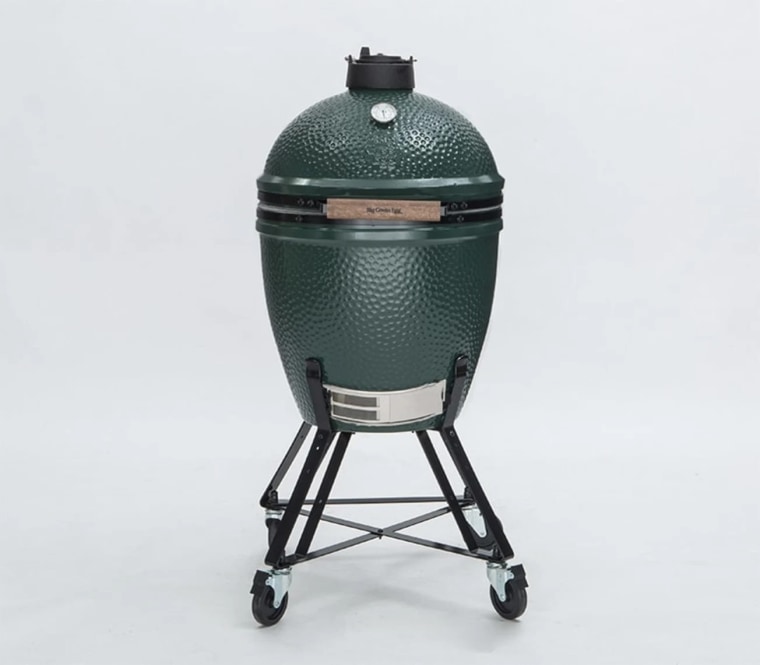 But can these Egg-inspired alternatives really cook as well as the original? Consumer Reports currently has eight kamado grills in our kamado grill ratings, including the Big Green Egg, as well as models from Char-Broil, Kamado Joe, Weber, and others. Chief among their similarities is that the eight kamados we tested can make great food. (We test high-heat cooking with pizza and low-heat cooking with pulled pork shoulder.)
But we also found some big differences in how easy each grill is to use and control. Some require constant adjustments to the temperature; others can be set and left alone for hours, which is exactly what you want when you're cooking a brisket.
Our grill buying guide is a great place to start if you want to understand the differences between kamado and traditional charcoal grills. CR members can also browse our comprehensive ratings of gas, charcoal, and kamado grills, and read on for ratings and reviews of three of the top kamado grills from our tests. But first, here are some of our expert tips to get great results from any kamado grill.
5 Tips for Great Results With Any Kamado
A kamado grill can provide a greater temperature range than any other type of grill, but it also works differently from gas, pellet, or charcoal grills. You'll need to practice using the dampers to control the heat. No matter which model you purchase, these five tips will help you get great results.
Brisket and Ribs
Use a heat-deflecting plate (included with the Kamado Joe featured below, and sold as an extra for other models) to protect slow-smoked meats from drying out during cooking. The plate is usually an inch-thick ceramic disc that doubles as a pizza stone.
Chicken
Thin pieces can be cooked with the lid open the entire time. For thicker pieces or a whole chicken, close the lid and control the temperature with the dampers.
Vegetables
Skewer smaller vegetables like button mushrooms, cherry tomatoes, and pieces of peppers to keep them from falling through the grates on your grill because the gaps on kamado grills can be larger than those on gas.
Pizza
Heat the pizza stone (included with most kamados) in the grill, then dust it with cornmeal to prevent sticking. Dust the underside of your pizza and pizza peel, too.
Fish
Hearty fish like salmon, tuna, and swordfish stand up well to smoke imparted by cooking with a mix of charcoal and wood chips or wood chunks. For more delicate fish like sole, tilapia, and bass, try cooking only with charcoal, because otherwise the smoke flavor can become overpowering.
3 Best Kamado Grills From CR's Tests
CR's take: The Kamado Joe Classic II is the best kamado we've seen. It offers countless features that make grilling and smoking easier than with other models. For starters, it has a spring-assisted lid that holds in place at any height, whereas most grill lids are either open or closed. The lid also locks, helping control airflow and, in turn, temperature. The upper and lower dampers are easy to adjust, and it has split racks that allow you to cook foods at different heights, so you can sear a steak and cook chicken with indirect heat at the same time. And it's one of the few models that features a pullout ash tray, helping it earn a rating of Very Good for cleaning.
CR's take: The Vision Kamado Professional is one of the least expensive ceramic kamados in our ratings—and one of the best. It delivers delicious food and is easy to use. In addition to a rolling cart and side shelves, the grill features two lower dampers for fine-tuning temperature when you're smoking (most kamados have one). These features earn it a rating of Very Good for convenience. A special port lets you use an electric charcoal starter (not included) to light your coals. The grill weighs in at a stout 227 pounds, which is on a par with the Big Green Egg and other ceramic models.
CR's take: The Char-Broil Kamander is one of four nonceramic kamado grills in our ratings, all of which score very similarly. The Kamander hits the sweet spot between price and performance. It's made from double-walled stainless steel, with a powder-coated finish. On high heat, the Kamander can get to 1,000° F, helping it to char pizza crust perfectly in our tests—and earn a rating of Excellent for cooking performance. Like ceramic models, it has upper and lower dampers for controlling airflow, but because of its metal construction, it's far lighter than most kamado grills, weighing in at 115 pounds.
Consumer Reports is an independent, nonprofit organization that works side by side with consumers to create a fairer, safer, and healthier world. CR does not endorse products or services, and does not accept advertising. Copyright © 2022, Consumer Reports, Inc.