For veterans with PTSD, pandemic 'feels a lot like wartime'
Some veterans have spent years working to overcome their trauma. The Covid-19 crisis has thrust them back to their darkest days.
Sergio Alfaro has struggled with PTSD since leaving the military in 2005. (Jenna Schoenefeld / for NBC News)
Sergio Alfaro has struggled with PTSD since leaving the military in 2005. (Jenna Schoenefeld / for NBC News)
By Kit Ramgopal, Kenzi Abou-Sabe and Cynthia McFadden
March 5, 2021
Fifteen years ago, Roberto Cruz woke up from a coma at Walter Reed Army Medical Center paralyzed from the waist down. The Army infantryman, who had been hit by sniper fire while deployed in Iraq, was told he probably wouldn't be able to walk again and was later diagnosed with post-traumatic stress disorder.
Cruz, 39, spent two years in inpatient treatment, relearning how to walk, but he never sought serious treatment for his mental trauma. 
"I didn't want to accept it," said Cruz, who lives near Tampa, Florida. "I was one of those guys." 
Then came Covid-19.
Cruz contracted the coronavirus in July and soon began to unravel. Quarantining alone, he was flooded with memories of his time in Iraq and guilt over how he'd treated his loved ones since then. He said he stopped functioning, lost his desire to eat and began contemplating suicide. 
"It was worse than getting physically injured in the war," Cruz said. "That month and a half, mentally, it put me to really dark places." 
Roberto Cruz at his home in Wesley Chapel, Fla. (Bob Croslin / for NBC News)
Roberto Cruz at his home in Wesley Chapel, Fla. (Bob Croslin / for NBC News)
The pandemic has put unprecedented strain on the mental health of people from all walks of life. But the crisis has been particularly agonizing for some military veterans already suffering from PTSD. 
The massive loss of life and ever-present fear of an unseen threat have been triggers for veterans grappling with combat-related trauma. And while isolation is a natural tendency for many with PTSD, experts say it can be incredibly harmful for treatment and recovery in the long term. 
"How do you cope when your coping mechanisms are off the table?" said Anica Pless Kaiser, a clinical psychologist at the National Center for PTSD. 
It's too early to quantify the impact of the pandemic behind closed doors, experts said. The Department of Veterans Affairs has seen no spike in suicides or suicide attempts among veterans in its care, according to preliminary data. Experts note that suicide figures are but one datapoint and there are others that indicate some veterans are struggling under the weight of the pandemic. 
Call volume for the VA's main crisis line, for instance, was up by nearly 15 percent last year compared to the previous year.
"For some veterans, life right now feels a lot like wartime," Pless Kaiser said.
"A drastic regression"
Last March, Navy veteran Aaron Jones was spending most of his time designing dresses in pursuit of a fashion degree at Missouri State University. It was a new chapter for Jones, 44, a native of Missouri, as well as a form of therapy for his PTSD, which had previously driven him to two suicide attempts. 
Jones had served three tours in Iraq, where his duties included treating wounded Marines in the middle of combat zones. For years afterward, he struggled to walk through wide-open spaces, like a parking lot, and he would break out into a sprint or skirt the perimeter. 
He managed to overcome those fears and was thriving in his new role as a fashion student. But when the pandemic hit, Jones' demons returned. He became enraged by students who refused to wear masks. 
"'You're trying to kill me then, aren't you?'" Jones said he would think to himself.
His anger – and fear – continued to build. By August, he had dropped out of school and stopped leaving the house. 
"Having that purpose taken away, for me, ripped my soul," Jones said. "The depression, the social anxiety – everything is stacked, magnified."
These days, Jones can hardly remember what it feels like to want to create something beautiful. He keeps his sewing machine in the garage and has taken to shooting practice at night in his backyard several times a week. 
He has papered the walls of his home with dark and disturbing images, which he says make him feel protected.
"It has been a drastic regression with his mental health since the pandemic started," said his wife Nicole. The pair are in the process of separating but remain close. "He has isolated to a very dangerous degree."
Jones said he considers it a good day when he manages to complete basic tasks. 
"Getting up, brushing teeth, walking the dog," he said. "Bad days are going, 'Nope, can't even think about it.'"
Some weeks, the bad days outnumber the good. Late last month, Jones, who had previously overcome a fear of crowds, abandoned his grocery cart in the middle of the store because he couldn't handle it. 
Experts say that kind of response isn't surprising. PTSD often leaves people with the feeling that danger is everywhere. 
And for veterans who have spent years trying to unlearn fear of public places, the virus has challenged a key premise of recovery: their safety.
"Everyone who has a diagnosis of PTSD has experienced a situation in which they themselves or someone that they care about very deeply was either threatened with the loss of life or did lose their lives," said Dr. Rebecca Van Horn, medical director of the Road Home Program at Rush University Medical Center in Chicago, which provides mental health support to veterans and their families. "And we're in a situation right now where that is a reality every single day just by going about your daily business."
"It's a really untenable situation," she added.
"Really detrimental in the long term"
Last May and June, the nonprofit Wounded Warrior Project surveyed nearly 30,000 injured veterans who served after the terrorist attacks of Sept. 11, 2001, and found that over half reported declines in their mental health during the pandemic.
Veterans who reported experiencing PTSD or depression were about three times as likely to face hardships in the pandemic, according to a follow-up white paper by the Wounded Warrior Project. The hardships, which the group defines as declines in mental, physical or social welfare, are intertwined with other burdens that affect wounded veterans, like unemployment. 
People with PTSD often must work hard to break out of isolation patterns. With the lingering pandemic, doctors who treat the population worry about the likelihood that PTSD sufferers will revert to old tendencies. 
"They avoid triggers, they avoid stimulus, they avoid a lot of things in order to not be triggered towards re-experiencing trauma," said Dr. Gary Wynn, a psychiatrist and senior scientist at the Center for the Study of Traumatic Stress at the Uniformed Services University in Bethesda, Maryland. "While that's adaptive behavior in the short term, it is really detrimental in the long term." 
For Sergio Alfaro, 38, quarantine feels a lot like his some of his darkest days since coming home from Iraq.
"I was fighting for so long not to isolate, to try to communicate with other people and stay in touch with other people," he said. 
Alfaro enlisted in 2000, so young that his parents had to sign the papers. A combat medic, he survived mortar attacks against his encampment and returned home with intense PTSD.  
For years, he dealt with it by disconnecting, becoming remote and robotic when situations would trigger him. After long, sometimes painful attempts to break the cycle, Alfaro was holding a steady job for the first time in nine years when the pandemic began. 
(Jenna Schoenefeld / for NBC News)
(Jenna Schoenefeld / for NBC News)
But forced isolation caused him to spiral downward, triggering thoughts of suicide.
"Once you start doing that planning again, getting into figuring out what's going to be your quickest way out of here, then yeah, you can't help but think, 'OK, this is me going back,'" Alfaro said.
Some of the same feelings I had when I was deployed are the same feelings I'm feeling now, because of the pandemic. Those feelings had really kind of gone away, and then they came back. Those feelings of sadness or being scared, suicidal not to the point of wanting to act on it but thinking about it.
I've been isolating myself more. Caring less and less about my health. Definitely drinking a lot more. Everything has fallen by the wayside. And I know a lot of vets that are worse than me.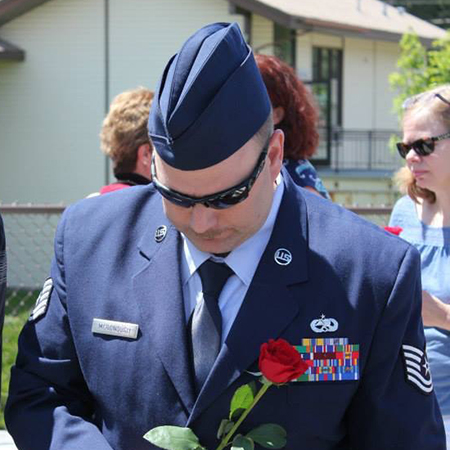 When I started getting help … the first thing that the therapist had told me was: 'You have to stop isolating. And you have to stop locking yourself away, going out on these walks, being by yourself.' … So I got to the point where I really got involved with my own support system and people in my life. … And then this happened. … When you're sitting home for 12 hours a day, seven days a week, what are you thinking about? What's going on? What's in your head? The demon has a way of rearing its ugly head.
It's like walking out in Iraq and wondering if this is the day that you're going to get shot. … There are days I walked out thinking, 'Is today the day that I'm going to get Covid-19 and not recover?'
I would just wake up and start crying. And then I would be going about my day, and just start crying. And that's not easy, not for you, or for the people around you to watch. I really don't know where I would be without the love of all the ones around me.
"I don't want to live like this anymore."
Although preliminary data from Veterans Affairs haven't shown an increase in suicide or suicide attempts, its 2020 National Veteran Suicide Prevention Annual Report did note that the rate of suicidal ideation reported in the previous 30 days was significantly higher for certain minority populations during the pandemic, such as Latino and Black veterans. 
That's particularly concerning, experts said, because statistics around veteran suicide were startling before the pandemic.  
According to the VA, more than 6,300 veterans die by suicide every year – an average of more than 17 a day – a baseline that hasn't budged since 2008 in spite of increased mental health programming and access to support in recent years. In 2018, there were 27.5 suicides for every 100,000 veterans, compared to 18 for nonveterans.
Heather O'Beirne Kelly, a psychologist on the staff of the House Veterans' Affairs Committee, said the early suicide data from the pandemic contradicted the assumptions of many who feared it would lead to a sharp increase in veterans' taking their lives. But she said the low preliminary figures aren't a cause for celebration.   
"It doesn't mean they're not hurting. It doesn't mean it hasn't been hard," said Kelly, who led the American Psychological Association's first veterans health policy team.  
Experts said it's crucial  for people with mental health issues to get counseling during the pandemic, but the VA said mental health visits decreased by 8 percent from October 2019 to last October, compared to the same time frame the previous year. Vet Centers, which are VA-run community counseling centers for veterans, reported a 12 percent decrease in the number of clients nationwide.
It's impossible to say whether these veterans are no longer getting help or are simply no longer getting it from the VA. A VA spokesperson said Vet Center teams have been "actively reaching out to those who disengaged in services to check in and offer resources." 
Part of the challenge in reaching some veterans is their lack of access to virtual appointments. To meet this need, the VA has distributed over 75,000 tablets to vulnerable veterans since last March, on top of nearly 27,000 that were already in circulation. 
Mental health practitioners who work with veterans said that while it's elusive for some, virtual therapy has broken down barriers to access and made it easier for many other veterans to get counseling.
Still, some said they have struggled to get the help they needed during the pandemic, waiting weeks for appointments and feeling disenchanted with therapy over the phone. 
In the Wounded Warrior Project's 2020 survey, which took place in May and June, 51 percent of respondents with mental health appointments said they had had appointments canceled or postponed during the pandemic.
"I do think on the whole veterans have needed more support than they've been able to get during Covid," said Dr. Harold Kudler, a psychiatrist at Duke University Medical Center. "And I'm looking forward to the day when we'll be able to sit with them in offices and see them face to face."
Roberto Cruz, the Army vet wounded by sniper fire, knows the importance of getting treatment. 
Around the time his mental health went into free fall over the summer, one of Cruz's Army friends died by suicide. And then another. 
"That's one of the reasons that I said: 'You know what? This is it. I need to get help,'"  he said. "I got to the point that I was like: 'I don't want to live like this anymore. I can't handle it.'"
Cruz is now getting regular counseling, which he described as lifesaving. He said he regrets not having sought help sooner. 
"You're not going to get any medals for being that tough anymore," he said. "Those days are over. Go reach out and ask for help."
---
If you or someone you know is at risk of suicide, please call the National Suicide Prevention Lifeline at 800-273-8255, text TALK to 741741 or visit SpeakingOfSuicide.com/resources for additional resources. 
If you're a veteran in crisis or concerned about one, the Veterans Crisis Line operates 24 hours a day, seven days a week. If you are in crisis, call 1-800-273-8255 and press 1. Find more ways to get help through the VA or nonprofit organizations like the Wounded Warrior Project, Blue Star Families and Iraq and Afghanistan Veterans of America (IAVA)