BEIJING — Xi Jinping has quickly become China's most powerful leader in decades — possibly since founding father Mao Zedong — propelled by a top-to-bottom corruption crackdown that's already snared more than a quarter-of-a-million officials. The burning question is: how does China's president and party head intend to use the immense power he has amassed?
Analysts are divided. The "much ballyhooed anti-corruption campaign" is "an old style party purge reminiscent of the 1950s and 1960s with quota-driven arrests, summary trials, mysterious disappearances and suicides," long-time China watcher Anne Stevenson-Yang, now research director of J Capital Research, which advises foreign investors, told Barron's magazine. She said she was offended it had been depicted as a good governance effort.
"I have been in China for 30 years, and this is the most interesting and important time since I arrived here"
That's not how it is seen by veteran China hand James McGregor, the former head of the American Chamber of Commerce in China and current chairman of the greater China office for APCO Worldwide, an independent consultancy.
"He's using the tools of Mao to become a Deng Xiaoping 2.0," he told NBC News, referring to China's reformist leader who forced through deep market reforms. Like Deng, Xi has had to take on vested interests in order to push through much-needed legal and economic reforms, according to McGregor.
"He's taking on a gangster-type system, and to do that you've got to use the tools at your disposal, McGregor said. "He's trying to change behavior. He sees this as a survival thing for the party."
Whatever Xi's intentions, the scope of the anti-corruption campaign is vast. It targets so-called "tigers and flies" — officials large and and small — and an average of 10,000 a month are being "disciplined," according to Xinhua.
The campaign's most prominent target — or biggest "tiger" — has been Zhou Yongkang, who until a little more than two years ago was was possibly the most feared man in China. As China's internal security czar, he controlled a budget bigger than the military's. Zhou now stands accused of "taking bribes, leaking secrets and fornication."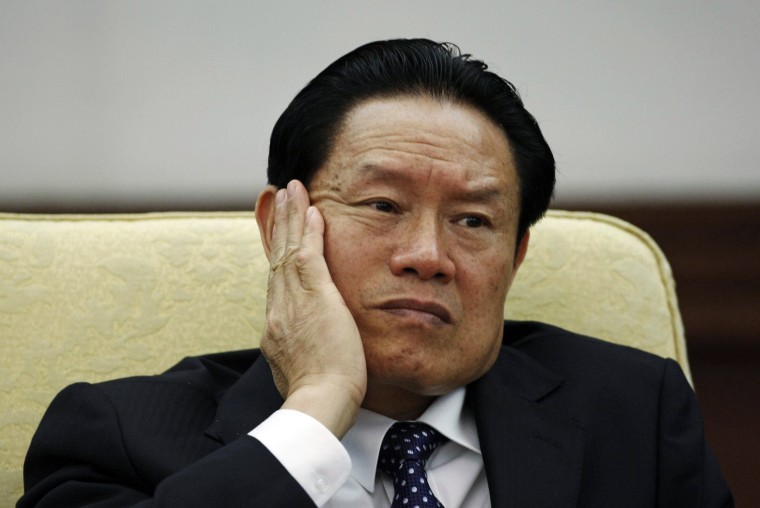 Authorities also are zeroing in on another big target. Just before Christmas, anti-corruption authorities announced that Ling Jiahua — a former top aide to China's last leader, Hu Jintao — is under investigation for "suspected serious discipline violation," a euphemism for corruption.
Before the recent crackdown, men of their seniority would have been untouchable.
The anti-corruption campaign and accompanying push for party austerity has had knock-on effects, too: a big drop in sales of luxury items like shark fins and expensive liquor which officials had lavished on themselves.
Caixin, a business magazine, recently reported that two-thirds of officials surveyed said they are now reluctant to take any decisions for fear of "doing something wrong." It suggested that in some regions administration was grinding to a halt.
The party's anti-graft watchdog, a previously shadowy and secretive organization called the Central Commission for Discipline Inspection, has opened a special channel on its website for tip-offs about officials who flee abroad and try to hide their assets. In December, it aired a four part prime-time television series exposing the extravagant lives of corrupt officials.
While Xi early on named corruption as the most severe problem facing his party, fear about China's heavily indebted economy and the urgent need for change also are surely driving his moves. China is addicted to growth at any cost, driven by wasteful investment in unnecessary or unwanted projects which has left the country with massive industrial over-capacity and forests of empty ghost cities.
As it is, few serious economists believe China's existing economic growth statistics and prefer to look at other indicators, such as power consumption and freight, which paint a gloomier picture.
"The leadership in China is not deluded at all about the state of the economy," said McGregor. "I think they know the economy is a lot more fragile than they talk about publicly."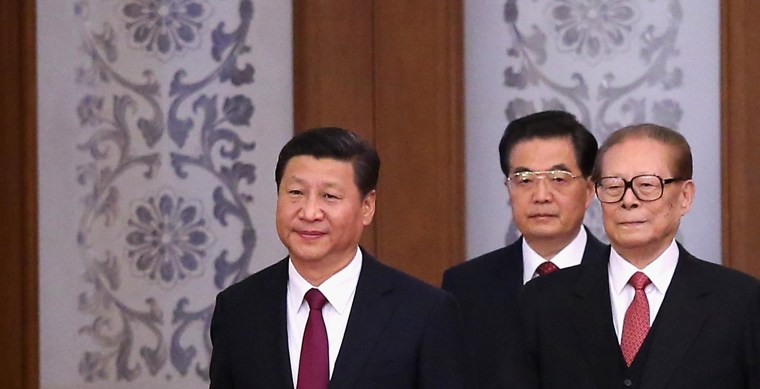 Curbing wasteful and unproductive investment and creating an economy geared more towards domestic demand is a goal most economists agree with. But the present model is closely linked to rampant corruption — and pushing through necessary changes is a big challenge for Xi.
"He's taking on so many vested interests, he's got to see this thing through to the end," said McGregor, who believes Xi understands the Chinese system better than anybody since Mao. "He's a leader. He's got guts. He's determined."
Xi's anti-corruption drive has been accompanied by crackdowns on political dissent, including increasingly rigorous controls on free expression on the Internet, and those on the receiving end would doubtless regard talk of stamping out impunity as a bad joke. Any notion of improved governance is highly qualified, and unlikely to include any challenge to Communist Party rule.
The notion that Xi's iron fist is necessary in the short term in order to ensure longer term gains, that he's trying to destroy what's rotten — which is a lot — in order to re-build, is perhaps the biggest point of debate among China watchers as 2014 comes to an end.
McGregor buys into Xi's rhetoric about strengthening the rule of law in China."He's playing a long game," he said, with the ultimate goal of bringing greater legal certainly and transparency to the system.
But in the absence of meaningful political reform, good governance and one-party Communist Party rule may ultimately prove to be a contradiction in terms. Still, there is one thing which McGregor is certain: "I have been in China for 30 years, and this is the most interesting and important time since I arrived here."