BANGKOK — Seven months after seizing power, Thailand's military rulers appear to be in no hurry to hand over political control. There is talk that elections won't take place before 2016.
As they settle in for the long haul, Thailand's gaffe-prone generals have been focused on their mission to "return happiness to the people." Coup leader and now Prime Minister General Prayuth Chan-ocha has written a sentimental ballad by that name and every Friday appears on his one-man television show to remind Thais of their duties — which don't include deploying a "Hunger Games" salute.
That three-fingered gesture — adopted from the popular films — has been adopted by those protesting military rule. Students who've dared to flash it have been detained and sent for "attitude adjustment."
However, as the year draws to a close, it is palace intrigue and not Thailand's increasingly eccentric generals who are the talk of Bangkok — albeit in hushed or oblique tones because of draconian laws that limit open discussion of the monarchy.
Among a number of senior police officers arrested in late November for alleged corruption and defaming the monarchy were the uncle and three brothers of Princess Srirasmi.
Srirasmi — who was in line to be Queen of Thailand — was stripped of her royal title and promptly divorced by her husband, Crown Prince Maha Vajiralongkorn.
The royal couple were married in 2001 and have one son. Now that Vajiralongkorn has split from Srirasmi, his third wife, many suspect he will soon wed his Munich-based mistress — with whom he has another son.
The marital (and extra-marital) adventures of the Crown Prince might well have been dismissed as nothing new if not for one thing: timing. Maneuvering for Thailand's royal succession has been one of the key factors driving a decade of political conflict in the southeast Asian nation — and now it appears that succession may be imminent.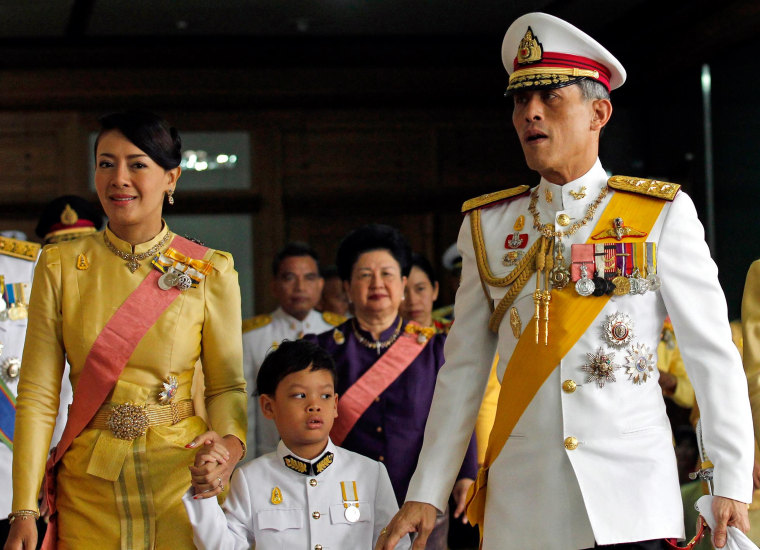 Thailand's King Bhumibol Adulyadej, the world's longest-serving monarch, is 87 years old and ailing. Earlier this month, he cancelled a public appearance for his birthday on the advice of his doctors.
The newly-divorced Vajiralongkorn is the heir apparent — but his often erratic behavior and multiple partners have made him deeply unpopular among Thais.
Vajiralongkorn has also been close to deposed former Prime Minister Thaksin Shinawatra, who is now in self-imposed exile. Shinawatra has been banking on the Crown Prince's ascent as a means to pave the way for his triumphant return to Thailand — a prospect that horrifies the old elite which has spend most of the last decade trying to keep Thaksin, his proxies and family out of power.
The prince's younger sister — Princess Maha Chakri Sirindhorn — has emerged a far more popular figure among Palace elites, the army and in the country at large. Most Thais would prefer to see her take over from her father.
But Princess Sirindhorn has never married — and therefore has no heir should she become Queen. In the carefully chosen words of palace courtiers, "she has never shown any interest in men."
That leaves the palace in a pickle — though none of this can be openly discussed in Thailand due to the kingdom's draconian "lese majeste" law, which bans defamation, insults and threats to the monarchy, with penalties of up to 15 years in jail.
So what is the crown prince Vajiralongkorn to do?
Speculation is rife that Vajiralongkorn's move to strip his now ex-wife (and her family) of their royal titles was an attempt to clean up shop — and perhaps part of a wider deal with the military to clear the path to the crown.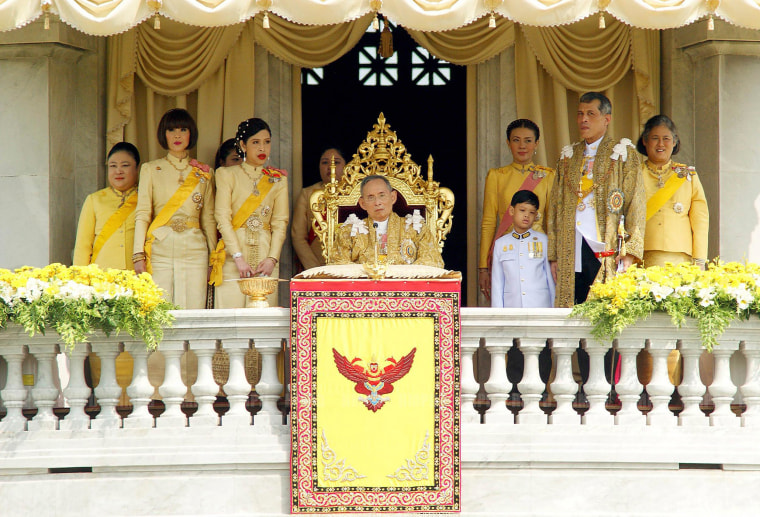 Princess Srirasmi was never accepted by the Palace elite, widely dismissed as a "bar girl" with a questionable past. But Vajiralongkorn's latest consort is believed to be a former flight attendant — and it is not clear if she would command the necessary respect from a royalist elite with a deep devotion to social hierarchy.
One widely-assumed and unspoken reason behind the coup is believed to be the military's desire to oversee a royal succession, and Vajiralongkorn's rapprochement could be just what the army needs.
If a deal is done on their watch for the Crown Prince to take the thrown — on their terms — then the generals might feel vindicated.
But there's no escaping Vajiralongkorn's unpopularity among ordinary Thais, who might find it hard accept a King Vajiralongkorn — making the palace under his watch a greatly diminished institution from that of his revered father.