Marijuana has never had a year like 2014.
The first aboveboard just-for-fun cannabis markets rose in Colorado and Washington. Voters in Oregon and Alaska passed ballot initiatives to create the same. And a consistent majority of Americans said they support plans to legalize the drug nationwide, according to polls by NBC News and others.
Yet 2014 also brought the first formidable anti-marijuana message in ages. The men and women of Smart Approaches on Marijuana, or Project SAM, might be the most potent voice of prohibition since Nancy Reagan's "Just Say No" tour three decades ago.
The result was a year of fierce cross currents.
The anti-drug crowd fought to protect people from marijuana, believing that sobriety is the ideal and indulgence dangerous. The reform side, meanwhile, fought to protect marijuana users from legal harm, believing that insobriety is normal and indulgence should not be a crime.
Here are five marijuana storylines that stood out amid all the smoke:
1. The First Legal Sales in Colorado and Washington
Last New Year's Day, Colorado debuted the sale of recreational pot to adults. In Washington state, at 2 a.m. on a Monday in July, a small number of retail shop owners—after receiving an electronic copy of a license to sell just-for-fun cannabis—followed Colorado into the green future.
In both states, the skies remained up, the ground remained down, and sales went off without any of the crime or public debauchery some critics feared. Advocates declared victory.
"Colorado has shown the world that cannabis can be safely bought and sold," said Mike Elliott, executive director of the Marijuana Industry Group, a powerful lobby for the Mile High state's newest industry. "Colorado's economy boomed, with thousands of new jobs," he continued, "and we also saw evidence of decreases in violent crime, traffic fatalities and teen marijuana use."
But hold on, critics said.
As Elliot himself is quick to point out, many problems remain. The black market is still strong in some parts of Denver, for example, and on the street the authorities can't tell the difference between a legally grown piece of pot and an illegal one. A bud is just a bud.
As new users flocked to powerful pot-infused "edibles," meanwhile, some found themselves dangerously zonked. "High" driving also emerged as a concern, and is still spurring furious debate over the appropriate limit for marijuana in the bloodstream.
In Washington state, it was much of the same, with no instant horrors, but no undisputed victories either. When Washington started to build its new economy, it hired BOTEC, a consulting firm run by Mark Kleiman, a UCLA professor of public policy.
Earlier this year, he told NBC News that Washington and Colorado's alcohol-style models are far from ideal. In fact, he said, the supposed progress reminded him of an old joke about a man who jumps from the Empire State building.
"How's it going?" someone yells as the man passes the 42nd floor. "So far, so good!"
2. The Savvy, Well-Funded Campaigns in Oregon, Alaska, and Nationwide
"I've slept like six hours in the last week and a half, man," Mason Tvert, communications director for the Marijuana Policy Project, told NBC in the run up to the Alaska vote.
MPP, a national lobby based in Washington, D.C., poured more than $700,000—more than 80 percent of the total fundraising—into Alaska's Yes on Ballot Measure 2 campaign, the local effort to treat marijuana like alcohol.
It won.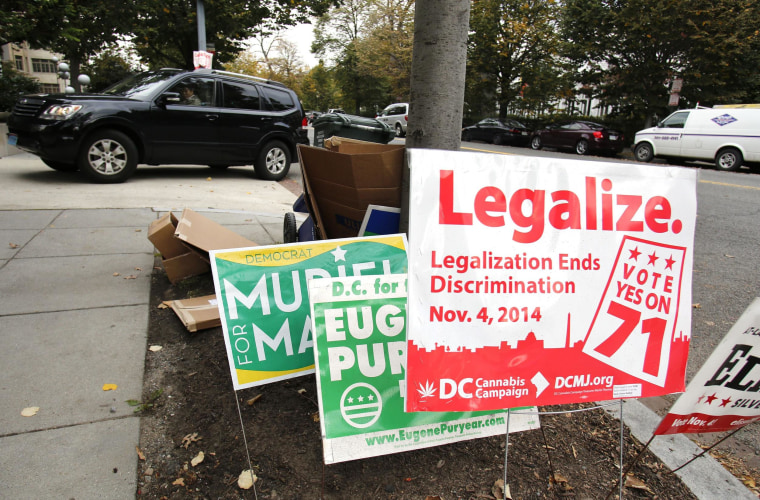 In Oregon, another national lobby, the Drug Policy Alliance, lead the push for legalization, known as Yes on Ballot Measure 91. Based in New York, DPA gave at least $780,000 to the initiative, according to state records. The cash helped pay for commercials, sidewalk chalk messages on college campuses, and painstaking get-out-the-vote efforts, the kind that leaves volunteers with sore feet and bruised dialing-fingers.
It won, too.
And both victories accrued to the gathering national reputations of perhaps pot's two most powerful advocates: Ethan Nadelmann of DPA, and Mason Tvert of MPP. Nadelmann has authored, aided, or helped fund every progressive pot law in the Americas, from California's breakthrough medical marijuana law in 1996 to the historic reforms going live in 2014.
Tvert, meanwhile, has emerged as the silver tongue of national legalization. He sees a parallel between any potential setback on pot and a setback on what reformers see as a similar fight for civil rights, the battle for same-sex marriage laws. "If one state passed a gay marriage ban this election," Tvert told NBC News earlier this year, "no one would say, oh, the country has reversed itself on the issue. No, we would say, man that state is crazy. It's the same thing with marijuana."
3. The Rise of an Anti-Pot Establishment
Not so long ago, the opposition to marijuana was poorly organized and had no formidable spokesperson, not even a sad-sack orator to argue futilely that legalization is the devil's work.
Now it has Patrick Kennedy and Kevin Sabet.
Last January the duo, a former Rhode Island congressperson and a former senior drug policy adviser for the Obama administration, respectively, launched Project SAM, a campaign to keep marijuana illegal and address the failings of the drug war through other means.
Kennedy calls legalization "a public health nightmare" because he believes it will warm more people to a dangerous drug, and lead inevitably to "Big Marijuana," a blood-sucking vice industry dependent on converting kids and selling to heavy users—same as the tobacco and alcohol industries.
Sabet, a thirty-something prodigy of drug politics, who launched his first anti-drug campaign while still in college, can be even more forceful than Kennedy. Rolling Stone has called him the number one national "enemy of legalization." He believes the black market would be preferable to the conniving, national ad campaigns of a corporatized marijuana market—a future, he argues, that has already peaked into view.
Project SAM is still losing the youth vote by a mile, of course, with more than 60 percent of Millennials in firm support of legalization, locally and nationally, according to the Pew Research Center. Sabet, Kennedy and a new national network of supporters are still optimistic. They expect this generation to follow the same trajectory as the Boomers before them—growing older and more concerned about drugs, pot included.
4. The Rise of Big Pot
The specter of corporate cannabis loomed large this fall, when the family of Bob Marley appeared on NBC's Today Show, announcing the creation of Marley Natural. The world's first global brand of marijuana launched with the support of $50 million dollars in private equity and the same marketing machine that took Starbucks to the masses.
This was a major milestone in the ragamuffin world of legal cannabis, where most products still have juvenile names (like Alaskan Thunderf--k) and a sales machine that depends on bikini girls and graffiti markers. By contrast Marley Natural is supposed to look like a modern consumer product, cleanly marketed and sold as "loose packed" buds, oils or concentrate, executives said told NBC.
It was also a major flashpoint.
Such frank capitalism shocked the smiling wise-men of weed and their crusading friends in the legalization movement. Most had hoped the market would remain a cottage industry of small-scale growers, collectives and dispensaries. Now few expect it will.
But they were not the only ones worried. Alcohol and tobacco interests have also decided to keep an eye on the burgeoning market. The alcohol industry in particular has been communicating with representatives of the major pot lobbies, according to sources on both sides of the table.
They want to know whether pot will be a friend or a foe—a complement to their products, or, as some marijuana reformers have argued, an alternative that could sap America's love of drinking. The marijuana world accepts these overtures out of a combination of curiosity, realism, and smart strategy.
If a takeover is inevitable, they figure, it's better to be prepared.
5. The More Things Changed, The More They Stayed the Same
In 2014, marijuana made some mainstream friends like never before.
First, in January, President Obama took a strikingly casual attitude toward a drug past presidents have tried to crush with billions of dollars in federal muscle. "I smoked pot as a kid," he said. "I view it as a bad habit and a vice, not very different from the cigarettes that I smoked as a young person up through a big chunk of my adult life." No, he added, "I don't think it is more dangerous than alcohol."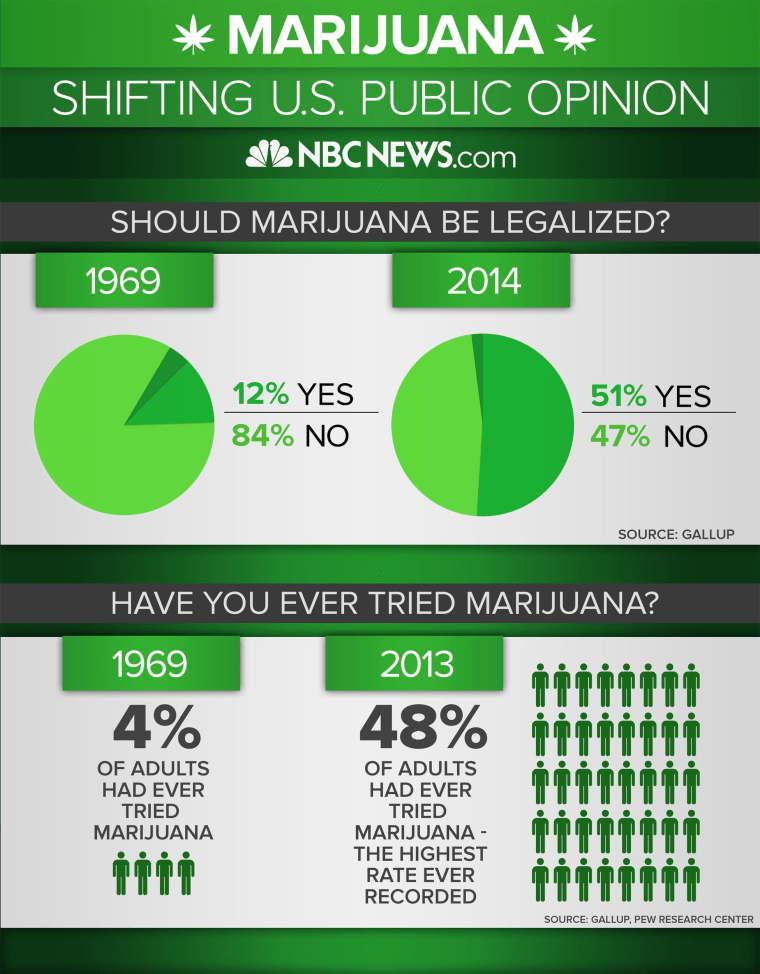 Next the New York Times editorial board came out in support of marijuana legalization, winking at Obama as it argued that 40 years of criminalization have come at the price of "inflicting great harm on society just to prohibit a substance far less dangerous than alcohol."
But with friends came enemies, notably casino mogul Sheldon Adelson. The chairman and CEO of Las Vegas Sands and America's 12th richest person, poured more than $6 million into Drug Free Florida, the organization that led a successful effort to block the legalization of medical marijuana in the Sunshine State.
It was his first foray into pot politics, and, advocates worry, it won't be pot's last broadside from the right. In December, in fact, the attorneys general of Nebraska and Oklahoma sued Colorado in the U.S. Supreme Court, arguing state-legalized marijuana from Colorado is improperly spilling across state lines.
"Yep," as Kevin Sabet put it earlier this year, spoiling for a broader fight over marijuana policy. "Game on."