When Lauren Tom appeared in the first season finale of NBC's "Friends" in 1995, it was a tough moment in network television for Asian Americans. Two months earlier, ABC had canceled Margaret Cho's "All-American Girl," the first network show to feature an Asian-American family as its central cast.
And while the narrative of what happened with Cho's show would be repeated 20 years later as viewers prepared for the premiere of ABC's "Fresh Off the Boat," Tom's own role as Julie, Ross' archaeologist girlfriend and one of the first roadblocks to Ross and Rachel's tumultuous relationship, was just as groundbreaking for the time.
"One of the great joys of my life post-'Friends' has been being approached by Asian women who have told me how much it meant to see an Asian face on their TV screen when they were growing up," Tom, who was pitched for the character after her role in the film "The Joy Luck Club," told NBC News.
With the exception of her introduction on her first episode of "Friends" — Rachel mistakenly assumes Julie doesn't speak English and tries to welcome her to "our country" in loud, slow speech (a joke Tom herself suggested based on her own experiences) — Tom's ethnicity changed nothing about the character of Julie. She was a twenty-something woman from New York who spoke and dressed and acted like the six friends that viewers had come to know weekly.
"I don't think I realized at the time what kind of impact it would have on the Asian community," Tom said. "I was just so happy to be offered a role on such a great show."
Authenticity On, and Off, Screen
Over the past two decades, there appeared to be two ends of the spectrum for Asian-American actors on network television, but rarely a middle ground: on one end, there were characters buried in stereotypes or defined by their "Asian-ness;" on the other end, there were characters with simply no ties to his or her ethnic identity.
Next to Tom were actresses like Tom's "The Joy Luck Club" co-star Ming-Na Wen, whose role as Trudy on NBC's short-lived 1995 sitcom "The Single Guy" never touched on Wen's ethnicity. Next to characters like those on "All-American Girl" who made ethnicity a central part of their stories were the controversial Ling Woo on "Ally McBeal," portrayed by Lucy Liu who was criticized for pushing "Dragon Lady" stereotypes, and Sammo Hung who starred in CBS' 1998 martial arts cop drama "Martial Law" (but while Hung was billed as the top star, he spoke little English, had few lines in each episode, and reportedly made less than his co-stars).
Twenty years later, network television seems to have found a middle ground for its Asian-American stars to shine. If 2014 was a banner year for Asian Americans on TV, then 2015 was a banner year for their hyphenated identities to find a home in primetime programming — progress that had as much, if not more, to do with what was happening behind the cameras as what was happening on screen.
RELATED: 'Today, We've Arrived': Fresh Off the Boat Makes TV History
"To me, the biggest success in 2015 was not just seeing all these TV shows with APAs in front of the camera, but the fact that there are more and more APAs behind the camera in show runner and other decision-making positions," Philip Chung, co-founder and blogger at YOMYOMF, told NBC News, pointing to "Fresh Off the Boat" showrunner Nahnatchka Khan and executive producer Melvin Mar, and "Dr. Ken" executive producer and star Ken Jeong as examples.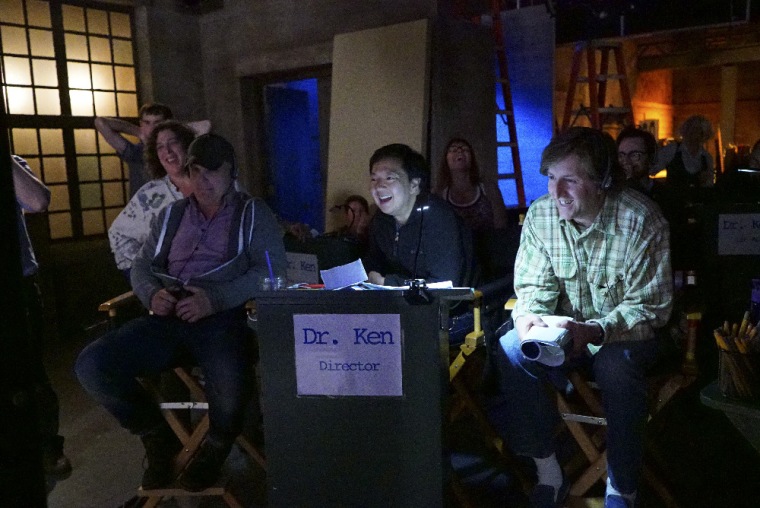 "You're seeing more systematic change, more diversity beyond just superficial lip service," Chung said — change that was evident last month when three network shows aired episodes featuring different Asian-American Thanksgiving traditions in the same week, with Taiwanese-American traditions on "Fresh Off the Boat," Korean-American traditions on "Dr. Ken," and Filipino-American traditions on The CW's "Crazy Ex-Girlfriend" which stars Filipino American Vincent Rodriguez III as the main character's love interest.
RELATED: New Ken Jeong Sitcom Marks a Milestone in Primetime Diversity
"When I had my final call with Aline [Brosh McKenna] and Rachel [Bloom], I asked them why Josh was an Asian guy and not a white guy," Rodriguez told Vulture in an interview. "They said they'd both grown up in Southern California near the beach. Of all the bros and attractive men they'd encountered, there were definitely Asians among them who were just as hot and as cool and attractive…The show is not about the fact that Josh is Filipino, but the fact that it was an active choice that was made, and it was treated with such integrity, is what's important."
Now Streaming
Outside of traditional network television, streaming and video on demand (VOD) services have also proven to be game changers in 2015. Fox's announcement this past May that it would cancel "The Mindy Project" brought the series to the doorsteps of Hulu, which began airing the show in the fall. Chung also notes that the highly-praised "Parents" episode of Aziz Ansari's Netflix series "Master of None" is proof that diversity matters behind the scenes.
RELATED: Veteran Actor Takes On Diversity: 'We Need More Shows'
In the episode, Ansari's character Dev and Kelvin Yu's character Brian learn about their immigrant parents' hardships in coming to the U.S. and their sacrifices for their children. (It's an episode that Yu told NBC News last month was an important example of why "diversity has to happen on a storytelling level, not just on a casting level.")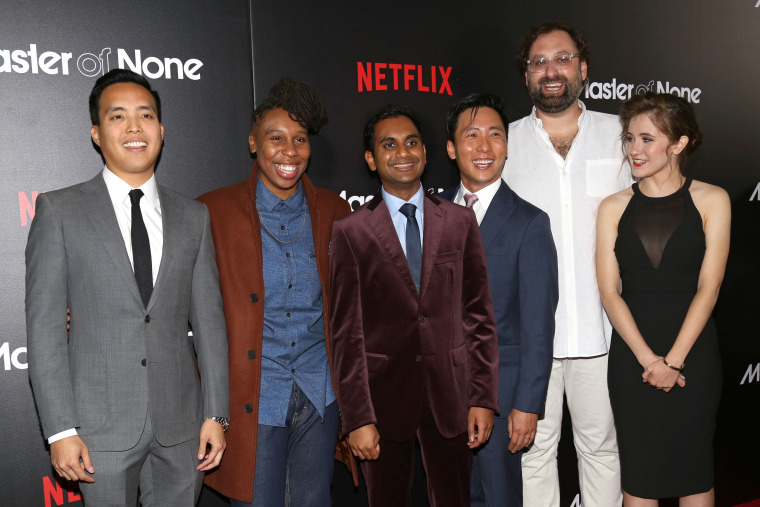 RELATED: Kelvin Yu On Diversity, Hollywood, and How 'Master of None' Gets It Right
"The episode existed because Aziz Ansari and Alan Yang are the show runners and could pull that story from their own experience," Chung said. "I don't think you'd see a story like that even if it were the same show, but with white showrunners."
He adds that, while there might not be major differences between producing a show for a network versus a streaming service like Hulu, Netflix, or Amazon, there's one important factor that might give a hint as to what audiences are looking for: metrics.
"They know exactly how many people are watching their shows and their demographic because they control their own metrics, unlike in traditional TV where you have to depend on outside services like Nielsen that may not be as specific or accurate," Chung said. "If streaming services are greenlighting shows like 'Master of None' or 'The Mindy Project,' it's because they know, based on their very accurate numbers, that there will most likely be an audience for them."
The Next Frontier
Strictly looking at the numbers about on-screen representation, Asian Americans have made slight, but significant, progress on network TV: in its annual television diversity report, GLAAD reported an increase in the number of Asian-Pacific Islander regular characters on network television: 53 characters, or 6 percent, according to GLAAD — up from 4 percent in the 2014-2015 season following a 2 percent decline from the 2013-2014 season.
But while it's tempting to look at the increasing numbers, and to see shows like "Fresh Off the Boat" and "Master of None" as marking a moment of "arrival" for Asian Americans, there's still room for growth in terms of more quality roles, and, as both Chung and Lauren Tom note, a domino effect into the larger Hollywood film industry.
RELATED: New AMC Show 'Into the Badlands' Praised for 'Groundbreaking' Casting
"As Hollywood movies become more and more about expensive tentpole spectacles while indie film continues to shrink and even the lowest budget features will demand 'name' actors, it doesn't bode well for AAPIs. How are AAPI actors expected to climb the ladder to 'movie stardom' when they're not commercial enough to star in the big Hollywood movies and type of indies that once starred unknowns, screened at Sundance, and launched careers?" Chung said.
"I do think it's getting better, but I have noticed that Asians are not well represented in awards shows, and not a ton of Asian faces on the big screen either," Tom said.
"Perhaps some of the young Asian actors who are on TV series now will be seen in upcoming movies in the near future — Jamie Chung, Constance Wu, Suzy Nakamura, to name a few," she added. "Fingers crossed."