While sifting through Facebook posts our fans liked most this year, we noticed some trends.
People scouring NBCNews.com's Facebook page really like critters — especially cats.
Anything having to do with the Vatican and the pope also strikes your fancy.
And the president making a funny really makes you want to click "like."
Here are some of the posts that made waves — a couple of which actually involved waves — on NBCNews.com's Facebook page this year:
1. Welcome to 'Cat Island,' Where Felines Outnumber Humans
As if anyone needed proof that the Internet loves cats, our most-liked and most-shared Facebook post was about a remote Japanese island where the cat population outnumbers the human population six to one. Now, there are only 20 people living in Aoshima, so no one's talking about thousands of cats — but those who are allergic would be wise to avoid what's referred to by the locals as "cat island." The article also made the top-10 most-clicked off our Facebook page, and those who landed there were charmed by a feline-filled video and gallery.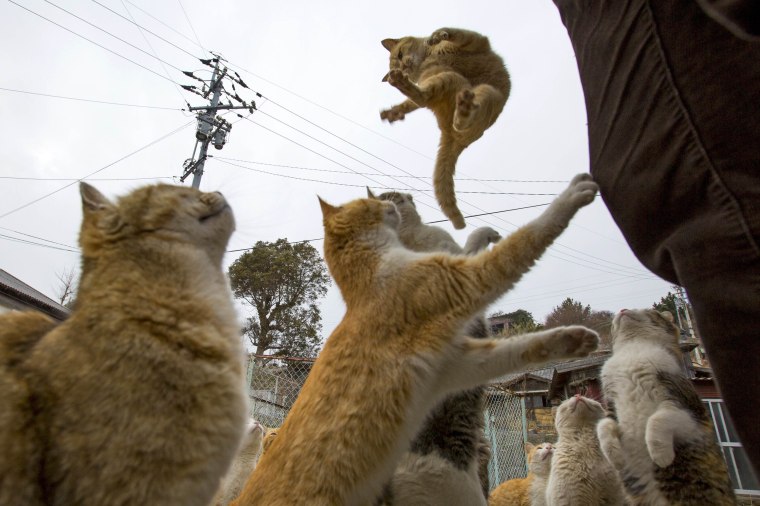 2. House Cat Teases Mountain Lion From Behind Glass
Providing more proof that sometimes people want to take a break from the news for some mews, our second-most liked post on Facebook was a video of a particularly brave house cat remaining seemingly unfazed by a mountain lion that's pawing at the indoor cat from the other side of a window. It's the mountain lion that either gets scared or bored and eventually skulks away.
3. Obama's 'Drop the Mic' Moment During SOTU
Our Facebook fans were also quick to hit the "like" button on a video of what was arguably the most memorable moment of President Barack Obama's 2015 State of the Union Address. When some people in the chamber applauded Obama's statement that he had "no more campaigns to run," the president was quick with a response. "I know, because I won both of them," he said to even louder applause. Then-Speaker of the House John Boehner didn't appear to crack a smile, but NBCNews' politics team reported that even Republican Sen. John McCain, Obama's foe in the 2008 election, put his hands together for the joke.
4. Pope Francis Stops Motorcade to Kiss Disabled Boy
The country was pope-obsessed for a few days when the pontiff visited the U.S. for the first time, but one gesture during his trip garnered even more attention than others. A video of Pope Francis halting his motorcade to bless 10-year-old Michael Keating, who suffers from cerebral palsy, was exceptionally popular on our Facebook page. Keating's mother, Kristin, told NBC News that when Pope Francis kissed her son on the head, the moment "caused all of us to just weep tears of joy."
5. Surfer Mick Fanning Fights Off Shark Attack
Our most-watched video on Facebook this year was ever-so-slightly unnerving, showing professional surfer Mick Fanning struggling to fight off a shark during a competition in South Africa. Not seen in the video is Fanning's competition, Julian Wilson, who paddled toward the danger in an effort to help. "He was like a powerboat coming for me. It was so brave … he's a warrior," Fanning later said. The surfer was back in the water competing in less than a month.
6. Fire Ants Stick Together to Survive Flood
We're not really sure what was so enthralling about the second-most watched video on our Facebook page, which showed a massive cluster of fire ants floating in water after historic flooding hit South Carolina this fall. The ants stick together to survive, the video informs, by using their claws and adhesive pads on their legs. Lovely.
7. Anheuser-Busch Halts Beer Production to Provide Water for Storm Victims
In a natural disaster situation that prompted humans to stick together, the folks that make Budweiser, Stella Artois and more stopped making beer at one of their facilities in order to can drinking water to send to Texas and Oklahoma during a devastating bout of May storms. Beer production may have stopped for a bit, but this good-news post had our Facebook audience drunk with delight. The company similarly canned water to send to firefighters in the west in August when wildfires were erupting at an alarming rate.
8. Obama Jokes With Girl Scouts Camping at White House: "What Are You Doing in My Yard?"
President Barack Obama surprising a group of Girl Scouts camping out on the White House lawn — an event that was part of the first lady's "Let's Move Outside" initiative — got a ton of "likes." The president walked outside and quipped: "What are you doing in my yard?" One girl in the group of about 50 shouted: "We're making history on your lawn." She was right. The group was, in fact, the first ever to sleep on the White House South Lawn.
9. Adventurous Pups Rescued From Icy River
A video showing a couple pups in a pickle was quite a hit. The video of two dogs that jumped a fence and found themselves in an icy river had a happy ending when two rescuers waded into the frigid water to rescue them. The video even starts off on a chuckle-worthy note when the smaller pooch tries to nip one of the crewmen. Someone should have taught that pup not to bite the hand that saves you.
10. Images of Endangered Species Projected on Side of St. Peter's Basilica
This post was just destined to grab our audience's attention — combining animals (kind of) and the pope (kind of). And it did, landing on the top-ten lists for video views, "likes," and shares. Watching sea creatures, birds and wild animals projected on St. Peter's Basilica in the Vatican is truly a spectacular sight. The art project was designed to draw attention to climate change and endangered species.