NEW YORK - So, not much happened this past year for fund investors, right?
It might seem that way, after many mutual funds and exchange-traded funds ended the year close to where they began. But that belies the scary ride up, down and back up again that investors endured.
Few funds escaped the tumult. Stock funds gave us a reminder that they're among the most volatile investments. And many bond funds, which are supposed to be the safe part of our portfolios, delivered losses.
Here's a look at how funds performed over the year:
U.S. stock funds
Many U.S. stock funds did virtually nothing in 2015. They just took a lot of sharp turns to get there. The largest stock fund by assets returned 1.2 percent for the year, as of Dec. 30.
Vanguard's Total Stock Market Index fund tracks the performance of a broad U.S. stock market index, and it got back to positive for the year only after plunging 7.3 percent during the third quarter. A wave of selling hit markets around the world in August, propelled by fears that China's economic slowdown was turning out to be worse than feared.
S&P 500 index funds lost 10 percent over the span of just a week, their first drop of that magnitude in about four years. It was a cold slap for investors who had gotten used to years of relatively placid returns from their stock funds.
Growth vs. value
When something's rare, everyone wants it. And what's scarce in this still-tepid global economy is strong growth.
Netflix was by far the best stock in the S&P 500 during 2015, more than doubling in price, because it consistently produces revenue growth of more than 20 percent. Compare that with the rest of the S&P 500, where analysts say revenue fell in 2015.
Because so few companies are producing strong growth, and so many dollars are chasing after them, a small handful of high-growth stocks have spurted higher. And those are often core holdings of growth stock funds.
The average large-cap growth stock fund returned 4.6 percent, including dividends. That compares with a loss of 3.2 percent for large-cap value stock funds. It's the fifth time in the last seven years that growth stocks have topped value stocks.
Foreign stock funds
International stock funds have been some of the most popular investments, drawing billions of dollars a month while U.S. stock funds tread water. The return on that investment was hit and miss in 2015.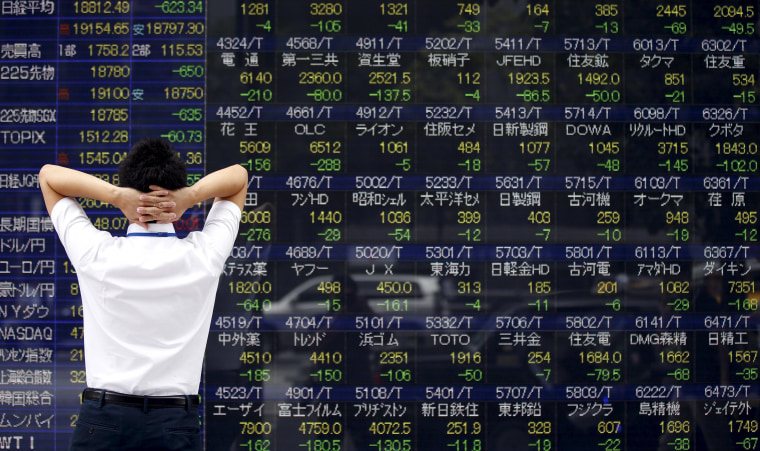 Funds that focus on stocks from emerging markets were some of the year's worst performers, losing an average of 13.8 percent. At the center of the disappointment was China, whose growth is skidding as the government tries to remake the economy into one dependent on consumer spending instead of heavy industry.
On the other side were Japanese stock funds, which returned an average of 12.7 percent. A weak yen has helped fuel stronger profits for Japanese exporters. And like many central banks outside the Federal Reserve, the Bank of Japan is pushing stimulus to help its economy.
High-quality bond funds
D-Day arrived for bond-fund investors on Dec. 16, when the Federal Reserve announced the first increase in short-term rates in nearly a decade.
Investors had spent years fretting about it. Higher rates tend to cause the price of bonds currently in fund portfolios to fall.
Many bond funds did turn in losses for 2015, but they were mostly modest. The largest category of bond funds, ones focused on intermediate-term bonds, lost an average of 0.4 percent.
Even though the Fed has begun raising rates, most investors expect it to move gradually. Another traditional challenge for bond investors, inflation, also remains low.
Junk bond funds
One corner of the bond market did have a lot of tumult, but it wasn't because of interest rates.
High-yield funds lost an average of 4.1 percent this year, worse than many stock funds. These funds invest in bonds with higher yields than high-quality bonds, but they come with a risk. The bonds are issued by companies considered more likely to default.
Sliding prices for oil and metals mean many commodity producers may soon have trouble repaying their debts, and they make up a big chunk of the high-yield bond market.
About a week before the Fed raised rates, a mutual fund focused on the lowest-quality bonds closed and told investors they may have to wait a year to get their money back. Scared investors pulled cash from other high-yield bond funds, which caused a chain reaction that led to steeper price drops across the market.
The episode highlighted worries that bond-fund managers have had for a while. When they try to sell a bond, they're finding it more difficult to find buyers. The same goes when they're looking to buy. The greater difficulty in trading is partly a result of new banking regulations, fund managers say, and it is amplifying price swings.
The largest high-yield bond fund, Vanguard's High-Yield Corporate fund, lost 1.2 percent on Dec. 11, its worst day in four years. Two days later, it had its best day in more than a year.