CLEVELAND — A gun-rights rally in downtown Cleveland on the eve of the Republican National Convention attracted just two people on Sunday afternoon.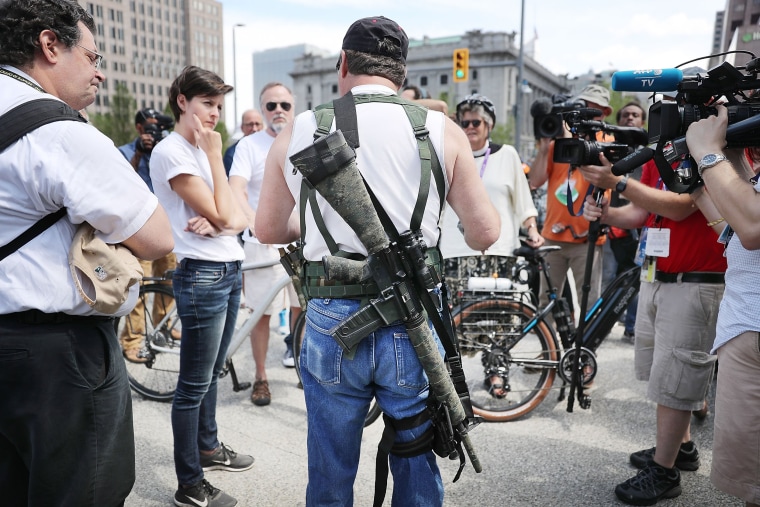 Steve Thacker, 57, a computer engineer, had a Bushmaster Predator rifle with camouflage detailing slung over his shoulder, a .45 caliber handgun strapped to his thigh and ammunition around his waist.
Swarmed by reporters, Thacker joked about the fact that he was the only person to show up with a firearm — even though Ohio's open-carry laws mean anyone can carry a gun in the RNC event zone.
"I feel like one light bulb with a zillion moths," Thacker said in Public Square, a half mile from Quicken Loans Arena, where the convention opens Monday.
The "rally" organizer, Rich Medlar, said about 35 people had promised to come in a show of support for gun rights.
"They just decided not to show up," he said with a shrug.
Medlar hinted that he had a concealed firearm. "I'm protected," he said.
Even though it's permitted, Thacker said he had no intention of walking around Cleveland with his rifle once the convention is under way.
"This is about a statement," he said. "I'm not going to be wandering around like this anywhere else."
In the run-up to the RNC, the decision not to ban firearms in the event zone caused concern in some quarters. The head of Cleveland's police union, a Second Amendment supporter, has called it "insanity."
The issue was put into stark relief by the July 7 ambush of officers in Dallas during a police brutality protest. Demonstrators wearing camouflage and carrying rifles made it harder for police to figure out who was shooting, authorities said.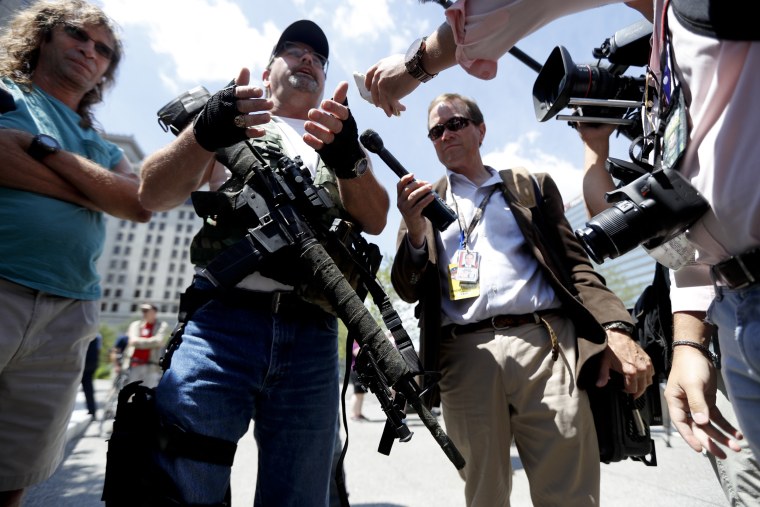 "It's increasingly challenging when people have AR-15s slung over their shoulder and they're in a crowd," Dallas Police Chief David Brown said. "We don't know who the good guy is versus the bad guy when everyone starts shooting."
Cleveland officials said that in allowing guns everywhere but the secure zone immediately adjacent to the Quicken Loans Arena, they were simply following state law. Meanwhile, items like water pistols and metal tipped umbrellas and even whole fruit – not covered by any state laws – were prohibited. A tongue-in-cheek petition on Change.org calling on Cleveland to reverse a ban on tennis balls has garnered 200 signatures.
It's not clear how many guns will be seen at protests and on the streets when the convention is in full swing.
The head of the militant New Black Panthers Party was quoted by Reuters last week as saying his members would be armed, but he later said the group was not telling its members to bring weapons.
Chris Cox of Bikers for Trump – who is participating in a major march on Tuesday – said that he would not be packing.
"I'll be armed with a first aid kit," Cox said, though he added that other bikers taking part in the event could bring guns.
Stewart Rhodes of the Oath Keepers, an organization made up of former military and police officers who usually appear at events armed, said they were invited to provide security for a pro-Trump parade but decided not to accept.
If they had gone, he said, they likely would not have taken advantage of open-carry laws and opted for concealed weapons instead. "We'd want to be low-key," he said.
Cleveland officials have spent more than a year putting a security plan in place, retooling it after mass casualty events in the U.S. and abroad – from the sniper-style shootings in Dallas to the truck attack in Nice, France just three days ago. As Thacker showed off his weaponry in Public Square, details of a shooting in Baton Rouge that left three police officers dead were developing.
There are 5,500 law enforcement officers assigned to RNC security.
"We're not going to tolerate violence of any kind," Cleveland Police Chief Calvin Williams told NBC News.
He said gun owners have a responsibility to carry their weapons in a safe manner and make sure they aren't seen as menacing.
"We encourage people to come and exercise their First Amendment rights, their Second Amendment rights, and we'll protect them in doing that," Williams said.
"But we're not going to accept any kind of violence because that's not what this event's about."