CLEVELAND -- Seventeen protesters were arrested outside the Republican National Convention on Wednesday afternoon after a scuffle broke out during a flag-burning, in the most dramatic confrontations seen here this week.
Two of the demonstrators were charged with assaulting an officer. The others were charged with inciting to violence, a misdemeanor, police said.
The incident unfolded at intersection of Prospect Avenue and East 4th Street, just beyond a security entrance for delegates walking into the Republican National Convention. Police, protesters, media and onlookers filled the street.
Cleveland Police Chief Calvin Williams, who was at the scene, said the person who started burning the flag caught himself and others around him on fire and officers moved in to put out the flames.
"That's when they got defensive," Williams said, "and that's when they assaulted an officer."
One officer was punched and pushed, according to Williams, and "the whole area got amped up when this happened."
Video from the scene showed the flag, followed by a scuffle and a visual of someone spraying a substance into the middle of the crowd. Police said no pepper spray was used but that an officer did use a fire extinguisher.
A group that provides legal services for protesters criticized the police for what it called "aggressive shows of force."
"The Ohio NLG is highly concerned about these arrests and the escalation of police tactics against peaceful demonstrators," said Jocelyn Resnick of the Ohio Lawyers Guild.
The protest was announced in advance by Joey Johnson, a revolutionary communist known for flag-burnings. Hours before the protest, there was a call on Twitter for counter-protesters to turn out, too.
Johnson was one of the 17 arrested, but Williams said none of the charges were related to burning the flag, which is legal. Johnson and other protesters chanted "America was never great" as they were taken into custody.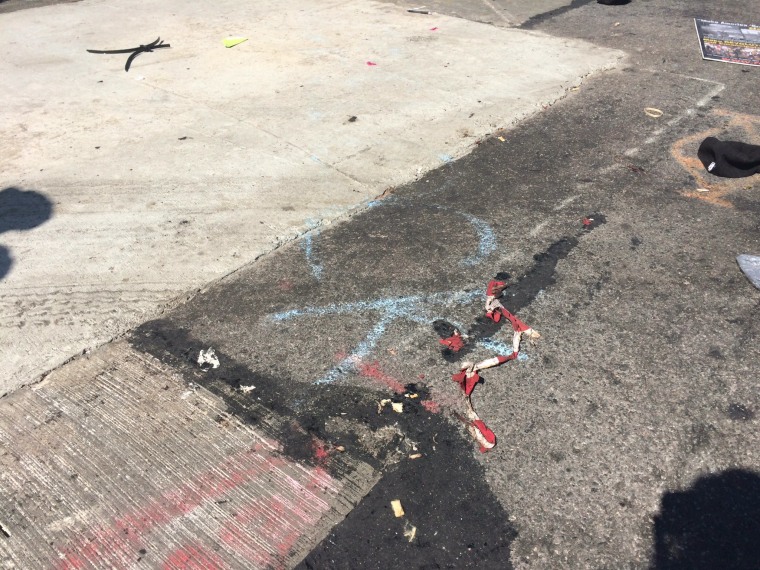 After the crowd was dispersed, police put crime-scene markers on the the remnants of the flag, placards carried by the protesters and other debris.
Before Wednesday, there had been only five arrests related to RNC protests. There are 5,500 law enforcement officers assigned to convention duty, but they had given protesters, even those marching on roads without permits, a wide berth.
On Tuesday afternoon at Public Square, a hub for RNC activists and attention-seekers, a "little shoving match" erupted during a face-off between conspiracy theorist and radio host Alex Jones and some protesters opposed to Donald Trump, Williams said.
The chief helped separate the groups as hundreds of reinforcements streamed into and surrounded the square.
"If I'm out there and something is happening, I'm going to get involved," Williams said at a briefing Wednesday morning.
Ohio's open-carry provision had raised concerns that large numbers of armed activists might roam the streets, but only a handful have materialized at the main protest sites.
When asked what he thought of the Cleveland Police's efforts to date for the convention Williams said, "Right now, I think so far, so good," but agreed that the significant number of reporters at the convention had made the job of police "a lot more difficult."
"We have more media than protesters," Williams concluded.