PHILADELPHIA — The patient was stabilized Monday as Bernie Sanders and a parade of progressive leaders worked to marginalize so-called Bernie-or-bust delegates on the opening night of the Democratic National Convention, which just hours earlier seemed on the verge of spinning out of control.
The anti-unity delegates booed speakers, including Sanders and Sen. Elizabeth Warren, when Clinton's name was mentioned, but the party's efforts clearly materialized as the delegates were proven to be a small minority, though a vocal one.
There's more healing to do, but the prognosis for unity is positive as the convention prepares to hear from its biggest speakers yet in the coming days — President Obama, Vice President Joe Biden, former President Bill Clinton, and finally Hillary Clinton.
The fragile truce will be tested once again Tuesday, when a roll call vote is held to formally nominate Clinton as the party's nominee.
Full Coverage of the Democratic National Convention
Just days ago, the Democratic convention looked like it would be a snoozer after a raucous Republican meeting last week in Cleveland.
But a series of late-breaking events and dynamics unforeseen by leaders on either side of the Clinton-Sanders divide suddenly seemed to spin the convention out of control.
No one anticipated the antipathy of some Sanders delegates towards Clinton, nor their willingness to make trouble for two candidates who weeks ago decided to work together.
Both sides scrambled Monday as they realized they had waited too long to take the painful steps necessary for reconciliation. Issues that should have been worked out long ago were being dealt with in real-time as the opening gavel, originally set to be lead by ousted chairwoman Debbie Wasserman Schultz, loomed just hours away.
On one side, the Democratic establishment realized they should have pushed Wasserman Schultz out much earlier, after it was clear she was toxic to Sanders supporters.
She was jeered off the stage at a meeting of her own state's delegation Monday morning, leading Clinton officials to swoop in to prevent her from showing her face on stage at the convention at all.
And they pushed the party to put out a statement offering a "deep and sincere" apology to Sanders for the DNC's apparent favoritism of Clinton, revealed in recently leaked internal emails.
Meanwhile, Sanders allies realized they had not done nearly enough to prepare his supporters for the endgame, when Sanders himself was nearly booed out of the room by his own delegates for supporting Clinton.
His campaign had provided little guidance or infrastructure for delegates ahead of the convention, leaving a vacuum that was filled by self-organized activists who thought they had Sanders' tacit endorsement to disrupt the party proceedings.
"I've heard nothing from the Bernie campaign formally or informally telling us to protest. And I've heard nothing from the Bernie campaign telling us not to protest," said delegate organizer Norman Solomon last week. "I gather that means that Bernie is continuing with his integrity."
Sanders officials moved quickly in the hours leading up to the opening night to merge their floor whip operations with Clinton's in order to present a unified front and impose some discipline.
"Our credibility as a movement will be damaged by booing, turning of backs, walking out or other similar displays, what the corporate media wants. That's what Donald Trump wants," Sanders said in the last-minute email sent to delegates.
The delegates didn't listen.
Some of his supporters booed repeatedly during almost any mention of Clinton's name, with Warren of all people coming in for the harshest treatment. Some yelled "we trusted you" whiles others chanted "you let us down."
As Sanders spoke, screens inside the arena showed close-ups of his delegates shedding tears.
Meanwhile, Donald Trump taunted the Bernie or Bust crowd from afar. "Sad to watch Bernie Sanders abandon his revolution. We welcome all voters who want to fix our rigged system and bring back our jobs," he tweeted.
Outside the conventional hall during the day, at least 15 protesters were arrested.
But Democrats can take some heart in the fact that the opposition was concentrated in delegations from states like California, not battlegrounds.
"Can I just say to the Bernie or Bust people — you're being ridiculous," said actress and comedian Sarah Silverman, an outspoken Sanders supporter who weathered boos while appearing alongside Sen. Al Franken.
It was only the most pointed response to the Sanders die-hards from a succession of his supporters who called for unity.
"I'm here in support of Hillary Clinton" were practically the first words out of the mouth of Sanders' first congressional backer, Rep. Raul Grijalva.
Sen. Jeff Merkely, Sanders' lone endorser in the Senate, said progressives could get more done if Clinton and Sanders worked together.
Sen. Elizabeth Warren praised Clinton's values and closed her speech by saying, "let's work our hearts out to make Hillary Clinton the next President."
But it was Sanders himself who made the most forceful case for Clinton.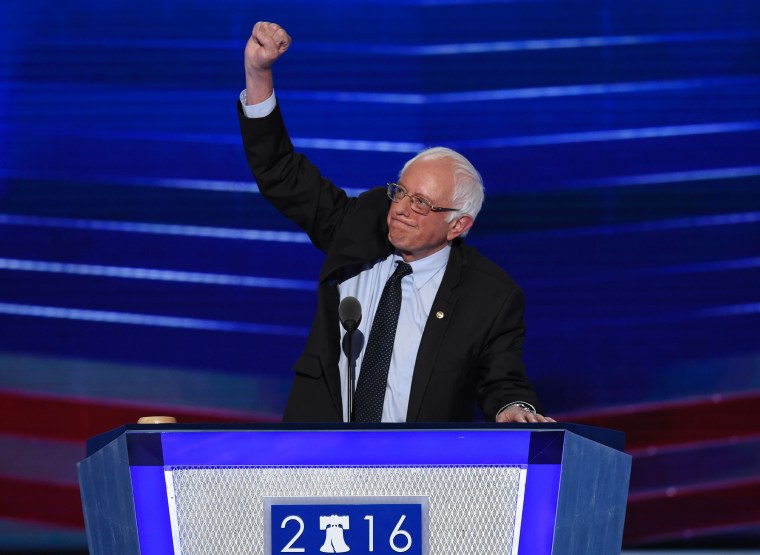 The audience had been given "Bernie" signs in a font and color reminiscent of Clinton's branding as a subtle nod to unity.
He took the stage to deafening applause as he wove Clinton into his stump speech, suggesting she fights for the same issues as he and his movement.
"I understand that many people here in this convention hall and around the country are disappointed about the final results of the nominating process. I think it's fair to say that no one is more disappointed than I am," he said.
"I have known Hillary Clinton for 25 years," he continued. "I served with her in the United States Senate and know her as a fierce advocate for the rights of children."
"Hillary Clinton will make an outstanding president and I am proud to stand with her here tonight," he closed.
Meanwhile, Michelle Obama may have given the speech with the most relevance for the general election.
She made an emotional plea for her predecessor and former rival of her husband, about whom she has said little in public before.
"Hillary Clinton has never quit on anything in her life," Obama said.
The first lady is one of the most popular figures in America, especially among the suburban woman Clinton strategists are targeting.
"When she didn't win the nomination 8 years ago, she didn't get angry or dissolution," the first lady said, subtly speaking to the divisions in the party. "Because as a true public servant, she knows this is so much bigger than her own desires and disappointment."
And New Jersey Sen. Cory Booker brought the arena to its feet with a speech that already started speculation about when he might run for president, with a theme about Americans rising up together.