For the second night in a row, a speech given by a member of Donald Trump's family is raising eyebrows for lines previously used elsewhere.
Donald Trump Jr. in his headline address at the Republican National Convention in Cleveland delivered a near-exact repetition of a small part of an American Conservative article written by F.H. Buckley, titled "Trump vs. the New Class."
"Our schools used to be an elevator to the middle class. Now they're stalled on the ground floor. They're like Soviet-Era Department stores that are run for the benefit of the clerks and not the customers," Trump's son said in his speech Tuesday night.
The line in Buckley's article reads, "Our schools and universities are like the old Soviet department stores whose mission was to serve the interests of the sales clerks and not the customers."
The similarity was first noted in a tweet issued by The Daily Show, and it soon picked up traction on Twitter.
Buckley, who helped write Trump Jr.'s speech, quickly sought to stop any claims of plagiarism, tweeting, "Except it wasn't stealing..."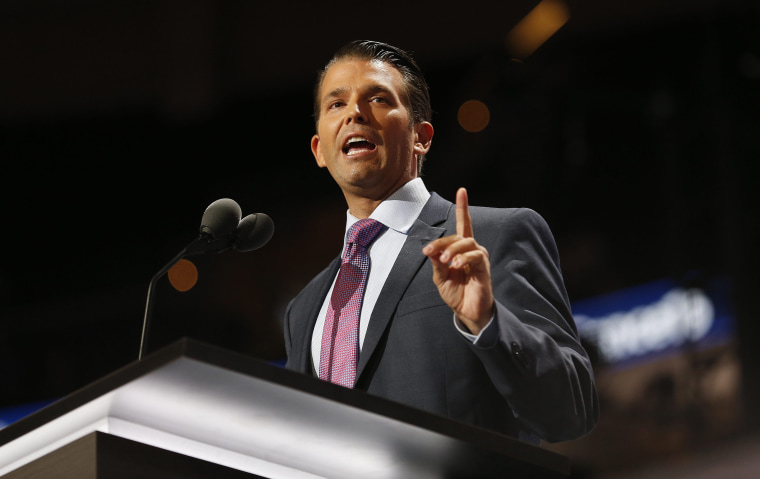 In an interview with NBC News, Buckley downplayed the similarities. He said he didn't initially think he had copied word-for-word from his original piece, and "even if I had I didn't think it would be problem."
Asked whether he thought to alert Donald Trump, Jr. of the similarity with his own piece, Buckley said "it never occurred to me."
"I'm a speechwriter. This is what speech writers do. You're looking for something improper, I don't see it," Buckley said.
And Trump campaign spokesman Jason Miller also downplayed the cribbed line.
The latest distraction comes as the Trump campaign is still struggling to explain a more striking incidence of possible plagiarism, in Melania Trump's speech on Monday, which appeared to lift a whole section from Michelle Obama's 2008 Democratic convention speech.
Beyond complicating what Republicans had hoped would be a relatively seamless celebration of GOP unity and the effort by Trump's family to humanize him, the scrutiny over the genesis of the Trump family speeches raise new questions about the Trump campaign's organization and readiness for the general election fight.
Speechwriters for past campaigns and presidents expressed alarm at the Trump campaign's apparent lack of basic standards and safeguards for detecting plagiarism.