First Read is a morning briefing from Meet the Press and the NBC Political Unit on the day's most important political stories and why they matter.
CLEVELAND, Ohio — "The Republican Party I worked for died in this room tonight" is how our colleague Nicolle Wallace last night summed up Donald Trump's convention speech on Thursday. And she isn't wrong. Ronald Reagan's "Shining City on Hill," George W. Bush's "Compassionate Conservativism," and even Mitt Romney's convention speech on freedom were replaced by Donald Trump's Order and Border address. Indeed, while Romney said the word "freedom" seven times in his 2012 convention speech (when the Tea Party was still ascendant), Trump said the word only once -- and it was in opposition to trade deals. "I pledge to never sign any trade agreement that hurts our workers, or that diminishes our freedom and independence," he said.
By contrast, Trump said the word "order" seven times, versus just once for Romney in 2012 (in praising President Obama's order to take out Bin Laden). And Trump said "border" nine times, according to our count, versus zero mentions by Romney four years ago. As others have pointed out, it was Richard Nixon of 1968 (on lawlessness) meets Pat Buchanan of 1992 (on immigration and protectionism). "Trump described an America awash in blood and corruption that only he can prevent from sliding into the abyss," NBC's Benjy Sarlin writes. "After months of speculation that he might eventually soften his tone, broaden his message or roll out policy details, the speech made clear that Trump is going to be Trump — and unapologetically so."
But Does This Country Really Look Like '68 or '92?
What Trump's speech tried to do is tap into the 73% of Americans who say the country is on the wrong track in the NBC/WSJ poll, as well as the recent spate of terrorist attacks and violence (in Orlando, Dallas, Baton Rouge, and France). Yet what he didn't do was try to broaden his appeal in a country that no longer looks like 1968 or 1992. After all, 87% of voters were white in the 1992 election 24 years ago. In November, however, that percentage is expected to be 70% -- or lower. And while Trump tried to paint a country mired in lawlessness and malaise, keep these statistics in mind:
U.S. unemployment rate when Obama took office: 7.8%
U.S. unemployment rate now: 4.9%
Violent crime rate when Obama took office: 431 incidents per 100,000 people
Violent crime rate now: 365 incidents per 100,000 people.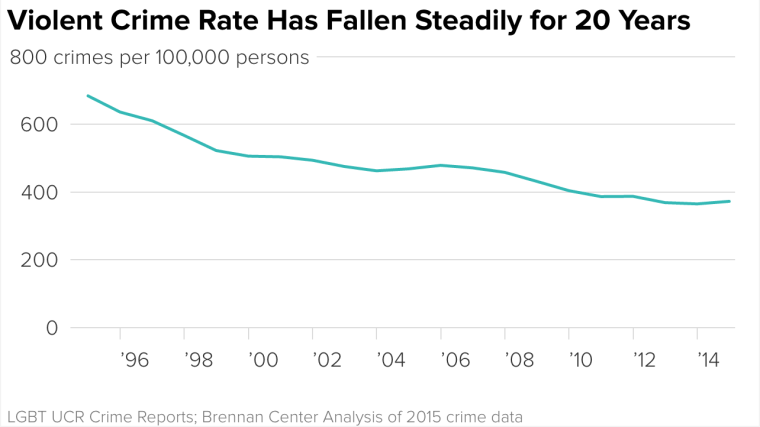 Trump was correct last night that there has recently been an uptick in crime, including in some (but not all) of America's largest cities. But overall, violent crime is about half of what it was in the 1980s and 1990s, according to FBI statistics. Here's the rest of NBC's fact-check from last night.
On Poll Bumps, the LGBTQ Community, and Testosterone
Some other things struck us about last night's speech. One, there is an opportunity for a poll bump for Trump -- simply given the large number of GOP undecided voters. (But does the upcoming Dem convention and VP rollout prevent a bump?) Two, Trump's reference to the LGBTQ community is a big deal. "As your president, I will do everything in my power to protect our LGBTQ citizens from the violence and oppression of a hateful foreign ideology," he said. And three, there was a lot of testosterone in Trump's speech. Yes, Ivanka Trump's warm-up act helped soften up her father, but the next 75 minutes were pure testosterone. We're sure that will play well with male voters. But watch to see how it plays with women.
Where Were the Specifics?
There's one other point we want to make about Trump's speech from last night: It contained plenty of pledges, but not lot a lot of specifics about how to achieve them.
"I will work with, and appoint, the best prosecutors and law enforcement officials in the country to get the job properly done."
"When I am president, I will work to ensure that all of our kids are treated equally, and protected equally."
"We are going to build a great border wall to stop illegal immigration, to stop the gangs and the violence, and to stop the drugs from pouring into our communities."
"I'm going to turn our bad trade agreements into great trade agreements."
"I have proposed the largest tax reduction of any candidate who has run for president this year, Democrat or Republican. Middle-income Americans will experience profound relief, and taxes will be greatly simplified for everyone. I mean everyone."
But how do you pay for the tax cut? How do you create a great free-trade agreement? What kind of role does a president have with state and local law enforcement?
Clinton's VP Pick is Imminent
Now we start transitioning from the Republicans to the Democrats -- with Clinton's VP imminent and with the Democratic convention taking place next week. The AP writes (as NBC has been reporting) that Tim Kaine remains the VP frontrunner. "Richmond's Sen. Tim Kaine has emerged as the leading contender to be Hillary Clinton's running mate, The Associated Press reported Thursday night, citing two Democratic sources who cautioned that Clinton had not made a final decision and could yet change direction. As speculation mounted, multiple media outlets reported that U.S. Secretary of Agriculture Tom Vilsack, a former governor of Iowa, is the other leading contender."
Veepstakes Watch
Tim Kaine has a fundraiser scheduled for today in Boston — but will he cancel it?... And Elizabeth Warren told Stephen Colbert "I think if it were me, I'd know by now."